As a bouncer came into sight, Julie saw her chance for escape. A young man in his early to mid-20s held a tight grip on her elbow as a bouncer asked if the two were fighting, Julie recalled.
"Yes," the man answered.
Julie frantically shook her head from side to side as she allegedly told the bartender, "I don't know this person. I'm not with him. We are not together. Don't let him take me."
Julie remembers yelling, "No, no" as the bouncer opened the patio gate on the east side of Varsity Tavern to let Julie and the man exit.
"I didn't feel endangered until I got outside the gate," Julie recalled. "That's when my adrenaline started running. I was always taught that bouncers would keep you safe."
Julie is a pseudonym. The young woman asked that her identity be concealed for her safety. Multiple Varsity Tavern spokespersons have denied that the following events ever occurred. An official statement from the popular West 7th corridor bar that's known for scantily clothed waitresses and an outdoor "adult playground" described the accounts by two women who witnessed the alleged attack and a third friend who encouraged them to contact us as "a joke."
Julie believes that her abductor intended to rape or kill her. One reason Julie said she still struggles with the idea of speaking to law enforcement is self-guilt over the incident. She fears being judged for not being 100% sober, although she says she was far from drunk. She worries that an officer would ask her why she did not immediately start screaming when her alleged abductor forcefully pulled her from the bar. Even speaking to the media has been difficult, she said.
She said she didn't think it would be worth "rehashing the experience," she said.
RAINN, the nation's largest anti-sexual violence organization, reports that three out of four sexual assaults go unreported. Victims cite a fear of retaliation (20%), police inaction (13%), personal reasons (13%), and reports to non-law enforcement groups like the media as top reasons for not filing formal police reports. A 2016 report by the U.S. Department of Justice found that around 80% of sexual assault cases are not reported.
Fort Worth police department did not provide comments for this story. The city's communications officer forwarded my media questions to the police department's public relations office on Monday. I also made multiple attempts to seek comment, via phone calls and emails, from the police department's communications liaisons and one neighborhood patrol officer.
One week has passed since a group of four friends invited Julie to enjoy a night out on the town. COVID-19 and final semester college courses had kept her off the social scene for the past year, but she made a rare exception on the evening of Friday, April 16. After dinner in the West 7th corridor, the young women settled on Varsity Tavern, which basically consists of a large indoor bar, outdoor drinking area, and rooftop patio, for a nightcap or two.
"I noticed this guy came over to our group," Julie recalled. "He was like, 'Do you guys want a drink?' I said, 'Sure.' He bought me a drink. I watched [the staff] pour it."
Julie said she's "always cautious" about making sure no drugs are placed in her drinks.
The young man was 5-foot-10 to 6 feet tall, had a muscular build, and was attractive, Julie recalled. Her best guess was that the alleged perpetrator, who never gave his name, was a mix of Caucasian and Middle Eastern. He appeared to be alone, and, while he was eager to buy Julie and her friends drinks, he never consumed any alcohol as far as Julie remembered. After disappearing for a half-hour, the man returned just as a large group was passing Julie's friend. He used the distraction to grab Julie's arm and forcefully push her to the gate on Varsity Tavern's east wall at around 11:15 p.m., according to Julie.
The young woman's first reaction was that there was some misunderstanding. She never imagined the stranger would be allowed to push her out of the bar and onto largely empty Morton Street. Julie had seen the man fidget with his pockets earlier that evening, and she began worrying that he might be carrying a knife or firearm. Julie said she had a handicap that impairs her ability to walk with ease. Her mild physical impairment and the man's muscular build meant that any attempt to escape would probably fail, she thought at the time. After allegedly being forcibly removed from the bar, she began scanning the streets for anyone she could direct screams for help toward.
By this point, the alleged assailant's demeanor had completely changed, Julie recalled. Her pleading to be released was met with a "stone-cold" gaze. And silence. The man gripped her elbow so tightly, a corroborating witness later said, that Julie's arm was purplish-blue the next morning. As far as Julie could tell, the alleged assailant was dragging her east toward Trinity Park, which lies a few blocks northeast of Varsity Tavern and basically divides the West 7th corridor from nearby downtown to the east.
Back at Varsity Tavern, Julie's sibling Jessica (not her real name) was frantically looking for her missing relative.
"I thought something terrible was going to happen," Jessica recalled. "I knew my sister was not the type to go and fool around with some guy in his apartment or car. I thought I was never going to see her again."
Jessica said she had recently undergone an elective surgical procedure and wasn't drinking that evening. When her sibling vanished from sight, Jessica and the other three women in the group went looking for their missing friend. After several minutes of searching and questioning Varsity Tavern staff, Jessica called 911.
While on hold waiting for a 911 dispatcher, "I got a call from a Michigan number," Jessica said.
The call wasn't related to Julie's alleged abduction, so the sibling called 911 a second time after midnight, as phone records we reviewed reveal.
At around 11:40 p.m. and near the northeast edge of the West 7th corridor, Julie said she saw her first opportunity to escape.
"I knew if I was going to make a move, it needed to be in front of people," she thought at the time. "If it was just me one on one with this guy, I knew my chances of actually getting away were slim. I told him, 'If you don't let me go right now, I'm going to yell, and those people are going to catch you, and they will call the police. Please, let me go. Please, let me go.' "
The man had such a forceful grip on her that when he released Julie, she fell to the ground.
"He ran away," she said. "I didn't see where he was running to."
Julie returned to Varsity Tavern to find her sibling and friends but was stopped at the same gate where she said she was forcibly removed around a half-hour earlier. A group of men at the gate who were wearing black shirts offered to let Julie call her sibling in exchange for a "blowjob," she recalled.
After further pleading, Julie was given a phone. She called her own cell phone, which Jessica had taken earlier that night when it fell onto the bar floor.
Jessica was still on hold, waiting to speak to a 911 dispatcher, when she saw her sibling's phone ring.
"It was" Julie, the sibling recalled. "She said she was walking back to the bar. I was in hysterics. I said, 'What the hell is going on?' "
Jessica recalled her sister also being "in hysterics" before "freezing and shutting down."
Three nearby friends listened to Julie recount what had happened. The group of women tended to their traumatized friend and waited for someone from Varsity Tavern's staff to take a statement. Nobody from the bar followed up on the incident that appeared to the five friends as an attempted sexual assault or abduction.
Over the course of the next few days, the siblings said they and their parents called the bar and left messages. Julie and Jessica said that at every point, from Julie's initial alleged abduction through her return and attempts to notify Varsity Tavern staff of the alleged assault, no one from the popular bar took their claims seriously.
Varsity Tavern's owners told me, "Not a single person was kidnapped from Varsity. Even spoke with Fort Worth police. You're running with a false story. This is a JOKE. Make that Varsity's official statement."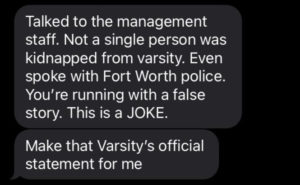 The club's official statement reflected conversations we had with a bar spokesperson who stated that he took the allegations seriously before questioning the validity of the story and the credibility of Julie.
Accusations of poor management and putting profits above public safety are nothing new at Varsity Tavern. In February, the Texas Alcoholic Beverage Commission (TABC) suspended the bar's liquor license for 30 days, citing the venue's flagrant disregard for social distancing and face mask mandates, and a 2020 federal lawsuit alleges that Varsity Tavern staff used dress code rules to racially profile customers. The arbitrary nature of determining who was dressed "appropriately" or not allowed Varsity Tavern staff to discriminate against Black men in particular, the suit alleges.
Looking back, Julie said, she felt she took ample precautions that evening. She didn't over-drink. Her sibling was 100% sober and watched over everyone that evening.
"I feel like I did all the right things," Julie said. "I didn't leave my friends. I watched [Varsity Tavern staff] pour my drinks. I tried to tell the authority figure, and it still happened."
Jessica believes her sister was targeted, in part, because of her mild walking impairment that makes her appear tipsy even when she is not. If the alleged predator had found someone who was truly intoxicated, the night could have ended far worse for that victim, Jessica said.
"If Julie was as drunk as that person thought she was, we could be sitting right here telling a very different story right now," Jessica said.