The last show that Meach Pango played pre-lockdown was at the John Ed Keeter Public Library. That's not the tongue-in-cheek name of a hipster bar. It's an actual library in Saginaw.
I was there. It was actually the last show I attended before COVID-19 sent live music to a screeching halt. There was an odd vibe that afternoon. The band was playing an event called Libraryfest along with a handful of other Fort Worth groups. The show was set to take place in a field behind the library, but due to inclement weather, it had to be brought indoors at the last minute. I got Meached for the first time right there in front of the fiction section.
"It's pretty funny to think about our last show being in our hometown library," recalled guitarist Jared Loftis, laughing, as he and his bandmates spoke with me over the phone. "It felt like we were doing something wrong."
The show was intimate but tightly packed with about as many people you could fit into a library without creating a fire hazard. It was buzzing with the neon electric joy that Meach Pango specializes in. There were lots of smiles, lots of laughs, and a lot of people dancing. It's definitely the most fun any of us in attendance ever had in a library.
"I think everyone kind of knew it was gonna be the last time we saw live music for a while," said guitarist Tony Coffman. "It could've been the last time we ever played."
Thankfully, it was not the last time Meach Pango ever played.
"A couple of us lived together throughout quarantine, so we were always around each other," said frontman Alex Mackenzie. "It didn't really hold us back."
The band continued to meet up for practices to keep their morale high and their skills sharp, despite the impossibility of performing live shows throughout the duration of lockdown.
"At the end of the day I feel like not meeting up to practice would be almost impossible, and it would kill what we had going," Loftis said. "We had a whole tour set up for the week after the lockdown started, and all that went down the drain, which was kind of a bummer, so the only thing we had was meeting and practicing. Obviously, we didn't play any shows. We just hung out and played music, just like we did when we were high schoolers."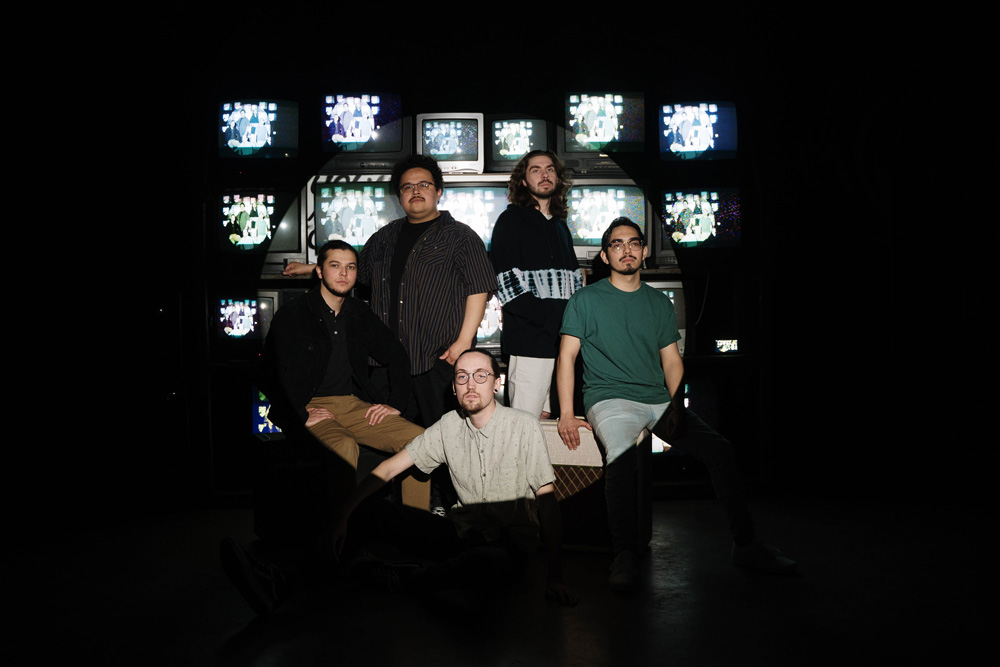 With new single "Wander" dropping in April, followed closely by the music video released last week, Meach Pango is back to generating forward momentum again. "Wander" was recorded and produced with the help of Ben Barnett in Hurst at The Hang, where the band also recorded their first two albums.
"When we started writing it, we didn't intend for it to be some self-referential quarantine-type thing," Mackenzie said. "It just sort of played out that way. It's about just isolating yourself and being by yourself."
"Wander" manages to take the heavy topic of isolation and reverse it, injecting it with the kind of bright, energetic riffs Meach Pango is known for. Their upbeat rock-pop sound is laced with just the slightest hints of ska, and it shakes the COVID blues immediately. It is really hard not to dance to it.
The "Wander" video was shot in Fort Worth at The Funktion, a small venue and creative space, with the help of Ocular Pop Films (married couple Kirstin and Austin Black). Ocular Pop has been close with the band since their inception in 2016 and have maintained a tight relationship with Meach Pango ever since, having helped the band with their first major photoshoot and since assisting them with several other projects, including "Wander." Mackenzie said "Wander" may be the best thing they've ever collaborated on.
"We've done five or six full-length videos," he continued, "and out of all of them, I think this one is definitely the one we're most proud of. I think being pent up for so long and not being able to have that creative release just forced us to do something that we think is one of the best things we've done creatively."
They have every right to be proud.
The video for "Wander" is smoooooth. The transitions are seamless but energetic, working in harmony with the song's refined up-tempo groove. It brings to life Mackenzie's long-term aspiration of shooting a video in one solid take, without cuts.
The whole video has an intimate feeling that drives home the single's relatability.
The video opens on the band in a dark room, dimly illuminated by overhead lights and the glow of several television monitors. It pans between shots of the full band and shots in which each bandmember is alone playing in an empty room, underlining the feeling of what it's like to be a musician in isolation.
"Wander" is an emotionally accessible anthem that puts to words what nearly all of us have been feeling during the pandemic, and the video complements that. It's a visual snack.