The charts of today's era are dominated by formulaic pop. So much so that as an adolescent, I developed a strong distaste for the entire genre, immediately misprizing nearly anything that could be categorized as "pop."
It wasn't until I was older and developed a more discerning palate that I could even stomach pop music. I delved into subgenres: pop-rock, power-pop, pop-punk, eventually finding myself no longer at odds with pop music as a whole. Discovering '80s post-punk and synth-pop was a formative experience for me. For this reason, I was immediately drawn to Big Heaven. Their music was everything I loved about bands like Joy Division and Simple Minds, but it was right here in my backyard.
I met with Big Heaven chieftess Amanda Hand at a little restaurant just off Lake Worth. She arrived sporting a wide smile, with three middle school-age kids in tow. She wrangled her little herd of cats to their own table, and then she and I sat down to discuss Big Heaven's newest offering over a plate of soggy nachos.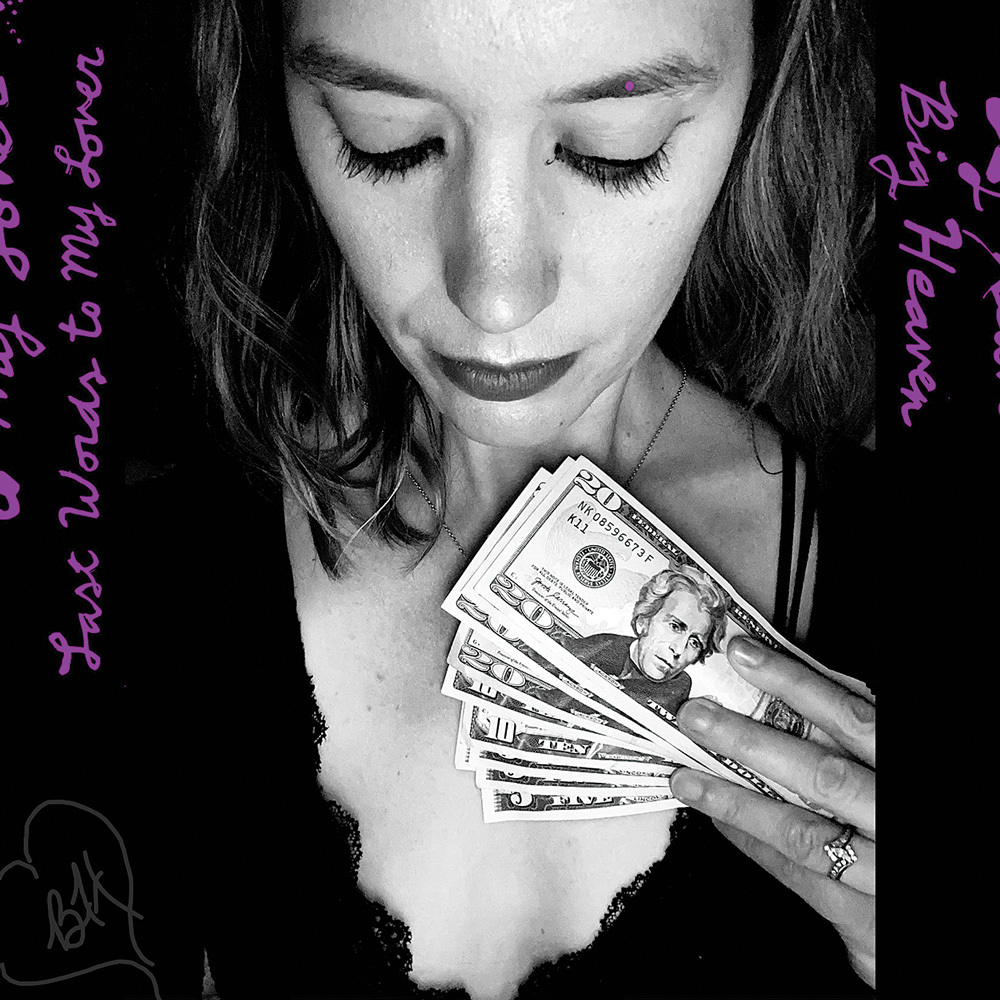 The two-song EP Last Words to My Lover is composed of an original by Big Heaven, "Last Words," and a cover of Taylor Swift's "Lover." Last Words to My Lover was engineered by Peter Wierenga (Pete and the Crying Teeth). Hand said working with him was an absolute delight. He had pitched some ideas to guitarist Brock Miller and was very enthusiastic about working with Big Heaven.
"I just let him make decisions," Hand said of Wierenga, "I just totally trust him. And he did a great job."
Parts of Last Words to My Lover were recorded at the studio at Wierenga's home, and parts were recorded in the homes of Hand and other band members: Sam Dobbin (drums), Peter Marsh (bass and vocals), and Miller. The finished product is a result of tireless trial and error and fine tuning.
"It was sort of like cooking," recalled Hand. "We would throw everything in there and taste it and just keep changing it until we got it."
"Last Words" has a catchy, featherlight feeling to it, something like what you might get if you crossed the Bangles with Echo and the Bunnymen. It is up-tempo with an unbeatable, triumphant synth sound. It's a lyrically incendiary love song threaded with a bouncy melody that keeps it playful.
"Last Words" has a lot in common stylistically with the rest of Big Heaven's body of work.
Big Heaven encapsulates the best parts of '80s New Wave and synth-rock and marries them with '60s pop simplicity.
The cover on the EP, "Lover," was not one Hand had originally considered doing, but she found through her solo career that it was one people wanted to hear her distinctive interpretation of.
"It's not like I'm not a Taylor Swift fan," Hand said. "I'm just here, and she's … over here, but it took people in my life telling me that I should cover it."
The Big Heaven influence completely transforms the song, with the intro specifically sounding similar to a Prince ballad. The core intent and emotion of the original remains, but the cover is fully immersed in Big Heaven's unique flavor. This is a skill that is imperative to the success of any cover artist — putting your own spin on a piece of music without changing it so much that the original feeling of the song is lost. It's a delicate equilibrium and Amanda Hand excels at it.
Without the ability to play live music during lockdown, the folks in Big Heaven have focused on keeping their skills sharp and drawing closer together.
"We spent the whole summer practicing — every week for two and a half hours," Hand said. "We got tighter, and we got closer as a group. We just learned how to be a band."
All this extra time to practice their catalog and hone their skills has left Big Heaven anxious to get back to performing live, something they hope to return to very soon. Big Heaven is also finally beginning to write songs again, something Hand is very excited about. She also hinted to me that they are working on a handful of other covers by contemporary artists that they are very excited about and hope to debut live very soon.