At Guapo Taco recently, Chef Angel Fuentes described the Mexico street taco-based concept he developed over the past few months but did not plan to put into action. It's not uncommon for chefs to daydream about creating new menus, he said.
Guapo Taco, 301 S Sylvania Av, FW. 682-966-9645. 11am-9pm Tue-Sat. All major credit cards accepted.
Located inside the former home of Mariachi's Dine-in, Guapo Taco would have remained a passing dream if Fuentes and Mariachi's Dine-in owner Ashley Miller hadn't recently parted ways just as Mariachi's was about to move from its original home in a Riverside gas station to a new brick-and-mortar location at 5724 Locke Ave. that is now open. Without going into specifics about the business breakup, Fuentes said he and Miller are both in a good place, personally and professionally.
"I want us both to be happy," Fuentes said. "Now, I have an opportunity to build Guapo Taco. We all have to move forward. I believe all are happy right now."
Fuentes dug deep and found an entirely new palette of flavors that still reflect his roots in Monterrey, Mexico, as well as neighboring regions of our southern neighbor. Tacos remain the main draw at Guapo Taco, and Fuentes said he is working to slowly rebuild his vegan offerings — something Mariachi's Dine-in was locally renowned for.
Guapo Taco is big on "flavors and colors," Fuentes said. "That's what Guapo Taco has to offer to the community: good, tasty food that's different."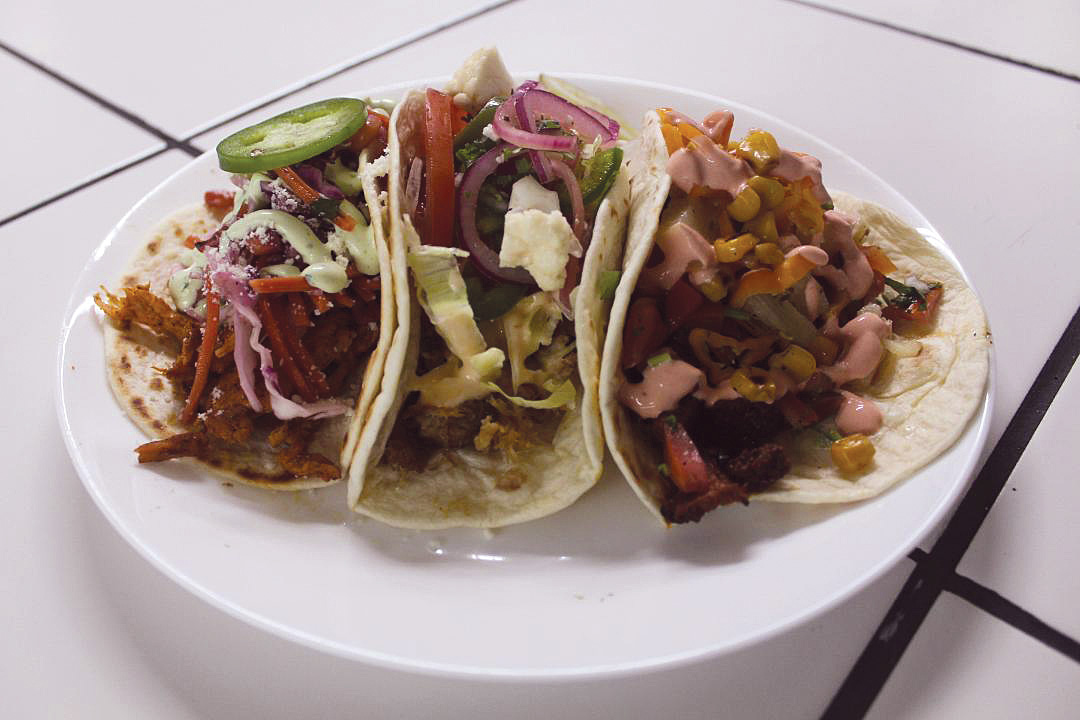 Fuentes cooked up several dishes to highlight the new culinary offerings. The Tres Amigos — the Guapo Taco, Latin Lover, and borracho — came served on toasted corn tortillas. All were larger than what typically passes for street tacos. The Guapo held pickled cabbage, roasted corn, shredded carrots, and other veggies that added a nice crunch to the grilled chicken. A creamy avocado cilantro sauce topped off the goodies. The Latin Lover was a blend of crunchy bits of cauliflower, sliced bell peppers, and pickled red onions with tender slow-cooked pork. The jumbo entree was topped with Cotija cheese and cilantro for a rich amalgam of flavors. The borracho, or "drunken" taco, could be a great way to sober up if you make the short walk from nearby Martin House Brewing Company or TUB Bar. Fuentes recommends al pastor as the protein. I took his advice. The spicy blend of habanero and pineapple seasonings, blended with roasted corn, chopped veggies, and a guajillo chile-infused crema, was delightfully spicy.
Fuentes was an early peddler of birria tacos, the crunchy crimson treats that hail from the Mexican state of Jalisco. Rather than rehash Mariachi's Dine-in's popular beef version, Fuentes is serving lamb, among other protein options. Grilled with a mild white cheese and served with a rich consommé sauce for dipping, the meat was only mildly gamey, which is no small feat since I typically avoid lamb, goat, and other proteins that can have a funky flavor if not prepared properly. Fuentes said the secret is "slow-cooking."
The gordita, packed with pico de gallo, Cotija cheese, barbacoa, and beans, was light and refreshing, and the elote, made with a homemade three-cheese sauce and topped with spicy hot Takis, was both delicious and highly Instagrammable due to the appetizer's picture-perfect presentation.
For now, Guapo Taco has one vegan option: a burger. Fuentes said he plans to expand meat- and dairy-free options over the coming months in addition to rotating specials. While the new taqueria occupies the former home of Mariachi's Dine-in, visitors should expect a wholly different experience from the chef who popularized birria tacos among locals early on into that 2020 craze.
"I would tell people that Mariachi's is delicious, and I would recommend trying it" at their new location, he said. "Go check them out. I created a good menu there. When you come to Guapo Taco, it's totally different flavors. I didn't have to change, but I did try to change all of the flavors. This is totally different."
Guapo Taco
Elote $5
Birria tacos $12
Gordita $4.25
Tres Amigos $12