When Jose "Chico" Santiago started out in 2010, his studio was a little garage on the North Side. Since then, major label Fort Worth rapper Snow Tha Product, Houston superstar Paul Wall, Baby Bash, Lou CharLe$, and dozens more have recorded at Music in Focus. And while rap is the main genre, it's not necessarily the only one.
"Since we moved, now we are putting ourselves out front with everybody, and we've got a lot of new clientele, and a lot of people who were looking for me when I was in my garage are now seeing where we're at," Santiago said. "The people I used to record in my garage are now recording in a better studio, and my clientele is growing with me."
Originally from Puerto Rico, Santiago and his mother moved to his uncle's house in Fort Worth in June 2000. The now 37-year-old married father of three was 16 years old at the time and knew no English. Growing up was hard, he said, but listening to music helped, with both his emotions and his English.
Music in Focus has grown mostly by word of mouth, he said. During lockdown, Santiago kept busy by mixing and mastering artists' home-recorded tracks. He and wife Brenda Santiago moved equipment from the garage to the studio in Diamond Hill in January 2018.
Now Music in Focus is a "one-stop shop," Santiago said, referring to his wife's on-site printing company.
"I feel like everyone has a shot and everyone is one hit away by knowing who's creating the opportunity and who's willing to work," Santiago said.
Santiago doesn't categorize himself as a musician per se but a "music-mix engineer." He started out in music with aspiring rappers in 2004.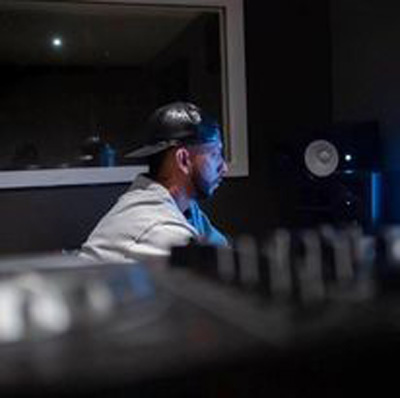 "Everyone wanted to be a rapper," he said, "but nobody wanted to mix the sounds and have the patience to record, so I started doing it and fell in love with it."
After studying sound engineering in 2007, Santiago started making records professionally in 2011.
It was not long after that when he met Snow through a mutual friend and recorded her early material. The rap artist signed with Atlantic Records not long afterward.
While Snow Tha Product is easily the biggest name that Santiago's worked with, Paul Wall has deep underground appeal. Santiago met the Houstonian through local rapper Smoothvega. Santiago has also opened for Wall as a DJ during live performances.
"Chico is an amazing engineer," said Grand Prairie hip-hop artist Goldie Andrews. "The environment he provides for the artist is very creative, and his hands-on approach with artists in creating amazing records from start to finish is unparalleled. Music in Focus is everything its name implies, a true focal point on music and being as expressive and amazing as you can sonically make the best quality music."
Contact Santiago at MusicinFocus@yahoo.com or MusicinFocusStudio@gmail.com.