I admit, I'm a notorious dunker. If there is a dip within arm's length, whatever food I'm handling plays second fiddle to the accompaniment before me, and, bless it, because it will get baptized. In fact, my refrigerator or cabinet could pass as a culinary sex shop named Condiments-To-Go. And this is how I found myself gripping a hard taco, twirling it like a stiff paintbrush in different colored sauces before each bite. The flavor assistance was completely unrequired, but Chef Felipe Armenta's sauces were just that good.
Armenta's ambitious restaurant collection that includes the Pacific Table and Press Café expanded thoughtfully recently with Maria's Mexican Kitchen in the shell of a former steakhouse across the Trinity River north of the Colonial Country Club. Lovingly named after his late mother with whom he grew up cooking at their family's San Angelo namesake restaurant, Maria's has a posh interior that is a testament to two things: a visual tour of current trends in restaurant design and the affluence of the surrounding neighborhood, both stark differences from his upbringing but both reflected in the quality of his cuisine.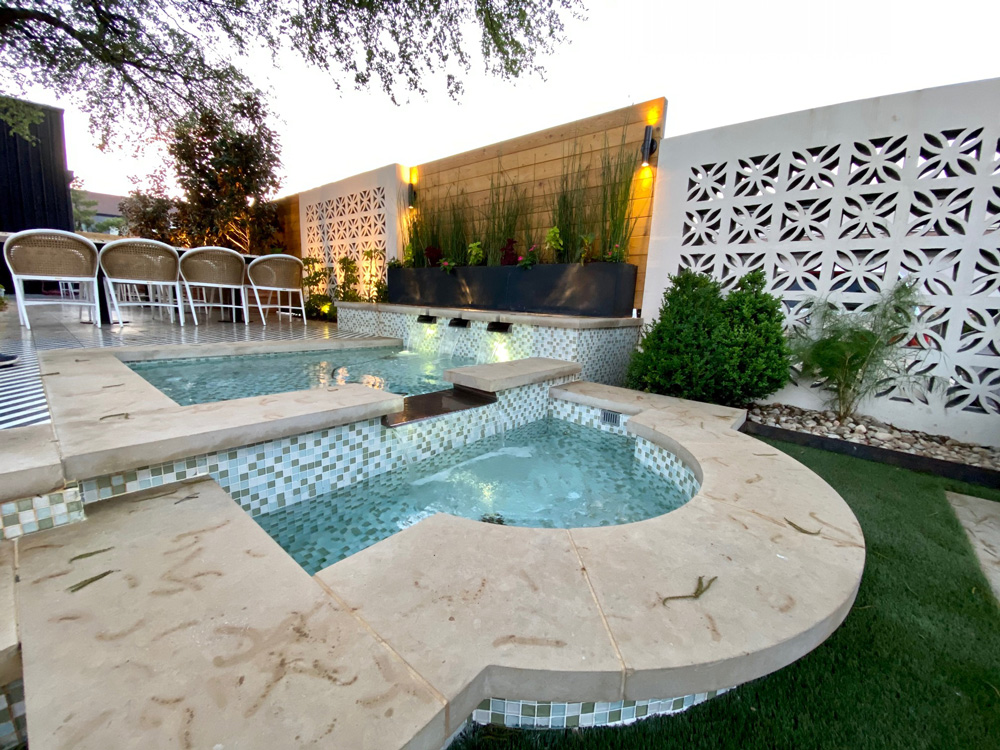 Ornamental vegetation, a three-tiered water fountain, and terrazzo tables characterize the patio that would comfortably contend with those found at resort eateries in Tulum, Mexico. Gaslight sconces welcome guests directly into the bar, where more floral greenery effortlessly hangs above the sleek U-shaped bar counter. Vivacious works of art dominate the wall that partitions off a dining room, where light fixtures resembling upside-down pineapples hang and a dazzling painting of Maria becomes the room's centerpiece.
The menu is familiar but also fine and inspired by home-cooking. The traditional plates of flautas, enchiladas, and tacos all come with black beans and rice and are all prepared very well. And, yes, there is a selection of fajitas such as chicken and skirt steak served fully dressed or a double-cut porkchop and ribeye tampiqueña, both seared over hot coals on a bed of pasilla chile sauce. That simple styling of the menu makes this upscale location more approachable.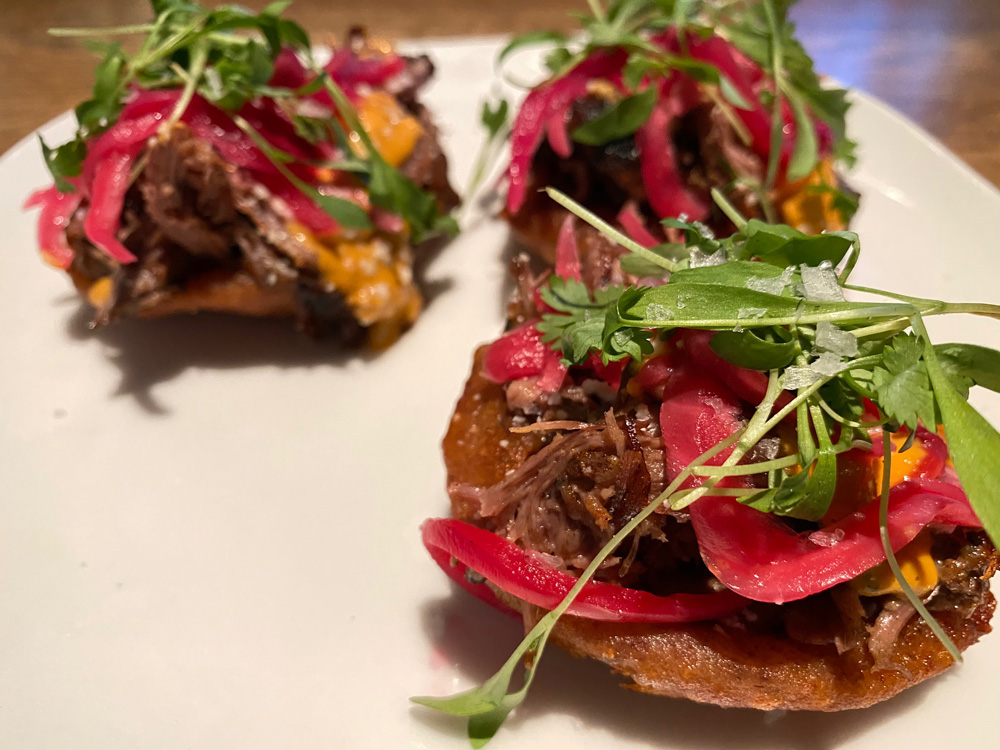 For starters, the botanas ("snacks" in English) lean toward seafood compared to the heartier beef and pork that make up most of the rest of the menu, though the nightly specials are governed by the ocean: from camarones a la diabla (spicy shrimp) and scallop tostado to mariscos a la tumbada (seafood mixed in rice closely related to Spanish paella) and mar y tierra. Ahi aquachile and shrimp and crab campechana would be wise appetizers to keep the beginning of your meal on the buoyant side.
After long deliberation, my guests and I opted for the short-rib sope as a botana before settling on entrees that favored Tex-Mex and the sea.
The short rib, mixed with a delicate mole-esque braise, allowed the natural flavor of the beef to intertwine with a cascade of spicy habanero sauce. Topped with pickled red onions and cilantro followed by the soft crunch of properly fried masa, this balance delivered a well-executed lecture in flavor.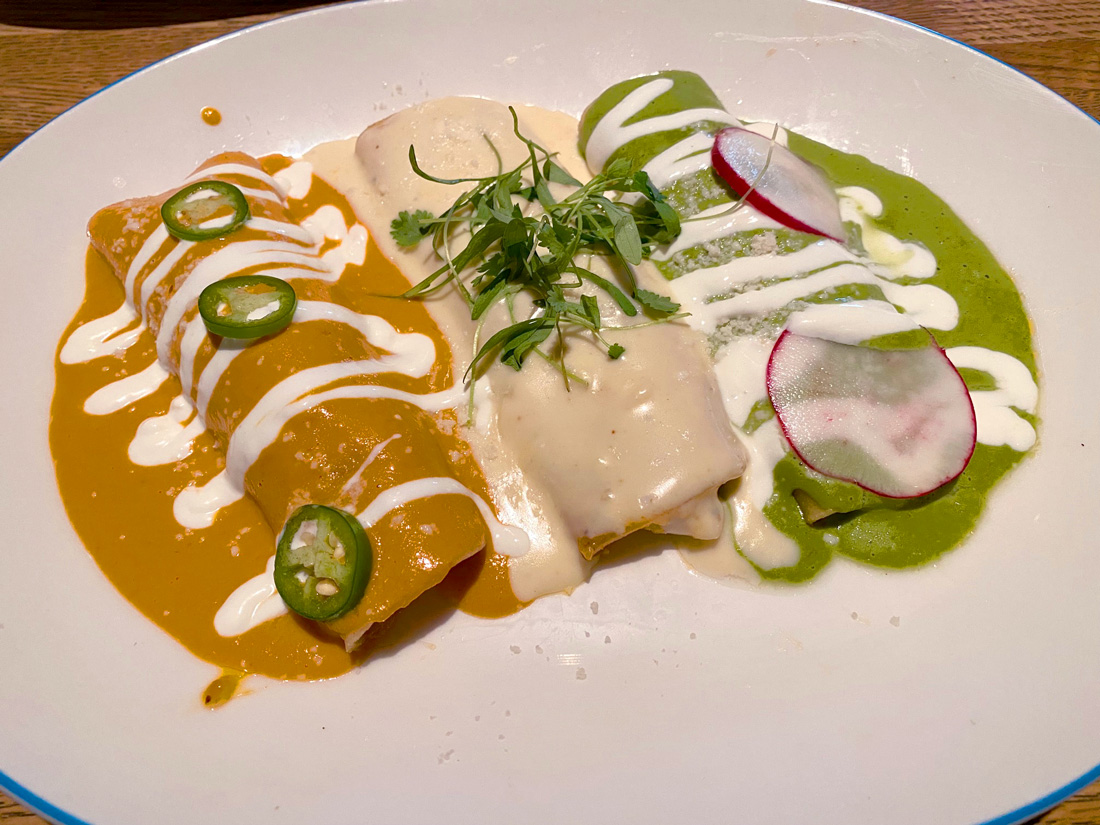 Reminiscent of combo platters found on tattered menus of Tex-Mex cafes across small-town Texas, El Señor Special provided two opportunities: 1.) to gauge chicken enchiladas paired with a crispy chorizo and potato taco and 2.) to taste Armenta's mother's world-famous mole that was subbed for the enchilada's original slathering of ranchero sauce. For those who wish to bathe in the mole, a dish titled Maria's Famous Mole offers a half-roasted chicken smothered in the sauce, then sprinkled with toasted sesame seeds. The other entree ordered was the jumbo crab meat enchiladas, which arrived in a trio with sauce colors resembling the Mexican flag when the plate is oriented correctly. The lump crab provided an undertow of consistency while the flavors of each sauce kept the plate from becoming too repetitive.
The tortillas that blanketed the meat of the enchiladas are house-made, and the difference is telling. Owning a silky texture that remained pliable between bites, the tortillas avoided falling victim to crumbling from drying out. The tender meat from the chicken and fluff of lump crab stayed fresh throughout dinner. The crispy fried shell that snuggled the robust chorizo and potato equally retained its integrity, never becoming compromised from excessive grease or breaking between the bend of hands.
Shortly after opening, Maria's presented a cocktail menu heavy on tequila and mezcal, and after trying about half of the 13 choices, my friends and I were unimpressed, especially when each drink doesn't budge from $14. Now that the menu has been whittled down to eight selections, we were glad we tasted only one dud. The Colonial just didn't make par. Its advertised vodka and chartreuse had been murdered by a flood of ginger beer. The Caballero, a bourbon-based slow sipper with Ancho Reyes chile liqueur and coffee liqueur, and the Nuevo Fashioned, with mezcal reposado, agave, and chocolate bitters, were superb, and the margarita was locked in, smooth in delivery from start to finish.
When our glasses were empty and the enchiladas no more, rich buttery sauces were all that were left holding court at our table. And that's where I found myself doing the best I could to sop up every last bit.