Beads of sweat dotted my upper lip as I basked on the patio of the newly opened Sugarman's Lounge at Hotel Revel and nursed the evening's first cocktail, a miniature nine of diamonds secured to the tumbler's rim. Though I'd readily blame the balmy temperature for my perspiration, 'twas more likely the whiskey.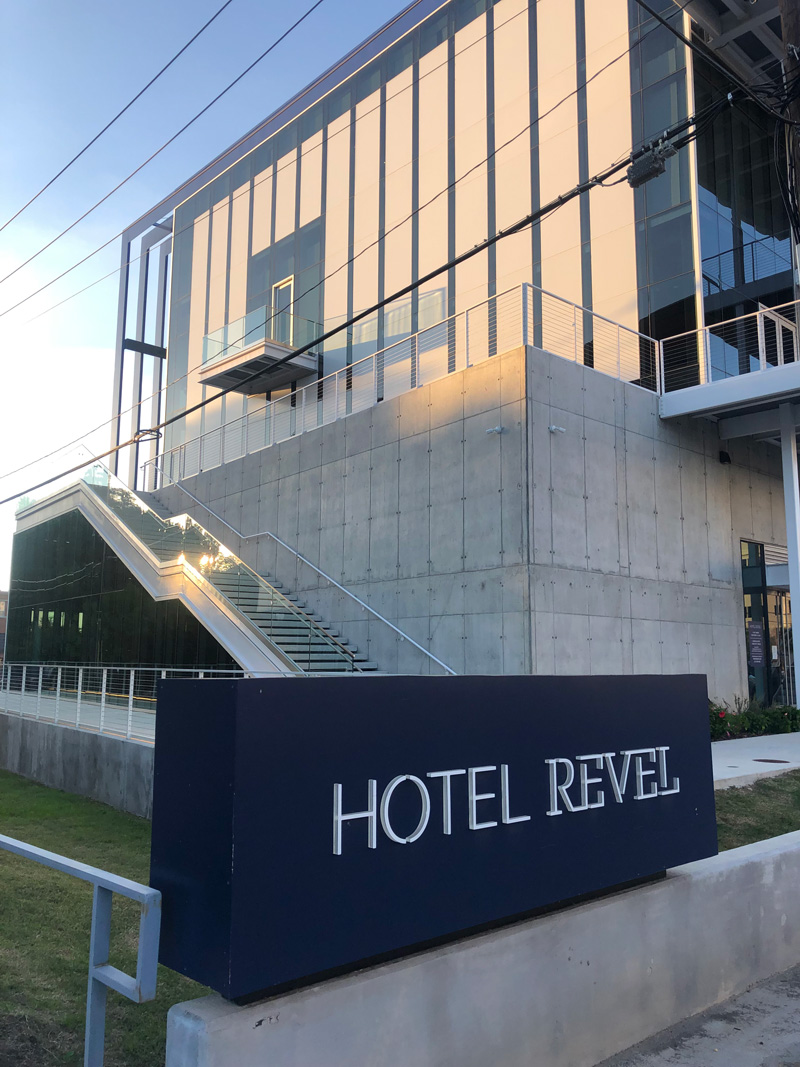 Hotel Revel certainly makes an impression. A sharply angular palace of silvery gray concrete and glass wrapped in long, vertical slats of cobalt metal arranged in a gradient, the distinctive structure stands out among its Near Southside neighbors, as if inexplicably whisked here from New York City or Rotterdam by a twister. Has anyone checked underneath for the Wicked Witch of the East and her ruby slippers?
The interior reflects the same boxy minimalism. When entering the boutique hotel from the parking lot, there's little to welcome you aside from stark white walls and an ultramarine "HOTEL REVEL" neon sign behind the glass door to the elevator. I half-expected a uniformed concierge to pop up from behind a coat check counter and hand us maps to the museum exhibits.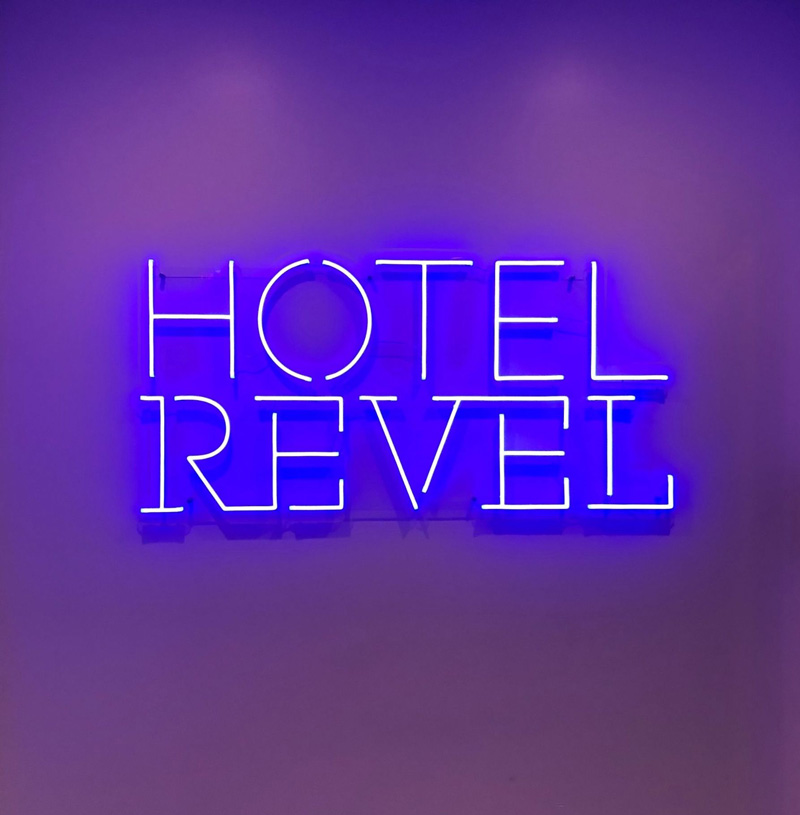 Within Sugarman's, the palette takes a detour to a heavy pour of black throughout — most notably on an alcove painted midnight and featuring a jet-black billiards table beneath a collection of charcoal-hooded lights. Even the marble bar top sparkles in a shade of obsidian. Whereas the ultra-modern, sparsely decorated foyer of Hotel Revel feels upscale yet a bit cold, Sugarman's lustrous ebony accents create a warmer, still sophisticated, atmosphere.
Both suckers for patios, my friend and I managed to snag a freshly vacant L-shaped couch on the concrete deck. If there's one thing I love, it's nestling into that delicious nook in the sofa. You can put this baby in a corner any day.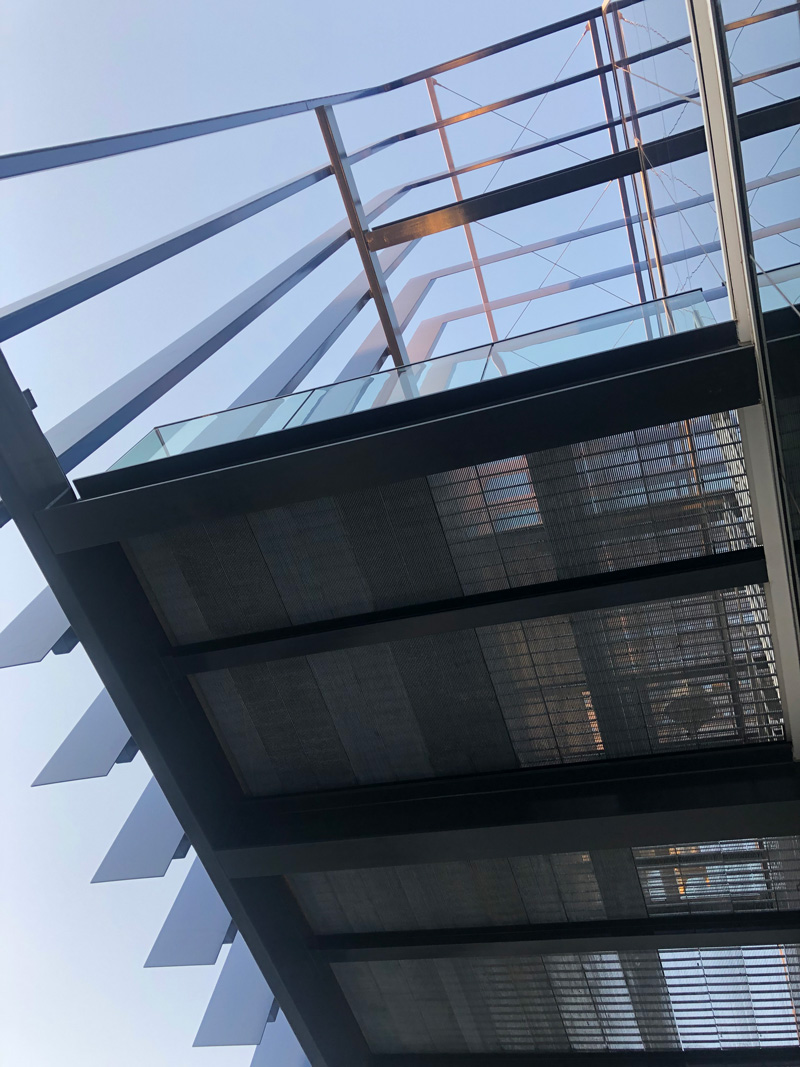 With the additions on 8th Avenue between West Magnolia Avenue and Rosedale Street, the area has morphed quite a bit, making for an interestingly diverse view. Directly across the street, the underwhelming strip with Subway and Kwik Stop remains, a reminder of just how much the surroundings have developed.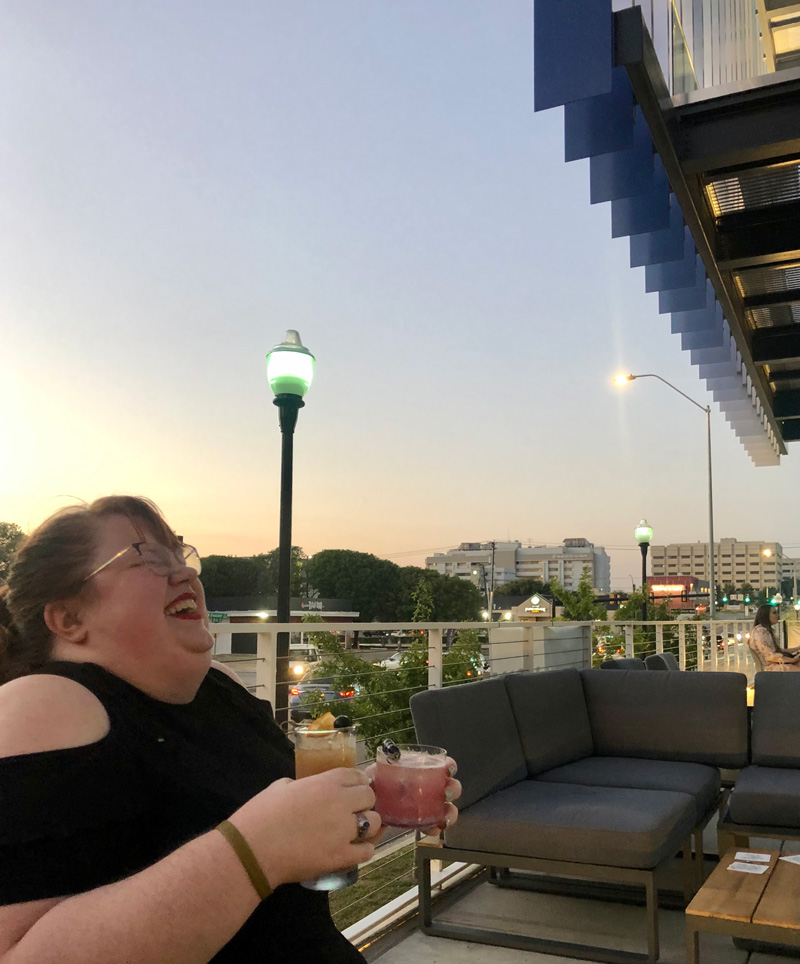 Happy hour ends at 7 p.m. daily and offers significantly discounted booze — half-priced signature cocktails and 40% off martinis, their only two categories of offerings — so you best believe my cohort and I squeezed in two bevs each just a hair before the clock chimed and we turned back into pumpkins. Between the two of us, we downed four of the seven signature cocktails like the classy ladies on a budget that we are.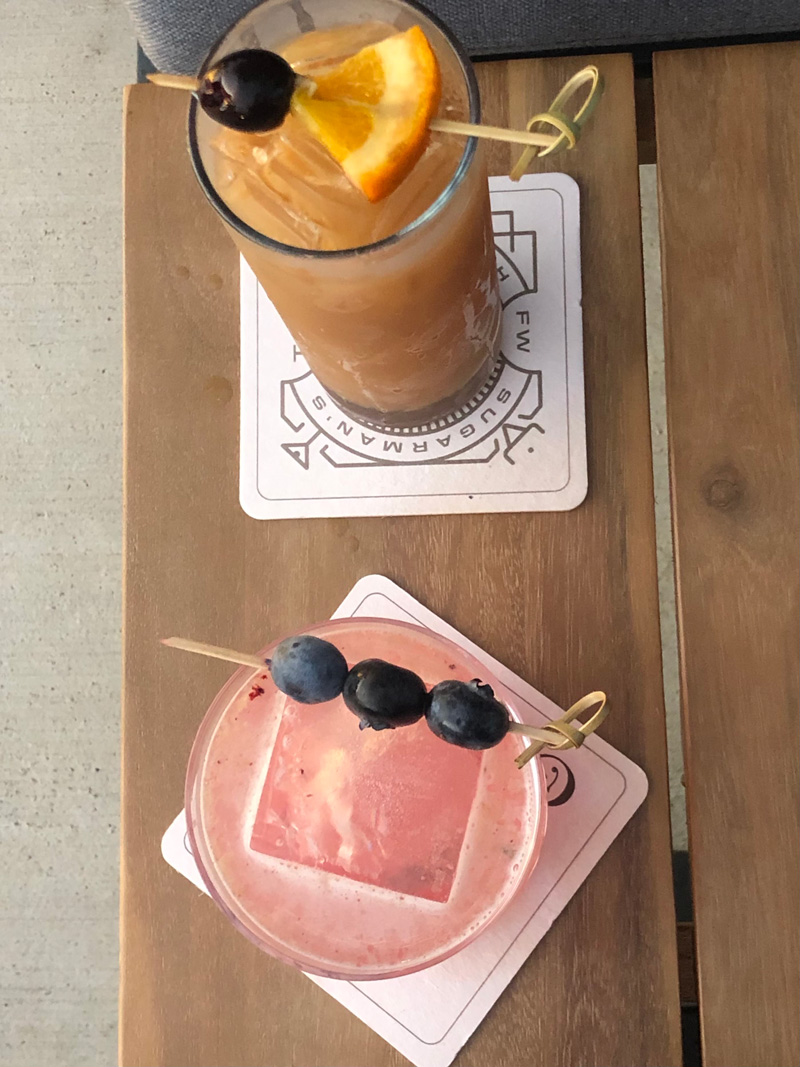 My Four Deuces was in many respects a traditional Old Fashioned enhanced with — nay, "elevated by" — root beer syrup. Likely due to my surroundings, I felt a touch more worldly as I quaffed my refreshment more swiftly than I'd preferred to in a race against the melting glacier within.
When I asked about my companion's drink, a Oui, she essentially wrote the description for me, launching into how the floralness of the gin paired well with the spiciness of the mezcal, acidity of the lime, and sweetness of the simple syrup. She even noted that the citric acid transforms the blue Empress Gin into a pinkish-lavender hue. Color me impressed.
Mere minutes before happy hour concluded, I zipped back to the bar to order our last round from the unexpectedly docile bartender with a bull ring nose piercing. My cohort opted for a Skyliner, a refreshingly light aperitif with gin, limoncello, club soda, and blueberries, while I was drawn to the Hideaway and its main ingredients of coffee and Jamaican rum.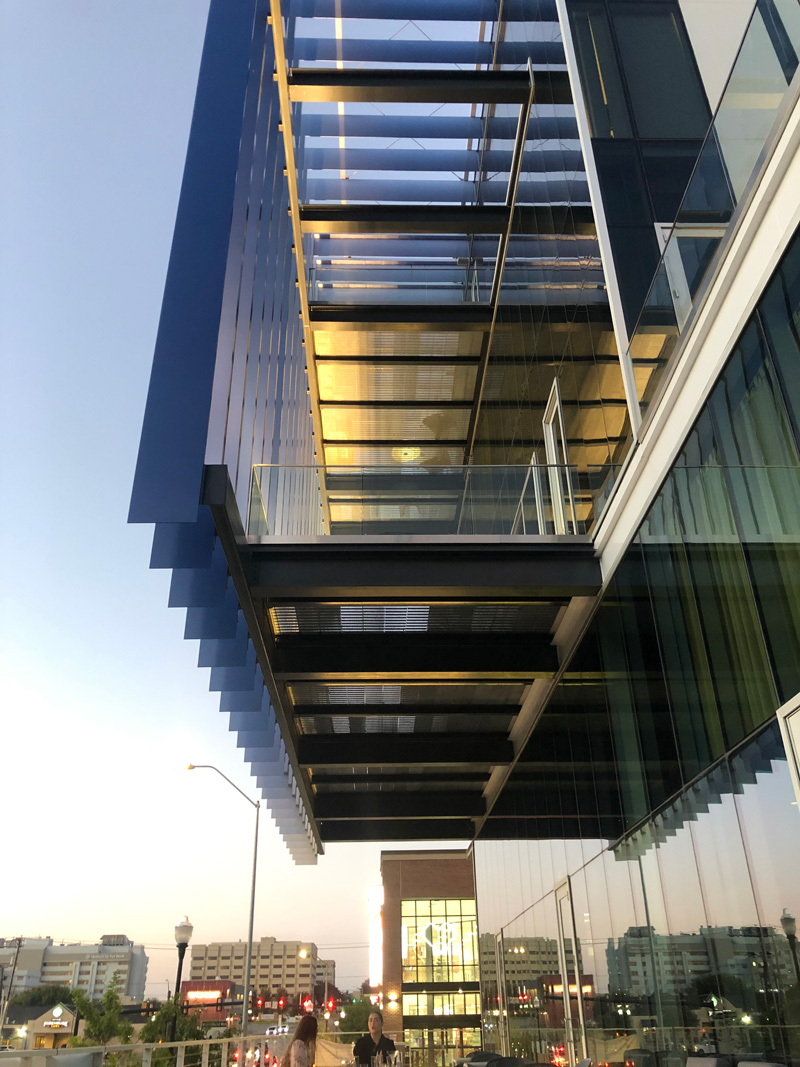 In my initial strawful, I thought I swallowed a mass of syrup that had settled on the bottom of the glass. I had not. With each sip, the saccharine rum repeatedly landed the first punch, followed by the bite of bourbon and limejuice, then the java delivered the final knockout. As I swigged, my mixed first impression eventually developed into an appreciation for the complexity of the flavors … or maybe I was just getting tipsy.
You may be wondering, as I did, whether there's a story behind the names of the menu items. Some are actually historically significant, paying tribute to legendary local clubs and drinkeries that have since closed. Beyond the city's history, Sugarman's honors the heroism of the establishment's namesake, Andrew "Sugarman" Daniel. In Mississippi in 1939, Daniel saved several people from drowning when more than a dozen cars were swept into the floodwaters of Clear Creek after the bridge collapsed. Sounds like someone I'd like to have a drink with.
What Sugarman's menu lacks in breadth, it more than makes up for in the potency and quality of its concoctions. It's the type of place you take a date to specifically for its aesthetic — and to impress them with your good taste in top-shelf hootch. Or, if you're a hospital worker, it's a short jaunt to drink to forget the worries of the day. After all, Sugarman's celebrates heroes.
Sugarman's Lounge at Hotel Revel

1165 8th Av, Ste 137, FW. 817-928-3688. 3pm-11pm Tue-Fri, 11am-11pm Sat-Sun. Happy hour until 7pm daily.