Courtside Kitchen, 1615 Rogers Rd, FW. 682-255-5751. 7am-10pm Sun-Thu, 7am-10:30pm Fri-Sat.

Since Courtside is open virtually all day, the restaurant accommodates most meals, from coffee and pastries before the kitchen opens for brunch to lunch/dinner offerings and a full bar.
Photo by Eloisa Di Giovanni
"I think I won brunch."
I may have been a tad braggadocious in my declaration as I neatly sliced into my Funkytown Hot Chicken & French Toast, fighting the urge to unleash my inner beast and messily devour the deep-fried fowl slathered in hot sauce and pools of melting butter.
Who would have thought this particularly scrumptious variation on the brunch classic that is chicken and waffles could be found at Courtside Kitchen?
Tucked behind University Park Village on Rogers Road, the restaurant and pickleball concept has taken up residence in the spot that was once MOPAC Event Center. The transformed space, especially the exterior, now features nine covered pickleball courts and an outdoor patio complete with a fountain. Traces of the event center are still detectable, with its tall ceilings, exposed brick, and entire wall of retractable garage doors that allow for a sunny view of the courts beyond.
When I rolled up to Courtside Kitchen on a Saturday morning in what I considered a semi-sporty getup, I was greeted in the parking lot by a trio of little old ladies in cutesy tennis skirts and visors. Right off the paddle, I knew they had come to play — and I was nowhere near their level. As I approached the outdoor courts, following the thwacking sound of paddles colliding with plastic wiffle-like balls, I saw that the place was already packed with people in legit workout attire, some already mid-game and others spectating or waiting for a court to open up. One thing became clear. My slip-on Chuck Taylors weren't gonna cut it.
Courtside Kitchen is an honest, on-the-nose name, and they're not playin' around. If you're searching for a pickleball venue that doesn't require a gym membership and comes with the added benefit of food and alcohol, Courtside Kitchen is for you. You can enjoy a few games with friends, take a clinic based on your skill level, plan a party with a large group, or join a tournament.
The pickleball courts are open from dawn 'til well past dusk. We're talking 7 a.m. to 10 p.m. most days. You can reserve a court for up to four people in hour-long slots at $5 per person, or there's open play from 1 p.m. to 5 p.m. on weekdays for the same price. If you're a serious baller, you likely bring your own equipment or have already signed up to be a Priority Member for those added benefits. No sweat if you're a one-time baller, though. Courtside rents out paddles for $2.50 a pop.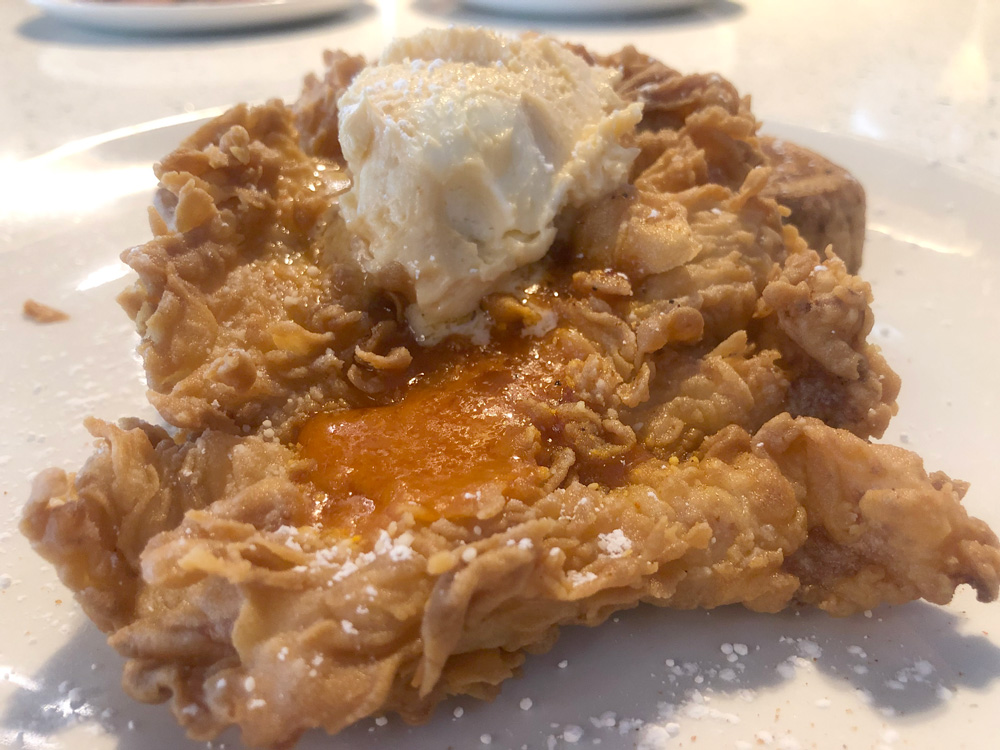 After some observation, I concluded that pickleball is essentially ping-pong on a court — or off-the-table tennis with paddles. Experience level and seriousness of play at Courtside seemed to vary, but it appeared most were there simply to have a good time. Some treated the game lazily, lobbing the ball like you would in badminton. Others volleyed (or "rallied," for true enthusiasts) like ping-pong champs. I even witnessed a few slams here and there after some lackadaisical back-and-forth had lulled an opponent into a false sense of security.
Since Courtside is open virtually all day, the restaurant accommodates most meals, from coffee and pastries before the kitchen opens for brunch to lunch/dinner offerings and a full bar. That also means you can essentially pickleball 'til you fall — which, for me and my clumsy limbs, means early and often.
The restaurant was mostly empty at the stroke of brunchtime (10:30 a.m.), but by noon, the courts had thinned out as people called time out in favor of lunch indoors. My friends and I sat at a large booth, situated like royalty in a period piece at opposite ends of a table the length of a football field. While our table was in actuality only maybe a couple yards long, the size felt excessive for our party of four wannabe adults and a sweet newborn fighting sleep in his stroller.
Brunch might as well be synonymous with booze, amirite?! Not in the mood for a regular ol' mimosa and not quite ready for a full-on cocktail, I ventured off-menu and requested an Irish coffee of sorts — an iced oat milk latte with bourbon cream. Instead, a shot of straight bourbon accompanied my iced brew, and, because I'm an absolute girlboss who courageously asks for precisely what she wants, no matter how it makes anyone else feel, I did what any boss bitch in my position would and said … nothing. My latte was decidedly bourbon-forward but enjoyable.
Most of my party struck out with their drinks. The new mama in the group wasn't impressed with the drip coffee, and her hubby wasn't keen about spending $8 on the mimosa that he described as "not worth it." We should have taken a page from our other friend's playbook, because her frozen skinny margarita was apparently "delicious with a hearty citrus flavor." Note to self: Don't go off-menu, and stick to margs.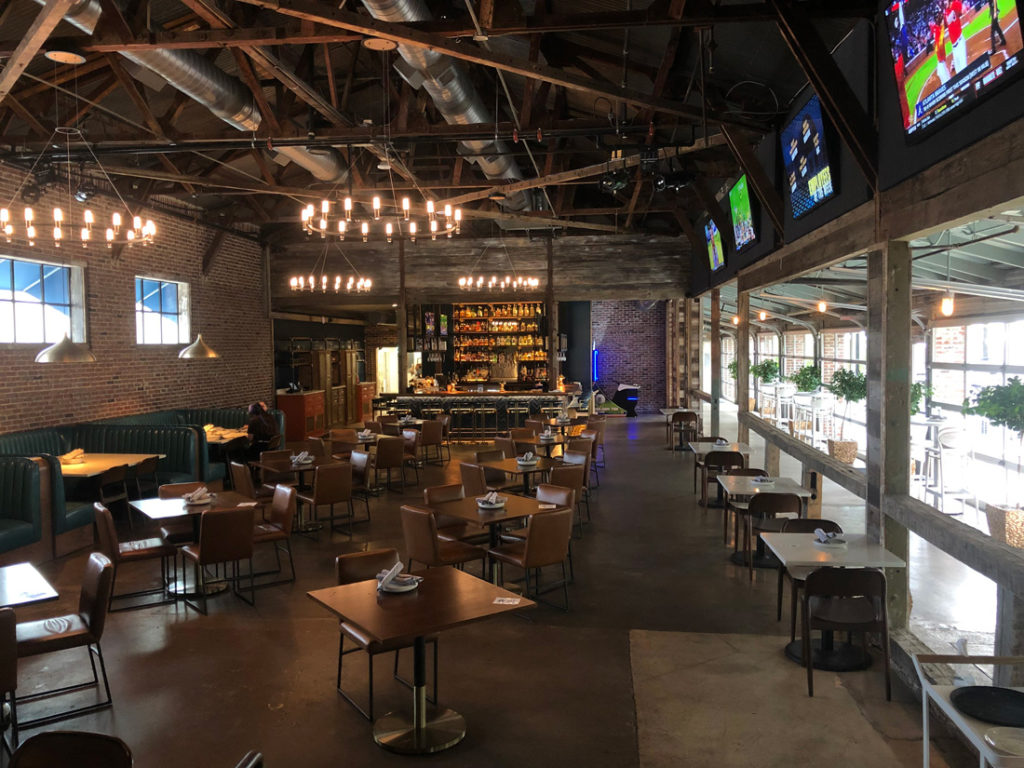 My brunch expectations were somewhat low for Courtside Kitchen, which is arguably primarily a place for pickleball. For the most part, my expectations were met, but I'll concede to a notable exception or two.
Our table's "first serve," a shared plate of biscuits and sausage gravy, was one of them. The gravy, though thinner than what I'm used to, was still flavorful with a distinct aftertaste. After some debate, we agreed that it savored of something akin to Old Bay seasoning, and not in a bad way. 8/10 would recommend.
My "second serve" was paddles down the best out of everyone's — an ace, if you will. Against the toasted breakfast bacon sandwich, roasted pork carnitas hash with poblano, and melty four-cheese grilled cheese, all ordered by my cronies, my fried chicken and French toast took the first-place ribbon. The hot sauce accented the dish without overwhelming the senses, and the spongy French toast was just the right touch of sweet, perfectly complementing the crunchy skin of the tender fried chicken. Pluck me, was it good!
If I regret anything, it's not taking full advantage of Courtside's cocktail selection. Service was slightly slow that morning, and, per usual, I got wrapped up in conversation and people-watching. On my next visit, I'm determined to keep my eye on the ball, as it were, pick up a paddle, and maybe even experience the patio in the evening when the strung lights are aglow and live music's a-rockin'. Game on, y'all — Courtside's now in session.
Courtside Kitchen
Biscuits w/sausage gravy $7
Funkytown Hot Chicken & French Toast $13
Breakfast bacon sandwich $12
Roasted pork carnitas hash $14
Four-cheese grilled cheese $11
Frozen skinny margarita $11
Irish coffee $10