On Monday, March 13, 2023, another 20-year-old Latina soldier died suspiciously at Fort Hood in Killeen after complaining to her family about being sexually harassed and admitting that she no longer felt "comfortable" there. Her name is Ana Basaldua Ruiz, and she was from Long Beach, California. Pvt. Ruiz wasn't the first, and she won't be the last.
Award-winning investigative journalist May Jeong discussed the culture of Fort Hood in the July/August 2021 edition of Vanity Fair. "At first blush, such violence at a base that calls itself the 'Great Place' may seem extraordinary, inexplicable even. But then certain details start illuminating the mystery: that one out of every three women soldiers have experienced sexual harassment, according to a recent survey. That gun safety is a distant concern in a community where the Second Amendment tops the Maslow charts. That psychological trauma among veterans vastly exceeds physical wounds. That most soldiers enlist when they are still teenagers, their yet-unformed minds taught to kill. That American imperialism is imploding, and the blast force radiates inward."
Over a decade before Jeong explored the subject, I touched on an aspect of it in "Johnny Got His Pills" in the Weekly on Oct. 27, 2010. The title was a riff on Dalton Trumbo's antiwar novel Johnny Got His Gun, which won the National Book Award for Most Original Book of 1939 and was made into an unforgettable antiwar film (directed by Trumbo himself) in 1971. In the piece, I discussed the implications of the 2009 suicide of U.S. Army Sgt. Douglas Hale Jr. After a stay in a Denton psychiatric hospital following his second (15-month) combat tour in Iraq, he bought a gun in a pawn shop and shot himself in a restaurant bathroom. His final text read, "I love you mom im so sorry I hope u and family and god can forgive me."
In my story, I questioned the things that the U.S. military was doing to militate the toll of warfare and, specifically, the prescription of stupefacient (anesthetic, deadening, consciousness-dulling) substances to navigate that "terrain." One of Katie Couric's producers subsequently emailed me looking for more information on the subject. It was exciting to see my work get that kind of attention — but the subject matter was terribly bleak.
I was writing pieces like that at the time because I thought they might contribute to a broader conversation. Attention from Couric's people was encouraging, but I don't know if they ever did anything on Sgt. Hale. Since then, things have changed. Stupefacient substances (including many formerly illegal ones that are now legal in some states) are in, and Fort Hood — in terms of nomenclature, anyway — is on its way out.
Originally named after reckless Confederate Gen. John Bell Hood (commander of the Texas brigade of the Confederate Army during the Civil War), Fort Hood is slated to be renamed Fort Cavazos — honoring the first Hispanic four-star general in Texas, Gen. Richard Cavazos — and military officials have until Jan. 1, 2024, to finalize the transition.
Fort Hood is America's largest active-duty armored military installation, housing approximately 40,000 soldiers, and troops from Fort Hood and elsewhere have manned military operations in more than 83 countries since 9/11, including Operation Iraqi Freedom (March 19, 2003-Aug. 31, 2010), Operation New Dawn, (Sept. 1, 2010-Dec. 31, 2011), Operation Enduring Freedom (Oct. 7, 2001-Dec. 31, 2014), Operation Inherent Resolve (August 2014-present), and Operation Freedom's Sentinel (Dec. 31, 2014-present). Based on a Feb. 21, 2023, casualty status report by the U.S. Department of Defense (DOD), in the course of these "operations," reported hostile and non-hostile casualties among U.S. military and DOD civilians have totaled 7,026.
The number of suicides among U.S. service members and veterans over the same period is a staggering 30,177.
That's roughly 1,371 suicides a year, 115 a month, and almost four a day.
That means Sgt. Hale was hardly an anomaly.
That means the U.S. military had been conducting an unofficial operation as it simultaneously operated Operations Iraqi Freedom, New Dawn, Enduring Freedom, Inherent Resolve, Freedom's Sentinel, and others. For now, let us dub it "Operation Unresponsive," because "unresponsive" is the standard cliché used to explain the condition of the victims when they are found intact in and around Fort Hood — and the command apparatus is consistently unresponsive to this issue, consistently unresponsive to the families of the victims, and continually unresponsive or less than forthcoming to the press.
And not just regarding the suicides or suspicious deaths but also reports of sexual harassment, sexual assault (heterosexual and homosexual), and murder.
But what's a daily, weekly, monthly regime of murder, suicide, and sexual harassment when a military base like Fort Hood, located on 218,823 acres in the Killeen area, contributes $28.8 billion to the Texas economy? Especially when that economy is largely fossil fuel-based and the U.S. military is the biggest fossil fuel consumer on the planet?
Is it a coincidence that we don't seem to go to war in many places where there isn't oil these days? It's almost like Big Oil has its own military.
It used to be we sent American troops off to fight real wars against real enemies, not perform weapons testing for the Military-Industrial Complex (which President Eisenhower, a native Texan, tried to warn us about) or run errands for Big Oil. Today, however, our soldiers mostly get to make or watch innocent brown people suffer overseas only to make sure our "black gold" supply chain remains intact. We know it, and they know it. There's no honor in it, nor any real appreciation from the corporate entities it benefits the most. It's a charade we're all a part of but, as civilians, can accept and assume passive roles in. Stupefacient substances help with that, but our soldiers shoulder the active load — and it is a horrendous load. And this load has made places like Fort Hood more dangerous for U.S. soldiers than their actual deployments. Consider 2020, a decade after "Johnny Got His Pills."
Fort Hood grew more fubar every other month. Twenty-year-old Spc. Shelby Tyler Jones, a native of Jena, Louisiana, died at a convenience store in south Killeen on March 1 after being shot at a local club. Some of his buddies reportedly tried to rush him to a hospital but had to stop at the store to render aid. Three months later, the case was "exceptionally" cleared, and no one was prosecuted in Jones' death.
Spc. Christopher Wayne Sawyer, 29, was discovered "unresponsive" — after allegedly shooting himself in the head — at his residence on base on March 5. A native of Longview, Washington, Sawyer had reportedly witnessed repeated acts of sexual harassment and encouraged the victims (male and female) to file reports, sometimes accompanying them or filing corroborating accounts. Nicknamed "The Governor" by members of his unit, Sawyer stood 6-foot-5 and weighed just over 230 pounds and wasn't comfortable ignoring the maltreatment that some of his fellow soldiers experienced or was bashful about expressing his contempt. He had a 5-year-old daughter at home and was so shocked by some of the behavior at Fort Hood that he was anxious to leave. According to Sawyer's wife, Destanie, he and others said little was done about most of the harassment, and when the files and complaints climbed the ranks, they were swept under the rug.
Then, Sawyer himself seemed to be swept under the rug.
On March 14, 2020, Spc. Freddy Beningo Delacruz Jr. was gunned down with two others at Summerlyn Apartments in Killeen. A 23-year-old native of Vidalia, Georgia, Delacruz was shot seven times in the back, his girlfriend (pregnant with his child) was found shot seven times on her bathroom floor, and Delacruz's friend, veteran Shaquan Markell, was shot execution-style on the living room couch, a video game controller in his lap. Twenty-three-year-old Barnard Lnell Morrow, a former soldier from Mississippi — and a man who considered his victims "family" — was charged with triple homicide and convicted of their murders in spring 2022.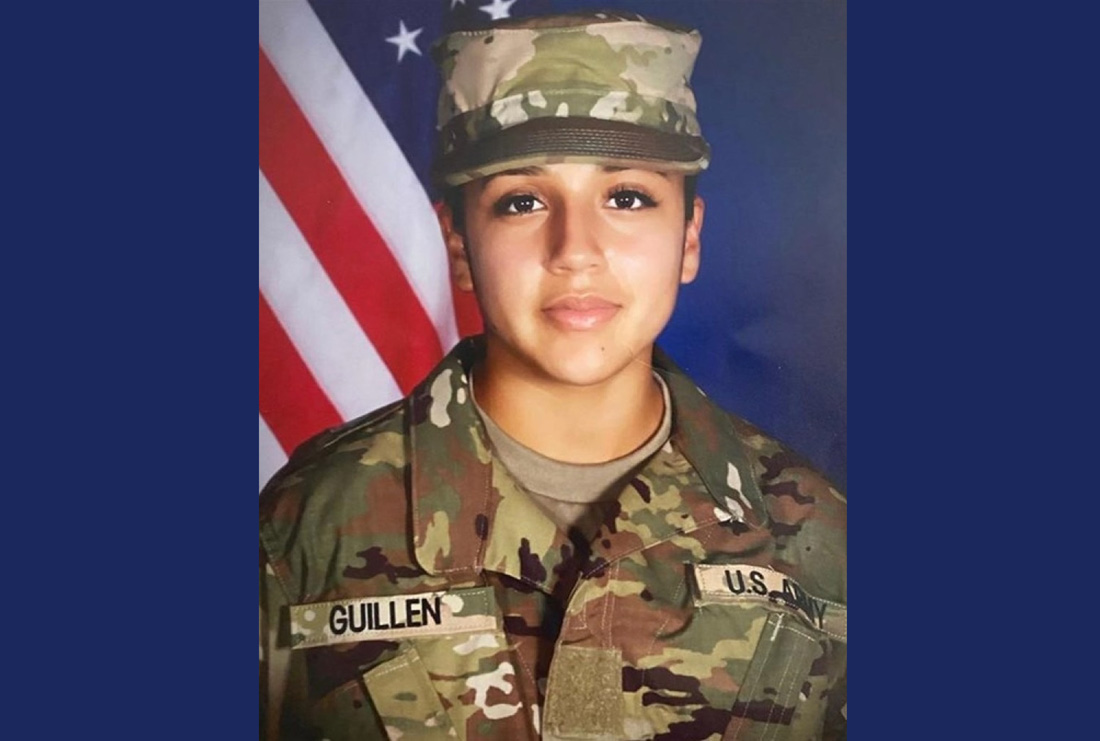 On April 23, 20-year-old Houston native Vanessa Guillen was reported missing after telling her family she was being sexually harassed by a fellow soldier. Her remains were found in a shallow grave near the Leon River over two months later on June 30. She had been dismembered and partially encased in concrete by 20-year-old Spc. Aaron Davis Robinson of Calumet, Illinois. Robinson had bludgeoned Guillen to death and then enlisted the help of his girlfriend, 24-year-old Cecily Anne Aguilar (the estranged wife of another Fort Hood soldier), to help him conceal the crime. When Robinson found out Guillen's remains had been discovered, he fled, killing himself with a handgun after being cornered by Killeen police. Aguilar pleaded guilty in U.S. magistrate court in Waco to one count of being an accessory after the fact and three counts of making false statements to the government.
The day Guillen was reported missing, 21-year-old Pvt. Gavin Chambers died at Fort Hood. Six days later, on April 29, 19-year-old Pvt. Joshua Holden Barnwell reportedly died after an "accidental weapons discharge" struck him in the head.
On May 16 of this one year, 2020, Sgt. Brad Reynolds, 37, committed suicide, leaving behind a wife, two sons, and a daughter. Pfc. Brandon Scott Rosencrans was found dead on the side of a road in Harker Heights (near Killeen) two days later. He had been shot four times at close range after befriending and then apparently being drugged by 30-year-old Brandon Michael Olivares and 39-year-old Estrellita Hidalgo Falcon. Rosencrans' jeep was found burning three miles from his body, and Falcon was sentenced to 19 months for auto theft. Olivares was charged with murder and is awaiting trial.
Staff Sgt. Richard Lee Harrington Jr., 45, of Brooklyn, New York, killed himself on May 25. Harrington's suicide was followed by that of 23-year-old Spc. James Green.
The skeletal remains of Pvt. 2nd Class Gregory Scott Morales were found in a Killeen field on June 19, 2020 — 10 months after the 24-year-old Sapulpa, Oklahoma, native was reported missing.
Navajo citizen Spc. Miguel D. Yazzie died at Fort Hood on July 3, but his cause of death was not provided. Twenty-six-year-old Pvt. Mejhor Morta, of Pensacola, Florida, was found unresponsive on July 17 after drowning in nearby Stillhouse Hollow Lake. Local fishermen discovered his body at the base of a dam. Spc. Francisco Gilberto Hernandez-Vargas of Woodside, New York — in the same battalion as Morta — was found dead in the water at Stillhouse Hollow Lake on Aug. 2. The 24-year-old had reportedly been riding on an inflatable tube being pulled by a boat before he died.
Then, on Aug. 25, 2020, Sgt. Elder Fernandez of Brockton, Massachusetts, was found hanging from a tree in Temple, about 25 miles from Fort Hood. A preliminary autopsy ruled Fernandez's death a suicide, but it came not long after he reported to his superiors and his family that he was being harassed and that one of his commanding officers had sexually assaulted him. He was hospitalized for psychiatric care at the Carl R. Darnall Army Medical Center in mid-August and disappeared the day he was released.
Navajo citizen Pvt. Corlton Chee became the 28th soldier to die at Fort Hood in 2020, on Sept. 2. He reportedly collapsed during a training exercise.
"Operation Unresponsive" ran at a steady clip at Fort Hood for at least a decade, but the campaign was abridged in December 2020, when numerous Fort Hood leaders were found to be permissive of sexual harassment and assault and were relieved of command or suspended. Especially damning was the Army review determination that "no commanding general or subordinate senior commander proactively intervened to mitigate 'known risks of high crime, sexual assault, and sexual harassment.' "
Over the last couple of years, however — overdue punitive measures notwithstanding — victims' friends and family members have claimed that the "Great Place" gives off a bad vibe, warning journalists like May Jeong not to be out around Fort Hood after dark and to be on the lookout for "cartels."
Cartels. In Central Texas.
In WWI, U.S. fighter pilots protecting an airplane's rear position coined the phrase "I've Got Your 6." The phrase means "I've got your back." Several of our fellow Texans participated in the attack on the U.S. Capitol on Jan. 6, 2021, because they had Donald Trump's back. Many of our fellow Texans have patrolled our border with Mexico because they believed they had white Texas' back. And plenty of Lone Star politicians continue to discuss secession as if they have the state of Texas' back.
Who's got the Fort Hood victims' back?
I limited my examination of the mayhem and carnage at Fort Hood to 2020 — one year — but the trend continued well into 2022, ending with the reported suicide of 26-year-old Skiatook, Oklahoma, native Justin Lambillotte in his barracks on Dec. 23.
Fort Hood has been a disturbing new chapter of the wild, wild west for over a decade and right under our noses at that. It's also been an asinine model of good-ol'-boy abuses (and excuses) right in front of our eyes. And Fort Hood clearly seems to have been more dangerous for the soldiers stationed there than any current combat zone they might be sent to.
So, though I applaud the decision to rename Fort Hood after Gen. Richard Cavazos — a Mexican-American hero — if I were a member of the Cavazos family, I might think twice.
It would be a shame to lend a real patriot's name to a chronically fubar military base in a state governed by often conspicuously unpatriotic leaders.
Fort Worth native E.R. Bills is the author of the upcoming Tell-Tale Texas: Investigations in Infamous History (release date August 2023).