Joe's Hangout, 3020 E Rosedale St, FW. 817-887-9557. 11am-9pm Mon-Thu, 11am-10pm Fri-Sat.
A writer buddy of mine who works at a different paper mentioned that he likes Joe's Hangout, a pizzeria that went into the space vacated by Ben's Triple B last November. Any restaurant in that corner lot across from Texas Wesleyan University and up the street from Polytechnic High School ought to have no problem generating ka-ching, especially during lunchtime. Ben Merritt's restaurant closed unceremoniously last year due to what the chef called the rising cost of doing business post-COVID, but it seems that what would be useful in the neighborhood is a place where you can enjoy a filling meal for a minimum amount of change. College students and writers agree on that point. My buddy sold me on the generous portions and also on the promise that beverages are delightfully inexpensive during happy hour.
Drink specials vary by the weekday, and since my dining companion and I visited on a Wednesday, my choices of cheap booze included a Long Island Iced Tea or a margarita. Mondays and Tuesday are the days well drinks are on offer, and apparently Friday is shots night.
Pizzas by the pie come with one topping included. Upgrade to more toppings for an additional charge. This is the real deal — thick-edged, floppy-in-the-middle NY-style pie — and it's served lightly sauced. You'll probably consume less pizza than you think because the thick edge of crust is almost like a second serving of bread. Maybe Mama's Pizza has spoiled us these many years, but there was no creamy Italian dressing to dip the crust in, so a side of ranch and an extra side of Joe's delightfully spicy, red pepper-infused arrabbiata sufficed.
The scrumptious sauce actually kicked off our meal. It arrived with the rather standard garlic knots. Make sure you have enough handy for anything else on the menu primed for dipping. On top of the plastic counter where you order are displays of a few of the other specialty appetizers, like pepperoni or spinach pinwheels.
A saffron-colored Jamaican meat pie under glass looked unusual among the traditional Mediterranean nibbles, so we tried it. Not as flaky as an empanada, the pie was tasty but not filled with the authentic spices that I miss from the dearly departed Angie's Bikkles (the one and only Jamaican restaurant I've ever reviewed, and I still remember the meat pies there with nostalgic love).
If you follow a gluten-free or grain-free diet, Joe's serves a couple of salads. The manager also offered to create a crustless pizza in a bowl with cheese and toppings, but the salad option worked fine.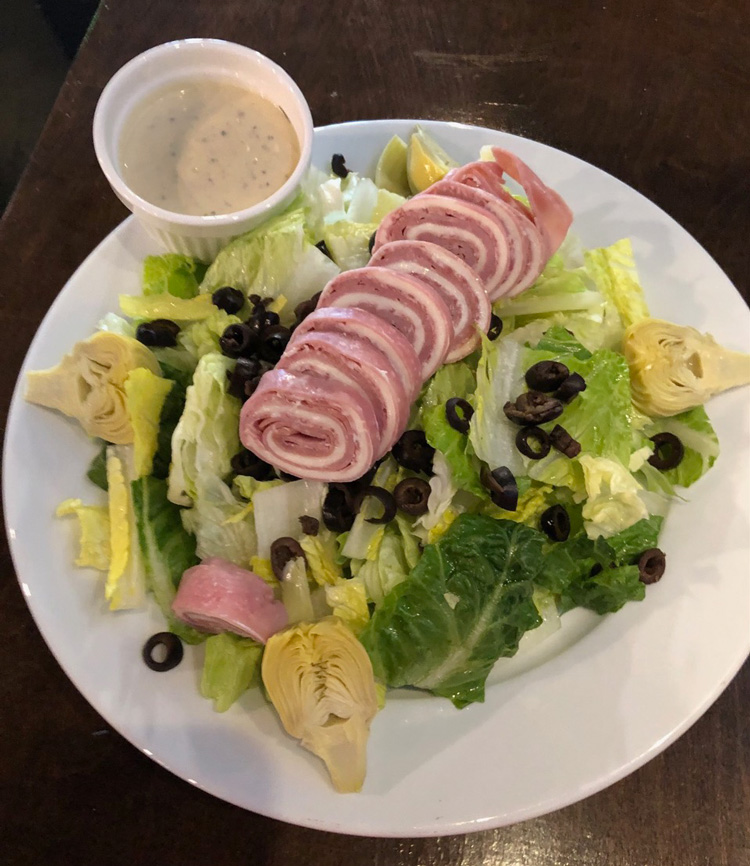 Perhaps time spent in fancier restaurants or my January trip to Little Italy in Manhattan are too fresh in memory, but when I saw antipasti salad on the menu, I assumed that meant that the ham, salami, capicola, and provolone cheese would be in individual slices. Instead, we got a few pinwheel-style meats rolled with something that was provolone-ish. Four preserved artichoke quarters and a large bed of mostly iceberg lettuce studded with black olives completed the sad little presentation.
The Greek salad was a better choice, with a romaine and iceberg mix and a ton of green olives and cucumbers under a generous blanket of feta cheese, which provided protein plus your daily recommended intake of sodium. The house oil-and-vinegar dressing was just that –– no discernable spices other than the red onion in the salad and the salty olives and cheese.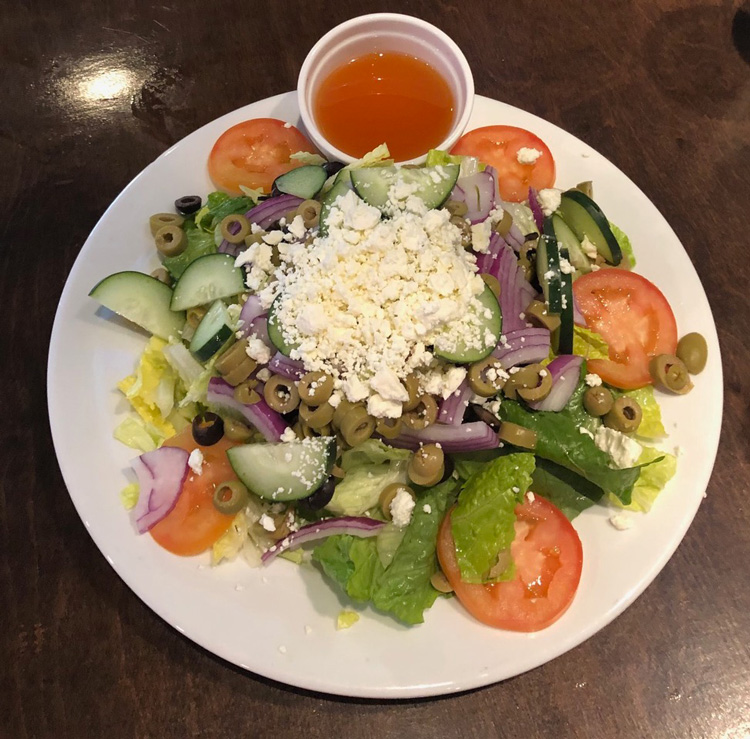 The pizza had arrived with a heavy sprinkle of oregano, and if the Greek salad had been more seasoned, the whole meal might have devolved into flowery oregano chaos. I love the flavor of oregano on a thick bed of whole milk mozzarella cheese. My dining companion's Swedish ancestry and daintier tastebuds were assaulted by the herb.
There were so many things that we didn't have room to try, including a handful of desserts plus the pasta, the chicken or eggplant parmigiana, and the other kinds of pizzas –– stuffed, Sicilian, or in calzone-like rolls. Two can eat pretty well for two nights on a medium New York-style pizza.
Walking out, I was reminded of dining with a different writer buddy from the Weekly. He was legendary for picking unassuming holes in the wall if you went to lunch with him. His favorite restaurants didn't serve the fanciest chow, but you left full and happy. Joe's Hangout seems made for the budgets of both students and journalists, with lunch for between $5 and $10, outlet plugs and built-in USB charging ports at practically every table, a small arcade, and a few large-screen televisions — because we all have to lift our heads up out of our homework.
Joe's Hangout
Medium one-topping pizza $15.99
Jamaican meat pie $3.99
Antipasti $9.99
Greek salad $8.99
Garlic knots $2.99