"Make some fucking noise!" an exuberant Kiana Lee shouted to a raucous crowd.
Bathed in blue light and dressed in a tight, glittering dress, Lee told the 1851 Bar customers about the evening's special guest. Salem Moon stepped out as "Running Up that Hill" blared overhead. Her eyes flirted with the audience as she pulled off her cape, revealing a black-and-white unitard. After lip-syncing and dancing through a five-minute set, a noticeably winded Moon chatted up the crowd ahead of the five guest performers competing for $100 that night.
"What are y'all drinking?" she asked a group in the back.
"Everything," one of them replied.
"Those are the people I'm afraid of," Moon said with a sly smile.
Everyone was having a blast. In the relative comfort and safety of Arlington's only gay bar, the national right-wing uproar over drag performances wasn't a topic of discussion, but privately to me after the show, Moon and Lee expressed confusion and frustration over how Republicans mischaracterize drag performers — who are business owners and community leaders during the day who happen to enjoy inhabiting strong female characters and entertaining all genders at night.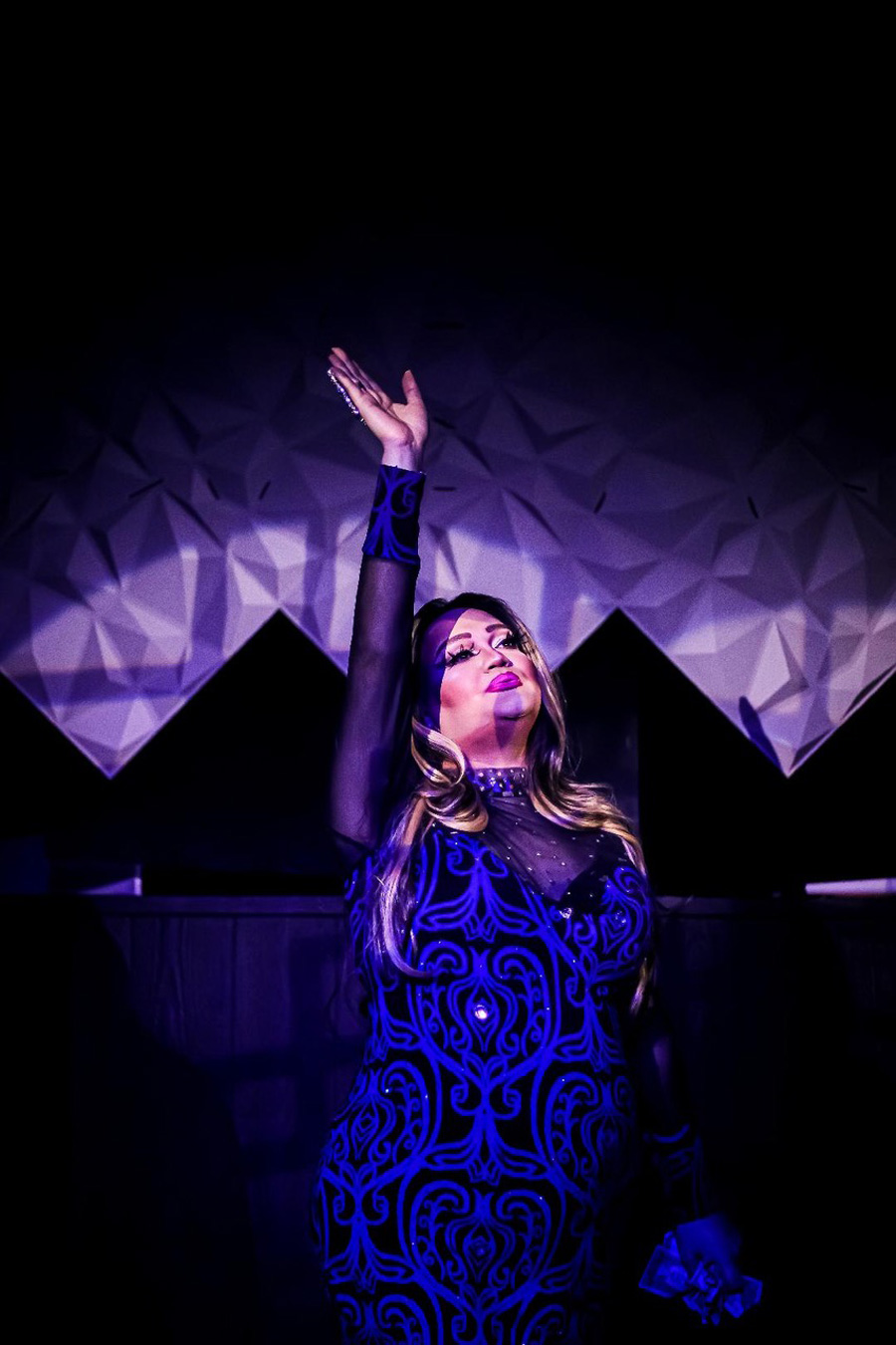 Republican state legislators across the country are drafting or passing laws that could restrict drag performances or criminalize them even though cross dressing has a storied history throughout Western culture, notably in the theaters of Elizabethan England and Ancient Greece, where men wore dresses to play the roles of women and girls.
SB12, filed by State Sen. Bryan Hughes of Mineola, recently passed the Texas Senate along party lines. The bill would ban kids from drag shows if the events are deemed sexually explicit by law enforcement. The proposed legislation that has the backing of Lt. Gov. Dan Patrick could slap drag queens with a Class A misdemeanor while the host businesses could be fined up to $10,000. The state senate also passed another bill by Hughes, SB1601, which would ban drag queens from reading to children in public libraries. Libraries that violate the bill could lose one year of state funding.
The Republican-led effort to falsely portray drag queens as sexual deviants has emboldened right-wing groups to protest outside performances, and subsequent anti-protester actions can lead to armed confrontations. Recently outside Fort Brewery and Pizza near the Cultural District, the anti-LGBTQ+ group Protect Our Kids brought around a dozen protestors wielding signs that read, "Stop Grooming Children" and "Stop Sexualizing Minors." In response, and presumably alerted to the protest by the right-wing group's earlier social media posts, several members of the leftist Elm Fork John Brown Gun Club arrived clad in all black and armed with long rifles. The two sides clashed.
Area resident A.J., who requested anonymity to protect her privacy, said she was shocked to see the confrontation.
"I was walking home from the park [that afternoon] when I noticed a man dressed in all black" sitting near Fort Brewery, she said. "I noticed he had a loaded gun propped next to him. I didn't know who he was or why he was there. Was I going to get shot? The police were outside of the brewery and aware of these armed men walking the street. Who can feel safe when this is allowed? I certainly don't."
Fort Worth police arrested three members of the John Brown club for a range of charges, including assault, assaulting a peace officer, resisting and evading arrest, and interference with public duties. Video footage of the confrontation appears to show one member of the gun club pepper-spraying anti-LGBTQ protestors. In a tweet, Fort Worth police said the alleged pepper-sprayer was one of the three suspects arrested that day.
Moon said armed conflicts like the one at Fort Brewery steal the public narrative at a time when the media should be working to dispel myths about drag shows. Armed escalations from the left only further endanger the public, Moon said, adding that drag queens and their fans should trust law enforcement and venue security to keep people safe — from counterprotestors or heavily armed right-wingers.
Moon added that drag queens know how to tailor their sets to be age appropriate. If there's a daytime performance among minors, the performers avoid cursing and wearing revealing clothing. Concrete Cowboy, Club Reflection, Funky Picnic Brewery & Café, and Red Goose Saloon are just a few other Fort Worth venues that host safe, regular drag-themed events.
As for the misinformed protestors who have taken to picketing her shows and accusing her of "grooming" children, Moon doesn't see their antics ending soon, but she does have a reminder for them.
"I'm usually wearing more layers of clothing than the protestors," she said.