Though the recent rain has kept the usual flesh-melting temperatures at bay (so far), the date displayed on your Apple Watch tells you summer is upon us. In no time, we'll be heeding the dulcet call of Robert Palmer to "feeeeel the heeeeat!" Whether you like it hot or not, make no mistake, it soon will be. Thankfully, the local music scene keeps booming, and heading into sweltering season, local artists look to keep cranking out new tracks that promise to be hotter than the hood of a sunbaked Ford Taurus in July. Join us as we trade our pearl snaps and jeans for tanks and board shorts and look forward to some upcoming local releases and shows sure to keep your earbuds thumping.
There's perhaps nothing more appropriate when it comes to summer tuneage than Summerjob, the nom de guerre of singer-songwriter Mac Probst. The breezy indie popper just dropped "Just Want to Be Gone." Released through local imprint Dreamy Life Records, it's a low-fi, low-key electro-meditation about anxiety, in which Probst's Beck-like rhyme delivery steps around a dreamy, faraway guitar figure and a snapping, skittering drum loop. In the absolute best way, it sounds like the menu music on a hotel's information channel, which you're chilling inside watching because there are too many people down by the pool.
Several other Dreamy Life artists have music on the sunny horizon as well. Cowtown's closest thing to John Prine, singer-songwriter and Dreamy Life co-owner Cameron Smith, recently took a spin through Dallas' Modern Electric Sound Recorders to cut a pair of new singles produced by North Texas country/rock hitmaker John Pedigo (Old 97's, Joshua Ray Walker). Due early next month, the first is the lush and cloudy waltz "Under the Cover of Darkness." The second boasts another seasonally appropriate aspect. The Petty-esque rocker "Poison Summer" is slated for a July release.
A fellow singer-songwriter and sometimes Smith collaborator, Eric Osbourne is finally getting close on a follow-up to his self-titled 2020 debut. With Joel Raif (White Denim, Summer Dean) at the helm at Niles City Sound (Leon Bridges), the four tracks are Osbourne's first efforts backed by a full band. The EP should be out soon, though his melancholy folk stylings are perhaps more winter than summer.
Katie Robertson is probably best known for playing keys with and singing backup for a bunch of artists over the years, but on Jun 9, she is finally making her solo debut. For her first single, "Just to Say," she's backed by Hot Knife (Cameron and Stevie Smith, Schuyler Stapleton, and Peter Marsh), with horns by Chuck Brown (Hotel Satellite, Telegraph Canyon), Jeff Dazey (Leon Bridges, EPIC RUINS), and Chris Waldon (Starbass Laboratories, War Party). The long-awaited debut was tracked and mixed by Britt Robisheaux (Tame … Tame and Quiet, Hoaries) and mastered by Jordan Richardson (Son of Stan, Quaker City Night Hawks, Oil Boom).
Besides Robertson's solo material, she also forms half of Genini, a hazy, stoner-y electronic duo with Jennifer Rux (Year of the Bear, The Fibs). With Robertson on keys and Rux on drum loops and other electronic percussion, Genini is essentially them hitting RECORD on live jams, with trance-inducing, psychedelic results. Per that vibe, Genini will release a new track in July. Tracked and mixed by film composer Curtis Heath (Miss Juneteenth, Ain't Them Bodies Saints) and mastered by Richardson, "Tom Jones on Acid" will debut with a video by electronic artist Rickey Kinney.
July might finally see one of the area's most anticipated records, the long-awaited debut full-length from All Clean. Brainchild of former Oil Boom guitarist and Ice Eater songwriter Zachary Edwards, the four-piece's post-industrial clash of electronics, rumbling bass, and Edwards' brittle guitar bends are equal parts anthemic and horror movie soundtrack, and we can't wait for the chance to draw blood from our eardrums with it.
Cut Throat Finches' Sean Russell has a side project he's been working on for a couple of years, and it sounds fantastic. Full of bouncy, pianistic, Beatles-esque tunes, including a sunny yet scathing indictment of self-righteous hypocrisy called "Evangelicals," The Nancys' debut album will be out this summer.
DIY folky Daryel Sellers will release a new single on Thursday. "Brooklyn Nights" is the next in a series of singles that will compose a four-song EP. Sellers, who sings and plays keys, is joined on the record by some local heavy hitters, including jazz maestro Andrew Skates on guitar, producer Taylor Tatsch (Maren Morris, Keegan McInroe) on bass, and Peter Wierenga on drums.
Cosmic-country crooner Brandon "Broke String" Burnett's new track "Coyote" will be out in July with an animated video.
Son of Stan's Richardson has also been involved in the reimagination of some older Sleepy Atlantis material. The tranquil, string-laden soft-folk project of Bobby Zanzucchi had its heyday more than a decade ago, but now, with Richardson manning the console, the material has been rearranged, and a handful of songs have been re-recorded. The two are busy putting the finishing touches on the latest, "Lazy Recollection," out soon.
Project of physician-turned-indie rocker Stephen Troum, The Troumatics will release their debut album in just a few weeks. Watch Me Burn will be available on every hipster's preferred format: CD at the merch table. The release party is Jul 14 at The Cicada, but until then, The Troumatics play Friday at The Post at River East with Court Hoang and David Tribble.
Next month, noirish singer-songwriter/surf-rock aficionado Clint Niosi will release a live recording of his band's performance at MASS last June. Clint Niosi 6-19-22 contains the eight-song set that includes material from the raspy baritone's Panorama Avenue album as well as some of his earlier material. Following the release this spring by fusion ensemble Rage Out Arkestra, it's the second consecutive live album released through Niosi's own Orange Otter Audio.
Itchy Richie & The Burnin' Sensations are collaborating with punky dream-poppers Big Heaven on a cover of the synthy '80s anthem "Two of Hearts." The bands are looking at a late-June release date for their tribute to Stacey Q.
Blitzkrieg punx Antirad are making a resurgence of sorts, playing shows again and preparing to release some new material, hopefully by the end of the summer, and reggae outfit Watusi also plan to release new material before September rolls around.
In addition to all the great local music you can listen to anytime you want, if you're one of those dying breeds adventurous enough to enjoy consuming music live in actual three-dimensional reality, there's no shortage of opportunities this summer.
Near TCU, Lola's (2000 W Berry St) will be hopping over the next few months. Highlighted in June is a pair of great Americana shows with Woodeye and Brave Little Howl on Jun 3 and Dustin Massey with Generational Wealth the next weekend.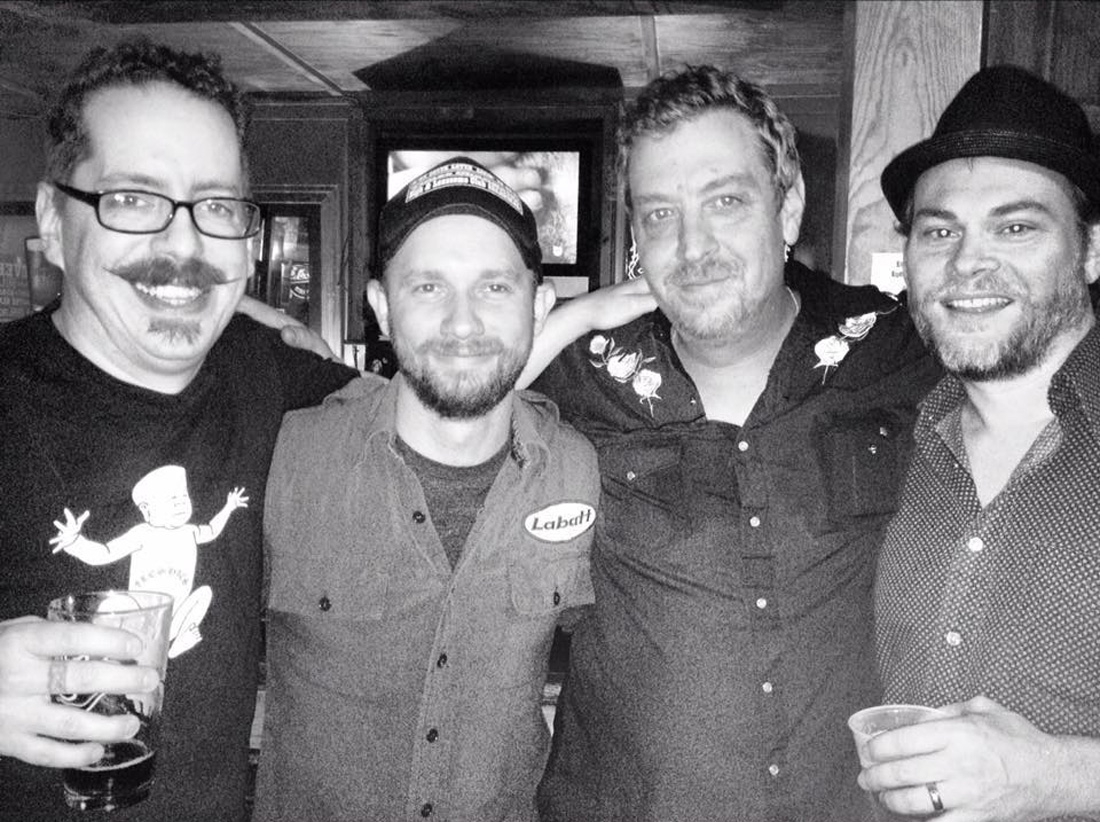 Tulips FTW (112 St. Louis Av) has quickly become one of this town's premier listening rooms with both local and national touring acts moving through. Kicking off the Near Southside venue's series of summer shows, this Saturday sees local garage punks Mean Motor Scooter headline a night with surf-rock primates The Go-Go Rillas, The Koffyns, and the Devil's Darlins. On Jun 18, the adroit indie of Cool Jacket hits the stage along with Denton's RTB2 and Daniel Markham. For national acts,'80s NYC hardcore legends Gorilla Biscuits will play just a few days later on Jun 22. This all-ages classic-punk show promises to be an absolute rager with openers the Bitter End and Urn. Grab these tickets before they're gone, and whatever you do, do not miss Urn.
You can soothe some of that hardcore burn the following week when Tulips hosts San Diego's chilled out Wavves with Cloud Nothings. Crank back up the testosterone in July when Dallas hardcore metalheads Creeping Death take over with Upon Stone and the extremely kick-ass-named Saintpeeler.
Speaking of metal, long into their reign as the biggest rock band in the world, Metallica continue to bring the heat this year with their 11th studio album (72 Seasons) and an accompanying tour that bounces back and forth between North America and Europe. They're playing two shows at JerryWorld (Aug 18 and 20), with the promise of different setlists and plenty of eyebrow-curling pyrotechnics. Let's just hope James stays clear of their path.