Le Margot, 3150 Hulen St, FW. 817-720-9060.  10am-9pm Sun, 11am-9pm Mon, 11am-10pm Tue-Fri, 10am-10pm Sat.
Less than two months ago, foodies invited to the media night at Le Margot were absolutely in ecstasy about the cuisine. Or maybe just about executive chef Graham Elliot, who seems to be everywhere these days. The jovial two-star Michelin chef and multiple-year James Beard nominee has parachuted into Fort Worth from Chicago to work with Felipe Armenta, the chef/restaurateur behind Press Cafe, Pacific Table, and Maria's Mexican Kitchen.
For those unfamiliar, media night lets writers and bloggers enjoy the best, most beautiful, and most perfect items that the owners want to share. This is usually accompanied by booze and brief face time with the glowing, grinning owner/operator/chef. It's a lovely job perk, and I've been to my share. Participating in the literal free-for-all also makes it difficult to legitimately review the restaurant with a straight face.
A great American poet once told us not to believe the hype, so I don't. And I picked my dining partner carefully –– I met her at a now-closed restaurant in the mid-aughts, and we've kept up with each other's adventures. She's been in more front-of-the-houses than a Ring camera, so I figured she was the right person to review the surprisingly upscale enterprise lodged in a Westside neighborhood. If there was a flaw in the service or something amiss, I figured she'd peg it faster than I could.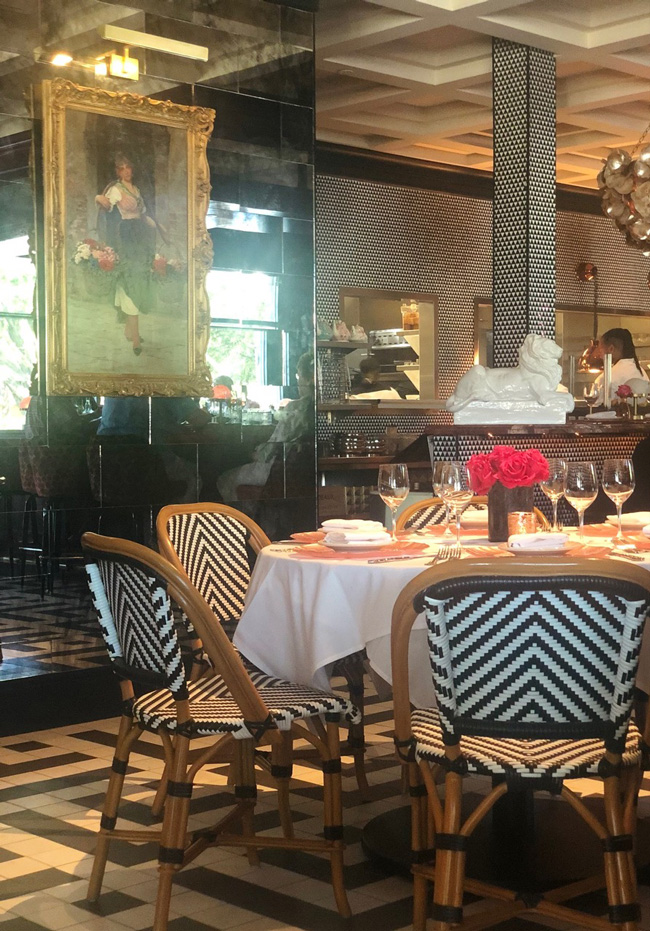 As we were being seated, the genial server said that while there was "no rush," the chef "encouraged" diners to order all of their meal all at once. At that point, it was like the clock started ticking –– it's disconcerting when you hope for a leisurely meal and gal-talk but realize they're already planning your eviction.
"I bet they walk us out at 90 minutes," I said, and we grudgingly ordered our meal from start to finish, including cocktails and dessert.
For starters, the C'est Ci Bon (Grey Goose pear vodka, pear syrup, and a touch of bubbly) was a magnificent, sweet-tart-sparkly mood-enhancer. Between that and an inexpensive but tasty prosecco, we shrugged off the weird vibe and settled in. The restaurant looks warmly elegant, and the black-and-rose décor definitely puts you in a Parisian state of mind. Oddly for a fine dining place, there are only white napkins — this matters if you're wearing lint-collecting black as one of us was.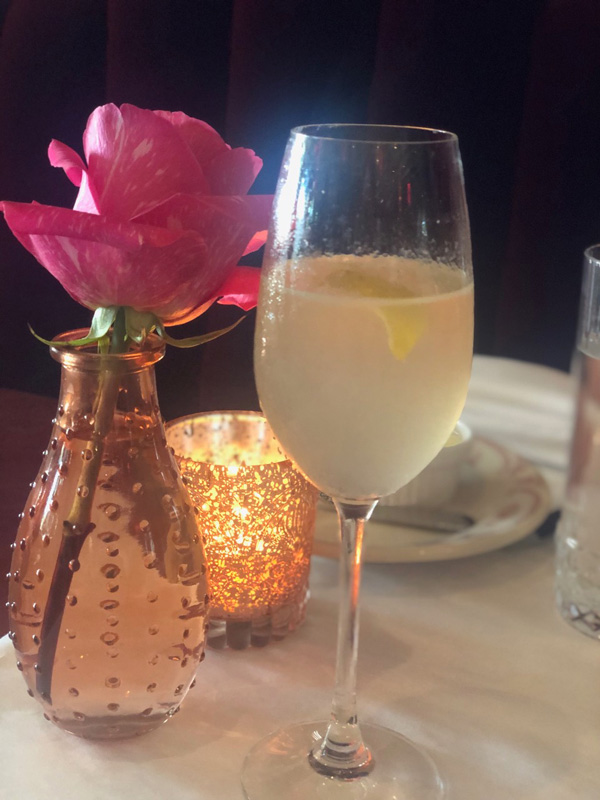 A little more homework would have yielded the info that the bleu tarte flambé would not actually be served on fire tableside. It's a traditional pizza-esque treat from the border region between Germany and France, but perhaps the server could have assisted us in managing expectations. The only thing flambéed was the crispy cracker-thin crust. The version we sampled, with blue cheese, thinly shaved pears, and a dainty drizzle of spicy honey, tasted fine. The flaky crust managed to decorate a lot more of the table than one would have thought possible.
Le Margot's dinner menu offers a veritable hit list of French classics, and you'll recognize some if you're an Anthony Bourdain fan. (His steak frites at Brasserie Les Halles back in the day were apparently legendary.) Or, for that matter, if you've visited Paris 7th or Saint-Emilion recently.
When faced with a French menu, if a duck confit or coq au vin isn't on the bill of fare (those are Sunday and Monday plates of the day, respectively), pivoting to the classic steak au poivre is pretty much what a lady does. The dainty filet could be cut with a fork (probably even a spoon, maybe even a toothpick), and three perfect asparagus spears made for a glorious textural contrast. The cognac-peppercorn sauce was delightfully rich and understated.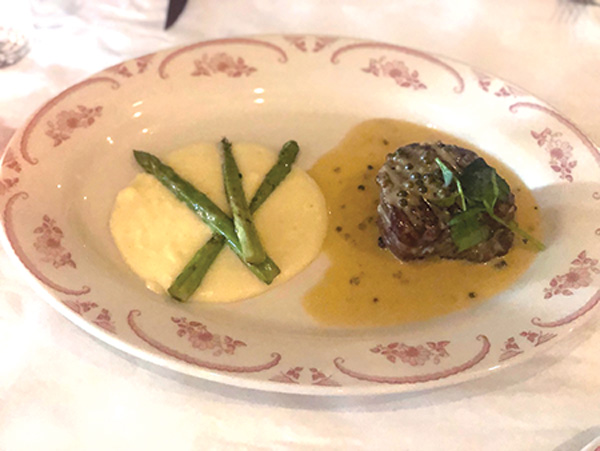 Sadly, the kitchen was fresh out of the scallops, my first choice. The lavender-glazed chicken with sautéed spinach was a distant second. While the beef was cooked perfectly to order, the chicken quarter was raw in the middle — not just a little undercooked but dull-pink rare, which was an absolute shandeh, especially when you consider that every single chef you know has a thermometer stuffed in one of their cheffy pockets. The sautéed spinach was pleasant until we saw the bird was raw and hoped no contamination occurred.
After that little bit of nausea-producing excitement, we rued pre-ordering two desserts at the beginning of the meal "at the chef's recommendation," but any regret was soothed by the perfect burnt-sugar crust on top of the delicate rose crème brûlée. The floral flavor was exceptionally subtle and utterly perfect with the dainty dab of raspberry compote.
We also ordered hot fudge profiteroles, on the grounds that the filled choux-pastry sweets are exotically hard to find. Per tradition, the tableside presentation involved a lovely amount of chocolate ganache poured expansively over the slightly sweet dough.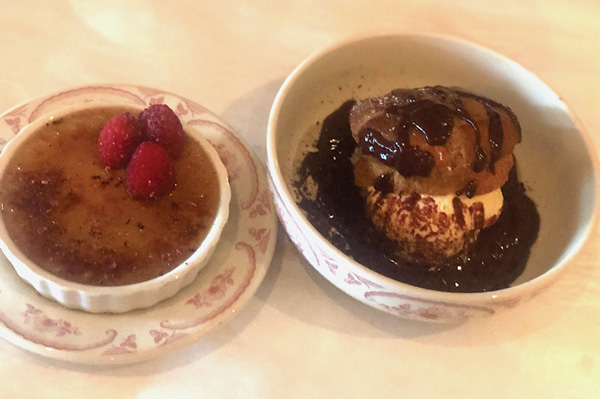 The restaurant was originally branded as Café Margot, promising a taste of something country French. Somehow the plan got a giant facelift, complete with more expensive price points and valet parking. Given the location in a strip mall (Le Margot shares a wall with a Panda Express and a parking lot with a grocery store), the whole thing smacks of excess. Chef Elliot's presence in town, and at events like the Fort Worth Food + Wine Festival, definitely ups Cowtown's culinary sophistication rating, but his track record in Chicago is interesting –– it's not like he was run out of town on a rail (remember Tim Love's failed Lonesome Dove outpost in Manhattan?), but there's some chisme about a variety of practices in his places in Chi-town.
And Fort Worth's track record of loyalty to fancy eateries in the suburbs is not great –– Bistro Louise, which was lodged about half a mile up Hulen Street, closed over a decade ago. Our track record of wanting fancy anything on a weeknight is similarly dismal –– La Onda won all sorts of acclaim and still had to close, although the former River District establishment will allegedly open back up in Hotel Revel on the Near Southside this fall.
Nearly true to my prediction, we were walking out the door in 92 minutes. Except for the major flaw of the insistence that we pre-order food we might not be hungry for at the end of the meal and the inexcusably raw chicken quarter, there's nothing fundamentally wrong with Le Margot. You're tempted to wonder what Armenta was thinking with this venture. It's too soon for accolades here. It's possible that, like Jon Bonnell's flagship place one exit west on the highway, a white tablecloth restaurant can succeed outside of downtown. A little more down-home welcome and a little less pretention would go a long way.
Le Margot
Filet au poivre $58
Lavender-glazed chicken $25
C'est Ci Bon $15
Bleu tarte flambé $16
Rose crème brûlée $11
Hot fudge profiteroles $13