Doc's Orders: Fungi Girls
Posted April 25, 2012 by Hearsay in
Music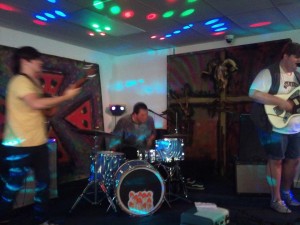 The Fungi Girls jam out at Doc's. Courtesy Doc's Facebook.
So National Record Store Day is another one of those non-holiday holidays created by The Illuminati to inspire rampant commercialism. BFD. There are a lot worse things to dedicate a day to. (Jelly beans?!) And as pretty much the only vinyl-friendly record store in town, Doc's Records & Vintage (9522 Camp Bowie West, 817-732-5455) went all out for this year's celebration, on Saturday. The community returned the favor by showing up and shelling out –– the place was comfortably packed, and at least half the people there were carting around purchases. (To the oldish dude who bought a volume of Norton Records' multi-volume set on the Fort Worth Teen Scene of the 1960s, I wholeheartedly say, "Capital choice, my good lad!") In addition to free beer (Bud Light, Miller Lite, and Shiner) and a ton of free food –– grilled fajita meats and veggies (no cross-contamination, according to a handwritten sign over the buffet table) –– a few local bands performed. As I'm wont to do anytime anything free is offered, I imbibed at a pace not conducive to daylong daytime activities. In other words, I got a little tipsy fast, which means that I didn't have the, uh, energy to catch the two headlining bands, those fine Fort Worth gentlemen known as Whiskey Folk Ramblers and throwback tribute artists Stoogeaphilia, and had to split early. However, I hung in there long enough to catch a kickass set by Cleburne's Fungi Girls, right before Whiskey Folk. The scuttlebutt on the scene –– OK, I was chatting with my man Ken Shimamoto (Stoogeaphilia, Hentai Improvising Orchestra) –– was that the young Girls were going to break up to explore higher edumacation, which cast a sort of blue haze over the band's tight-as-hell, raucous surf-punk-psychedelia. Or maybe it was just the trippy lighting. In any case, drummer Skyler Salinas later said that two Girls will be moving to the Fort to attend "TCC and/or UNT" and that he was considering relocating to California this summer to attend art school on scholarship. "I recently decided to stay in Fort Worth," he said. "I spent part of my life growing up in California, and as much as I love Texas and it's my home state, I've always wanted to go back. Just isn't the right time now." Which is good news for music lovers. Fungi Girls are exceptional and onstage cut quite the figure: Big frontman Jacob Bruce, with his soft and distant voice, wrings an echoing, almost hollow but still heavily resonant tone from his white Jazzmaster. The slight Deryck Barrera, his violin bass strapped nearly to his neck, bops along excitedly as Salinas absolutely cooks –– he was triple-rolling on his snare with only his left hand. As a lot of national press has already noticed (including the tastemaking machine to end all tastemaking machines, Pitchfork), Fungi Girls are the real deal. Warming up the room for them was War Party, a Fort Worth quartet that purveys a rowdy species of melodic proto-punk (think: '80s-era Clash). Doom Ghost and an Austin band, No Future, went on beforehand, and before that came two solid Fort Worth acts: The Cush and Year of the Bear. The stage was in the corner of the rather large space, by the back door that led to some picnic benches, portable toilets, and the propane grill. A nice touch was being able to amble outside for some sunshine and/or a smoke and still be able to hear the music relatively clearly. The sound inside was pretty decent: clean and not too loud. Though Doc's large backyard seems like an ideal spot for a killer show, the nice houses across the street firmly indicate that reverberating tuneage isn't exactly neighborly, National Record Store Day or not.
Contact HearSay at hearsay@fwweekly.com.