SandBurg's vs. Belt Buckles
This decadent Burleson joint gets just about everything right.
Posted June 27, 2012 by ALEX TYLER in
Eats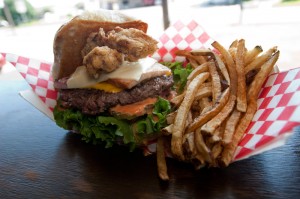 This, ladies and gentlemen, is the SandBurg. Come hungry Chase Martinez
A new joint has just upped the ante on burgers in Burleson. And if you don't like burgers, SandBurg's gourmet sandwiches are pretty special too –– as long as you're not worried about calories.
In a building formerly occupied by a Burger Box, SandBurg's is a ma-and-pa establishment whose fare is hardly fast food.
The interior is vintage and casual, like any classic burger joint, with dark wooden booths and red-and-black four-tops. The menu, which is written in chalk, hangs above the counter where you order.
The restaurant's signature item, the SandBurg, was a diet-destroying monster: Between two halves of a toasted sweet roll shipped in from a bakery in Houston sat an 8-ounce all-beef patty, thick slices of turkey and ham, layers of melted cheddar and Swiss cheeses, your choice of cold veggie toppings, one of SandBurg's signature sauces, and the pièce de résistance or ridiculousness: strips of chicken-fried bacon.
The burger was an explosion of flavors and textures: The sweetness of the bun tangoed with the crisp veggies, which mixed with the salty meats and crunchy bacon, everything kissed by the smoky, tangy Come Back Sauce. (Recommended by the cashier, Come Back looks like Thousand Island.) You'd have to be crazy to eat the whole thing, though. It's massive.
Of course, the SandBurg was messy but only slightly messier than the turkey-and-cheese sandwich: a thick slice of white meat topped with creamy melted cheddar, lettuce, and Come Back sauce on a ciabatta roll. The smokiness of the meat and the sauce was strong but not overbearing.
Perhaps the juiciest offering was the mushroom-Swiss burger. The meat was peppery and greasy (in the best way) and the 'shrooms earthy.
For the calorie-conscious, SandBurg's offers the Lil' Burg: a quarter-pound patty nestled on a sweet bun with a mountain of toppings. The burger was small but didn't lack for flavor.
The sides were hit and miss. On the plus side were the light, crispy, and scandalously salty fried pickles, easily the most addicting SandBurg's item. The tater tots were another hit. Crispy on the outside, they had smooth, creamy centers. The greasily delicious freshly cut fries also scored high marks. (For an extra buck, you can get them topped with either cheese and bacon or buffalo sauce and blue cheese.)
The onion rings were no better than Sonic's –– too much batter and grease and not enough onion flavor –– and the fruit cup was just a couple of cubes of honeydew and cantaloupe.
Overall, the service was prompt, and if you're a burger aficionado, SandBurg's should be high on your list of new joints to visit. The same holds true for breakfast lovers. They serve that meal all day.
SandBurg's
130 NW Newton Dr, Burleson. 817-295-8221.
8am-3pm Sun, 6am-9pm Mon-Thu, 6am-10pm Fri, 8am-10pm Sat. All major credit cards accepted.
The SandBurg …………………….. $8
Turkey-and-cheese sandwich $4
Lil' Burg ……………………………… $3
Mushroom-Swiss burger ……… $6
Tater tots ……………………………. $3
Fried pickles ……………………….. $3
Fruit cup …………………………….. $3