New Music, Dangit(s)!
Posted September 19, 2012 by Fort Worth Weekly in
Music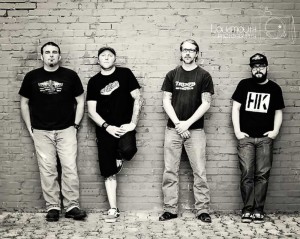 The Dangits have gotten around to doing some recording -- finally.
Though they never really went away, The Dangits are back. I guess you could say they're no longer content just playing the occasional show for beer money. They're pushing now. Since the hard-rocking quartet's formation five-plus years ago, there have been a few lineup changes. The newest members to join co-founders Mike Noyes (guitar, vocals) and Branden Smith (guitar) are bassist Benji Silver and drummer Russ Genders, whose garage in North Richland Hills served as The Dangits' studio for two new tracks. (The garage is a veritable Star Wars shrine, the walls "insulated" by action figure boxes, storm-trooper masks, anything Star Wars-related you can imagine.) "Come Alive" and "Whatever Gets You High" will appear on a forthcoming split-EP with two new tracks from Fort Worth punks Perdition, "Where We're Going, We Don't Need You, Garrett Dale" and "Soothsayer Balloon Knot." The Dangits tracks are vintage rawk: rapid-fire, furious, and headlong and with that blistering, supersonic Gibson-guitar crunch. (Think: Ace Frehley on speed [or sober] or Motörhead.) All the members in both bands are also friends. "We've known the guys in Perdition for a while, even before they were a band," head Dangit Noyes said, "so they are a natural band to do the split with. Plus, we like the fact that since they tour and we don't, they can mule our music to the masses." The Dangits laid down the tracks in July on a "dated digital eight-track," Noyes said, belonging to Poo Live Crew's John Davis, who played with Dangit Smith in The Soup in the 1990s. "I think it sounds pretty good for how we recorded it," Noyes said. "Most of that thanks goes to [Davis] and his friend Nick Kenney, who helped and let us borrow some really good mics." The Dangits haven't done any recording in nearly three years, Noyes said, not counting "Six Miles to Mexico," banged out in record time at Eagle Audio Recording on the Near Southside in 2010 as part of the Weekly's annual Music Awards charity compilation CD. "We've had some personnel changes over that time so that drags the songwriting process down, getting everyone up to speed just to do shows," Noyes said. "We don't write very quickly either, as most bands seem to." The songwriting process was further slowed by the birth almost two years ago of Noyes' son, Brenden. But things are back on track, Noyes said. "We have nearly enough material for a full-length and hope to get to recording that before the end of the year." The Dangits play Saturday as part of the official Riot Fest after-party at The Double Wide (3510 Commerce St., Dallas, 214-887-6510) with Here Holy Spain and Bludded Head. Cover is $5. The Dangits' –– and Perdition's –– next Fort Worth show is Saturday, Sep. 29, at The Where House (2510 Hemphill St., 817-913-7777) as part of the 2nd Annual Rock-a-Tron 5000, a massive hard-rock/punk/hardcore festival. Cover is $15.
Contact HearSay at hearsay@fwweekly.com.