High Hopes for Lo-Life
Posted October 24, 2012 by HEARSAY in
Music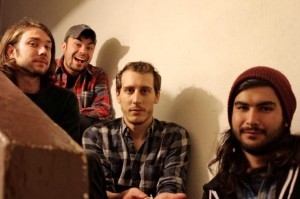 Lo-Life's Cameron Smith (center), who also fronts War Party, thinks Fort Worth is on the verge of something special.
Lo-Life Recordings is thinking big. The DIY Fort Worth collective/label has already begun doing what any good collective does: concentrate bands' energy (and anxiety) on projects, including shows, events, and, of course, recordings. On the heels of a recently released cassette tape by two raw upstart acts –– Doom Ghost and War Party –– Lo-Life is about to put together a compilation cassette featuring previously unreleased tracks from some of the biggest names in the underground proto-punk scene, including the two aforementioned plus Mailman, Year of the Bear, Bitch Bricks, Toy Gun, The Longshots, Sealion, UBoat, and some "very other familiar names," said Cameron Smith, War Party frontman and Lo-Life's associate director of communications. Some bands will contribute pre-recorded material. Others will bust out tracks at Dreamy Soundz, the studio of producer Jennifer Rux and husband Robby Rux –– Jennifer is in Bitch Bricks and, with her husband, in Year of the Bear. Located in the Near Southside's Fairmount District, the studio has been the site of some groundbreaking work, including material by Skeleton Coast and The Longshots and Fungi Girls' Pitchfork-approved Some Easy Magic. The comp cassette will be produced by Britt Robisheaux and the Ruxes and released via Lo-Life and Dreamy Soundz Records, the studio's new label. Smith hopes to release three special versions of the cassette in limited number exclusively at the Second Annual Lo-Life X-Mas Party. (The date, location, and lineup will be announced soon.) Smith and his Lo-Life companions have never been as energized as they are now. "It feels as though some sort of floodgate was opened up, and now the more raw and uncompromising side of Fort Worth music is becoming active and motivated," Smith said. "Hardworking, passionate musicians who aren't relying on handouts or guidance in what sort of music they should be playing in order to be successful are busting ass all over the Metroplex." Legendary big-thinking collectives, including The Factory in Manchester in the late 1970s and early '80s and Dischord Records in the '80s in Washington, D.C., have led to momentous music. "Some people may one day consider Lo-Life a similar institution for part of the amazing culture that is growing in Fort Worth at this time in its history," Smith said. "We want to boost the like-minded DIY artists who are willing to work hard, the old-fashioned way, to get their work out there. We want the rest of the world to one day recognize this place, this scene, and these artists as the ones who built what we feel will and is already becoming a new era of sound and vision for Fort Worth."
Contact HearSay at hearsay@fwweekly.com.