The difference between bluegrass and newgrass is kinda like the difference between rockabilly and early rock 'n' roll: The latter, at its best, draws inspiration from a wider, more colorful palette. Co-founder of the New Grass Revival in the early 1970s, Sam Bush has played with Emmylou Harris, Lyle Lovett, Bela Fleck and the Flecktones, Edgar Meyer, Mark O'Connor, and David Grisman. What he does is use rock 'n' roll energy to push bluegrass beyond its traditional boundaries.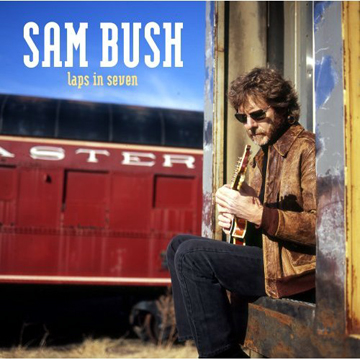 On the new Laps in Seven, the Kentucky-born mandolin player and fiddler lays down a dozen tracks that all demonstrate respect for but not fear of tradition. A similar approach has created a younger generation of mountain fusion bands, including Nickel Creek, Yonder Mountain String Band, String Cheese Incident, and others.
He duets with Harris on the folk-rocker "The River's Gonna Run," a somewhat enigmatic song about making your mark on an existential world. The version is a little softer than Julie Miller's original but has the same edge, and it's a tad slower and more purposeful than your typical bluegrass tune. A tribute to the victims of Hurricane Katrina written by Bush and Jeff Black sees Bush pairing up with former Meat Loaf singer Shaun Murphy. "I Wanna Do Right" sweetly combines bluegrass with a gospel-chorus sound. "River Take Me (Far From Troubled Times)," written by Darrell Scott, is a contemplation on water's power to kill or cleanse an injured soul.
Bush also interprets Leon Russell's "Ballad for a Soldier," written during the Vietnam war, and David LaFlamme's "White Bird," another 1960s song that became an oldies station staple despite never climbing higher than No. 118 on the Billboard charts.
The only time Bush really reaches back is on "Bringing in the Georgia Mail," and it's a bona fide knee-slapper.