The area near the Village at 6333 Camp Bowie Blvd. has become a dining hot spot pretty much overnight. Recent openings include Paparotti's Wine Room, a swanky lounge owned by David Rotman, who also owns Café Aspen, the 16-year-old institution in Fort Worth swank right across the street; Baker Street Pub & Grill, a British-themed hang-out that's cool for a chain; and Duce, a new tapas bar owned by local celebrity chef Tim Love, who made his reputation at his Lonesome Dove in the Stockyards.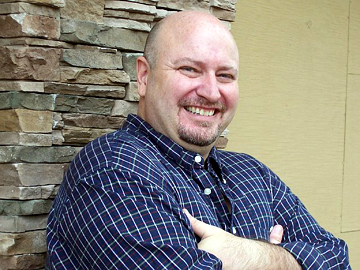 By Christmas, the area should be one more fancy eatery richer, thanks to Blade Haddock. The 42-year-old restaurateur used to own Blade's Prime Chophouse in Sundance Square. Last year, after XTO Energy bought the building in which Blade's was housed, word on the street was that his establishment would eventually be turned into office space. Haddock didn't hang around.
In December, he closed up shop, began looking for new digs, and found space at the Village. Fans of Blade's — and there are many — will be heartened to learn that Haddock plans on not only reproducing his former restaurant's cooler-than-cool '60s-era Vegas vibe but turning it up a notch.
Entrées at Republic Texas Steakhouse will start at $18 and, for "old-money surf and turf," soar into the stratosphere. Customers will get to choose their own butter, rub, and sauce for their cuts of beef. Also on tap are pelican stew (shellfish, fish, bourbon crema, truffle butter roast), a pecan-pie lamb rack (pecan caramel, black-eyed pea cake, goat cheese, and mint, with arugula salad), and a Dublin Texas veal chop (Dr Pepper glaze, ouzo crema, cannelloni, crispy fennel), among other innovations. The dessert menu will run from a peanut butter and jelly ice-cream sandwich to do-it-yourself s'mores. For nostalgia's sake, Haddock — who in 1997 opened Angeluna, another dearly departed downtown fine dining establishment — will also offer the defunct Mediterranean eatery's famous Angel Moon Calamari.
The 6,000-square-foot space around the corner from Baker Street, Haddock said, will be anything but your father's steakhouse.
Blade's dimly lit lounge area "will become the new restaurant," he said. There'll be leopard-print carpet, masonry accents, and hardwood floors, in addition to soft lighting.
The dynamic of Republic Texas' interior itself is unique and may likely attract its share of spectators. Drawing influence from the sophisticated Fifth Floor Restaurant in San Francisco's Hotel Palomar and the drinking man's Hard Rock Casino in Sin City, Haddock will situate the bar in the middle of the dining room, and during dinner service, an attractive young lady will stroll the aisles with a martini cart.
"The whole theme is that, outside of New York, Texas is the most diverse state," Haddock said. "Indian, Czech, Jewish, German, Hispanic, French — but people associate us with only Rio Grande hardcore Tex-Mex. It's a misconception."
Before coming to Fort Worth a decade ago, Haddock learned the inside of upscale dining by working at Spago's at Caesar's Palace in Vegas and at Jack Nicholson's Monkey Bar in L.A. The Joker was actually the person who gave Haddock the first name he's now commonly known by, "Blade." The Oscar winner said Haddock's bleach-blonde crew-cut reminded him of Rutger Hauer's from Blade Runner.
Five years ago, after he left Angeluna, Haddock began managing another downtown fine-dining joint, Ellington's (now known as the Mercury Chop House). He opened Blade's a few years later, on New Year's Eve 2004.
The move from the heart of the city to a little-less-bustling part of town doesn't bother him much. Just like any thriving metropolis, he said, Fort Worth will develop a second "downtown." Haddock is betting it's Camp Bowie's Village.