In 1987, Gammacide guitarist and co-founder Rick Perry (definitely not the governor) said his band was "built on the premise of ecological warfare and destruction."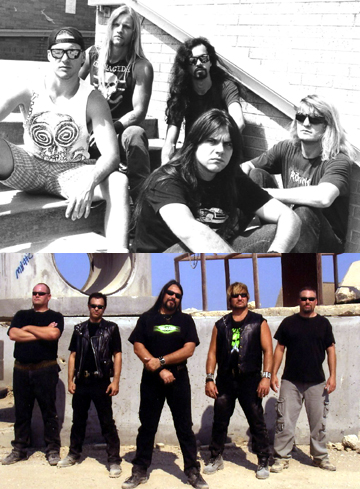 Twenty years later, and his band's premise is still relevant. A surprise? Maybe. Then again, maybe not. The United States, Perry said, used to be in a "safety zone — but now, it's taken a turn for the worse."
Along with Rigor Mortis, Rotting Corpse, and Hammerwitch, Gammacide was one of North Texas' first progressive metal bands, setting the standard for future metallic rockers like Pantera and Speedealer. In 1990, Gammacide released Victims of Science, its first — and, unintentionally, last — full-length album. The band broke up not long after, the result of a sea change in popular metal tastes, from thrash music like Gammacide's to grindcore. Perry joined the industrial metal outfit Puncture and toured with legendary shtick-men GWAR. Singer Varnam Ponville, meanwhile, returned to his home state of Louisiana and formed Cauldron, guitarist Scott Shelby played with Hammerwitch and a couple of other local bands, and drummer Jamey Milford moved to Colorado and hooked up with a Christian rock group. Sans Milford, the three other members reunited only once, in 1998, to play a show in Fort Worth.
A couple of years ago, though, Perry couldn't help but feel as if he still had something to say, especially about, y'know, current events. Now that listeners no longer care about music categories and sub-categories (and sub-sub-categories) and just want good music, Perry recruited some new blood, including bassist Alan Bovee, and got the rest of the band back together. They re-released Victims of Science — on disc. The record had previously been available only on vinyl and cassette tape.
Perry knows that, while the world may be as sick as it was 20 years ago, the music industry — and heavy metal, in particular — has changed dramatically. He thinks Gammacide is keeping up respectably. "Back in the day, it was all fanzines and underground tape trading," he said. "But now, the internet has brought a new kind of fan for us, much younger."
A lot of old heads still turn out for Gammacide shows, no doubt, but at several recent performances, the young'uns did show up in force. "Metal — be it thrash or death or whatever — doesn't discriminate against its fans," he said. "So to see the old flag-wavers at shows along with these 15- and 16-year-olds just checking it out is fantastic."
In what has become a young man's game of heavy metal, Perry thinks his band is also holding up well. New, powerful outfits like Advent, Jacknife, and Legends of the South may have cooler, newer equipment, but Perry said, "We've always been about double-bass [drums] and wailing guitars, and in metal, where doesn't that fit in?
"In addition," Perry continued, "we never lost sight of what we were or our sound, unlike someone like Metallica, who are so far removed from their original sound that fans feel betrayed." A recent show at NOKIA Theatre by original thrash forefathers Slayer proved Perry's point — the venue was filled to capacity. "Man, those guys were part of the first thrash scene, and they are still as Satanic as ever," he said. "That's why they have survived."
Gammacide is currently working on new material. "Honestly, we've got about seven or eight tracks in the can," Perry said. The new music, he said, is "cut from the same cloth that we've always had: pure thrash metal with screaming vocals and brutal musicality."
The band is about to embark on a regional tour. They will stay local until the new record is ready and a label is willing to help fund a larger, more extensive trip. "We aren't trying to gig every weekend," Perry said. "We just want to go out from time to time and make it a special event."