"Big in Christian music" must be the new "Big in Japan."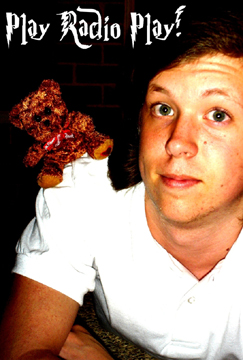 Most of y'all wouldn't know — 'cause y'all are beer-drinkin', New York Times-readin', Satan-worshippin' liberals — but Tarrant County is, um, blessed with more than a few marquee Christian acts. Some of them, like this guy Dan who performs under the moniker Play Radio Play and describes his music as "straight-edge Texas softcore," have legitimate cross-over appeal. Why folks like Danny Boy would ever want to regularly play dens of inequity like either The Wreck Room (Sodom) or The Aardvark (Gomorrah) is another story. As the youngster says on his MySpace page, he doesn't "drink, smoke, do drugs, or have sex" and is proud to say he's still a virgin. Well, with all due respect, when you don't drink, smoke, do drugs, or have sex, what else are you gonna do for fun other than … write music!
All kidding aside, Play Radio Play is a serious force in upbeat, uptempo, positivist dance music, locally or otherwise. Even though mastermind Dan says he started writing and programming music only about a year ago, he could give a PhD. class in composition — and rockers would do well to take notes. Like some of the best, most accomplished pop songs, a lot of Dan's material derives its power from highly stylized orchestrations of stacked sounds. Simply put, he does a nice job of sending a beat in one direction, a vocal melody in another, and other bells and whistles off on divergent paths and somehow making everything work. You gotta have a hell of an ear to pull stuff like this off, and Dan's got one.
From his inaugural performance in March at The Door in Fort Worth, Dan has already played Louisiana, Alabama, Tennessee, Mississippi, and Georgia. His MySpace page has just topped one million plays. That's the number 1 followed by six — count 'em, six — zeroes. He's planning on releasing a full-length album soon.
Play Radio Play's next performance is Saturday at The Door. You fans of dance music, both soft- and hardcore, may want to go as a sort of enjoyable penance, especially if you were at 1919 Hemphill the night before. That's when performance artist/musician Dominic Martin's solo electrotrash project, GirlsRISEwithHEAT, likely busted out its infamous cover of the crunk anthem "Get Low," that club song that goes, "From the windowww to the wall! … All you bitches crawl!" Just singing along will cost you, like, 10 Hail Mary's. — Anthony Mariani
Play Radio Play performs Sat w/The Knockout Kings, In Fair Verona, and Fashions Fade at The Door, 2521 Rodeo Plaza, FW. $10. 817-624-OPEN. GirlsRISEwithHEAT performs Fri w/1-800-ZOMBIE, Aier Sauft, Sydney Confirm, and Megachurch 1 at 1919 Hemphill, 1919 Hemphill Av, FW. $5. 817-920-9665.