The West Side is full of Euro-influenced bistros: La Piazza, Escargot, Saint-Emilion, Bella West. Thing is, they're all a little — how you say? — snooty as all get-out.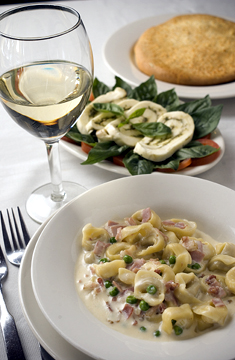 But not nearby Aventino's Ristorante, a family-owned joint that's been catering to the area's elite for years. It's the kind of place where the food is good enough to keep high society coming back, but where you don't have to wear a tux to feel comfortable. Shorts, flip-flops, and a t-shirt work just fine.
Props to co-owners Alvaro and Olga Lucia Paez. Unlike some other manager-owners, when the Colombian natives work the room, they work the room, hugging every customer, no matter how familiar, strange, or poorly dressed. The loving welcome is totally in keeping with tradition. If the mailman passes by an Italian family's house while dinner's being prepared, he won't be able to continue on his route until he's eaten his body weight in gnocchi. At Aventino's, the strolling violinists perfectly complement the when-you're-here-you're-family vibe by playing Old Country standbys such as "That's Amoré," "Funiculi, Funicula," and the theme from (gulp!) The Godfather.
Some of the fare, however, didn't live up to either the atmosphere or, more importantly, the prices. The veal Castello (on a bed of linguine with basil, sautéed onion and tomatoes, and white wine alfredo sauce) went down nice, sure, but the $18.50 price tag made everything a little hard to swallow. The meat could have been juicier and more thoroughly spiced.
The spaghetti carbonara's alfredo sauce had a wonderfully velvety texture and sumptuously salty, buttery flavor, and the pasta was perfectly al dente. Still, for the enormous cost, the food should serve itself and make you taller.
The chicken cannelloni could have used a lot more, well, chicken. Copious and decadent, the stuffing of ricotta cheese laced with spinach was hard to miss, and it probably would've been better had it been accompanied by some bird.
The appetizers were unqualified successes. The red wine vinaigrette on the complimentary salad was sharp but not acidic. The natural flavors of the bowl's contents (cucumbers, baby spinach, red cabbage) came shining through.
Don't leave Aventino's without sampling the carpaccio, thin strips of cured beef served with olive oil, capers, and a chunk of garlic bread. Add an order of spongy, freshly backed foccacia mozzarella, and it's a beautiful t'ing.
Whatever minor shortcomings, Aventino's still makes for a great date night or other special occasion. You may have to subsist on bachelor beans the rest of the week, but the charm makes it all worthwhile.
 Aventino's Ristorante
Carpaccio
w/garlic bread $10.50
Chicken cannelloni $12.50
Foccacia mozzarella
(half order) $9.50
Spaghetti carbonara $12.75
Veal Castello $18.50