Arguably one of the most influential bands of the 1960s and early 1970s, The Byrds were also occasionally mediocre and derivative as they wandered through folk, psychedelia, light rock, and country toward spirituals, the blues, and bluegrass.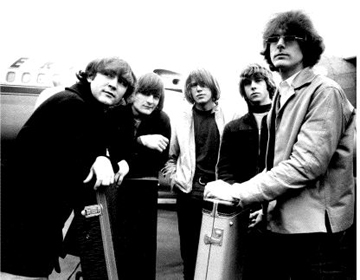 Perhaps the group's greatest influence was in making it cool to mix genres, even more so than suggested by early hits like "Mr. Tambourine Man" and "Turn! Turn! (To Everything There Is A Season)," or covers of the Beatles, Bob Dylan, and a handful of traditionals.
The first 50 of the 99 songs on There Is A Season, a four-c.d. box set (plus one DVD), feature the original line-up of Jim (later Roger) McGuinn, David Crosby, Gene Clark, Chris Hillman, and Michael Clarke, from 1964 through 1967. Too many of these songs are burdened by the incessant jingle of loud tambourines and high-hats, jangling your nerves.
Overall, discs three (1968-70) and four (1970-73, 1990) are more interesting. As the band's personnel evolved, so did the sound.
The Byrds were square in the middle of the '60s, an era that began culturally and spiritually in 1963 with the assassination of John F. Kennedy and ended in 1973 with the Watergate convictions, Richard Nixon's declaration that he was not a crook, and the end of the Vietnam war. (Or maybe the end was the final episode of Monty Python's Flying Circus that year on BBC.) Rolling Stone's David Fricke confirms the group's close association with the decade in his 10,000-word essay in the liner notes, writing that "no other band risked so much, and came so close to losing it all, for the sake of going forward. The hits brought riches and acclaim — but also disappointment, argument, desertion, and, with amazing regularity, rebirth."
The Byrds could be both brilliant and so-so, as they show on this compendium of studio cuts and recordings from live performances. Truth is, There Is A Season would be more listenable with half as many tracks.