Take 25 North Texas musicians, wake 'em up early, throw their names into a hat, mix 'em up, pick 'em out, then divide them into five groups of five. In addition to a band name, give each group 12 hours to come up with three to five original songs to be performed later in the evening at a local club.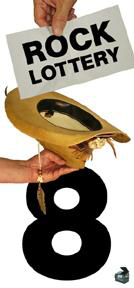 Denton's Good/Bad art collective's Rock Lottery has been going on roughly once a year for nearly a decade. This year, the 25 participants/volunteers include 10 from Dallas, 10 from Denton, and three from Fort Worth. (The remaining two will be announced later.) The hipsters will meet at 10 a.m. Saturday at Dan's Silverleaf for the selection process, which is open to the public. For $15, local music lovers also get a "Reckless Appetite" breakfast and early entrance to the evening's show. Proceeds benefit Save Fry Street, a community organization dedicated to preventing developers from running roughshod over Denton's famous strip of independent clubs and other businesses.
The goal of the experiment is to enlighten participants/volunteers and fans. By forcing musicians to step outside of their musical comfort zones, Good/Bad hopes to foster a more progressive attitude toward popular music in North Texas, from the people who make it to the people who listen to it.
The collective's heart is definitely in the right place, but if you go hoping to see musicians from all over the stylistic map, you may wanna lower your expectations. Even though Good/Bad claims that the participants/volunteers have been selected to "represent a wide variety of musical styles," most of them are indie rockers at heart. (Where are the gangsta rappers? The Texas Music guys? The Tejano dudes?)
For more, check out MySpace.com/rocklottery, RockLottery.com, GoodBad.info, or SaveFryStreet.com. —
Sat w/Ben Burt, Tamara Cauble, Chris Considine, Wes Darrin, Will Frenkel, Aaron Gonzalez, Ineka Guerra, Roy Ivy, Kody Jackson, Gregory Lange, Lars Larsen, Dan Paul, T.J. Prendergast, Mark Pirro, Gina Probst, Mauve Oed, Michael "Kerm" Rivas, Tim Ruble, Matt Thompson, Jennifer Seman, Chad Stolkshlager, Jon Teague, and Justin Wilson at Dan's Silverleaf, 103 Industrial, Denton. $15. 940-320-2000.