Broken Social Scene creates propulsive, dreamy, raw experimental rock, and just happens to have 10 band members. The Canadian collective's most recent, eponymous full-length could have been pulled off by three musicians, a crafty producer, and a ton of caffeine. But would the tunes have sounded the same? Probably not. One happy byproduct of music-by-committee seems to be originality, and Broken Social Scene consistently surprises. Some tracks start off all neat and quiet, then suddenly burst into chaos, stay there for a few seconds, and then return politely — and right on cue — to order. Other songs invite accessibility, with thick, crackling, mercurial beats; radio-friendly verse-chorus-verse structures; and juicy hooks. Moody, one-string guitar riffs ratchet up the catchiness. (Think: New Order, Joy Division, some of The Cure.)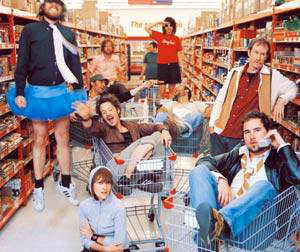 A little bit of relationship humor leavens all of the serious musicianship. One song is called "Finish Your Collapse and Stay For Breakfast," another "Handjobs for the Holidays," and the lyric to one number is "Why are you always fucking ghosts?" That it's sung with great desperation only makes the notion weirder.
Tue, Oct 24, w/Do Make Say Think at Gypsy Tea Room, 2548 Elm St, Dallas. $20. 214-74-GYPSY.