There's nothing like a movie that sparks an international incident, especially the one bearing the unwieldy title of Borat: Cultural Learnings of America for Make Benefit Glorious Nation of Kazakhstan. When Kazakh president Nursultan Nazarbayev visited George W. Bush at the White House five weeks ago, one item on his agenda was to register his displeasure with the film and counter its negative depiction of his country. Nazarbayev needn't have worried; America comes in for a much bigger roasting than the central Asian nation.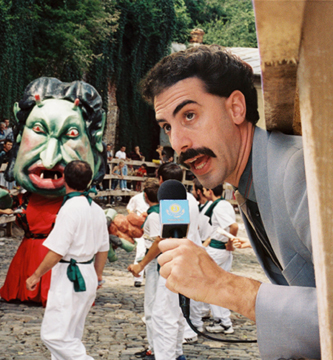 For those of you who don't have HBO, Kazakh journalist Borat Sagdiyev is the creation of English standup comic Sacha Baron Cohen. Like his other characters from Da Ali G Show — the hip-hop clown Ali G and the bisexual fashionista Brüno — Borat is a ruse that allows a disguised Baron Cohen to interview unsuspecting politicians, celebrities, and ordinary citizens, asking them idiotic questions in the hopes of getting them to say something stupid. They often oblige him, and even more often call the cops on him or try to beat his ass. The film is probably Baron Cohen's last such act; between this and his performance in Talladega Nights, he's probably too famous to do this anymore.
The film follows Borat as he leaves Kazakhstan (in a tiny car pulled by oxen) on a mission to America to find out why it's such a great country. He soon loses focus and becomes obsessed with marrying Pamela Anderson — he drives to L.A. from the East Coast so he can meet her and declare his love. Along the way, he picks up a bear, takes comedy lessons from a profoundly unfunny "humor coach," and destroys a shelf of breakable items in a Dallas antique dealer's shop that's littered with pro-Confederate kitsch.