couple of years ago, almost as soon as Keith Hicks began cheffing at Cachonga's, the place went from ho-hum to wow.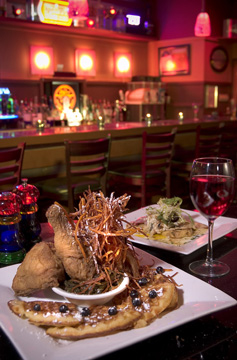 5Hicks (Fort Worth Chop House, Gunsmoke Grill) fired up the now- defunct Westside eatery's Southwestern-Mex menu with an assortment of personal touches, including red snapper Vera Cruz, jalapeño cheese grits, and sweet potato crème brulée.
But his hands were sort of tied. He wanted to make the menu his own but didn't want to shock regulars by either removing favorites or introducing new, wild items.
Now he's in complete control. After Cachonga's closed earlier this year, owner Mike Musgrove opened another restaurant, not too far away, in the Village at Camp Bowie. His goal was to maintain his old place's friendly neighborhood vibe and, more importantly, let Hicks do his thing. The basic theme: upscale soul food.
Overall, the executive chef's dishes are imaginative and satisfying — in some cases, a little too satisfying. The fried catfish entrée, with collard greens and sweet potato puree, wasn't just extremely rich but also extremely massive, easily enough for two full-grown adults. Same for the restaurant's signature dish, chicken and waffles — crispy, fried bird, juicy collard greens, and four mini-waffles soaked in butter and blueberry maple syrup. The upshot is that for $14, you definitely get your money's worth.
The appetizers, especially the fried green tomatoes, are just the right size, considering Hicks' penchant for richness. Also, his frying technique is flawless. Take the fried green tomatoes: The batter didn't flake off the thin slices, nor did it overwhelm the natural flavors. Everything, including the toppings (grilled ham strips, lightly fried egg, béarnaise sauce, and red-eye gravy), came shining through.
The plate that best exemplified Hicks' style was his "Ox"sso Buc "Tail," braised oxtails served on a bed of "dirty" risotto with a side of stewed tomatoes and okra. The enjoyably gamey, delicate meat slid off the bone, and the risotto was spicy and creamy, complementing both the flavor and texture of the meat.
There were some missteps. In the shrimp, fish, and grits plate, the salmon fillet arrived drowning in the grits (jalapeño cheese) and crawfish cream sauce, and the four-cheese macaroni was more like two-cheese and a helluva lot of butter.
Though the food is the main attraction, Ovation, like its next-door neighbor Café Aspen, invites hanging out. In the front of the space is open, cafeteria-style seating, allowing customers at adjacent tables to converse if they want to, and in the back is the bar, an intimate lounge. And just when you thought Ovation couldn't get any cooler, there's live jazz on weekends.
 Ovation
Fried green tomatoes $6
Chicken and waffles $14
Fried catfish $14
"Ox"sso Buc "Tail" $17
Four-cheese macaroni $4