Maybe Doug Sahm never became a household name because he wasn't an easy-to-categorize, one-note musician.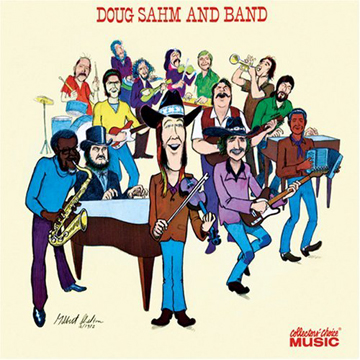 He wandered through blues, R&B, country, Tex-Mex, rock, and, in 1965, the British pop invasion vis-à-vis his Top-20 stateside and English hit, "She's About a Mover," which he recorded with the Sir Douglas Quintet. That ruse, promoted by record producer Huey Meaux, didn't last long — Sahm had a pronounced Texas accent, and two of his band members were of Mexican origin.
Earlier, according to the stories, Sahm was offered a permanent spot on the Grand Ol' Opry but turned it down because his mother wanted him to finish junior high first. He had made his radio debut at age five, singing and playing steel guitar, mandolin, and fiddle. Later, he was the instigator behind the Texas Tornados.
Doug Sahm and Band, produced by Sahm and industry heavyweights Arif Mardin and Jerry Wexler, was originally released by Atlantic Records in the early 1970s. The loose assemblage of 20 musicians was never, as a group, a touring band; it included Bob Dylan, Dr. John, David "Fathead" Newman, David Bromberg, Augie Meyers, and Flaco Jimenez. (Dylan shared vocals with Sahm on three of the songs, including the first-ever recording of "Wallflower.")
Right down to the cough less than a minute into track eight, "Blues Stay Away from Me," Doug Sahm and Band has the loose, back-porch feel of some of the best music of the late 1960s and early 1970s, even though it never climbed higher than No. 125 on the Billboard charts.
In addition to "Wallflower," Sahm offers three other originals, most notably "Dealer's Blues," along with interpretations of T-Bone Walker's "Papa Ain't Salty," Willie Nelson's "Me and Paul," Bob Wills' "Faded Love," and "(Is Anybody Going to) San Antone?," the Davie Kirby/Glen Martin standard that became a staple of Sahm's shows.
Sahm died of a heart attack in a motel room in Taos, New Mexico, on Nov. 18, 1999, on one of his constant quests. He was a force of nature that never sat still long enough for fame outside of the Texas scene to catch up with him.