In Fort Worth's Soul Food Central block, the area near the intersection of Horne Street and Camp Bowie Boulevard, Mama Lou's Country Kitchen is the young chick of the pack.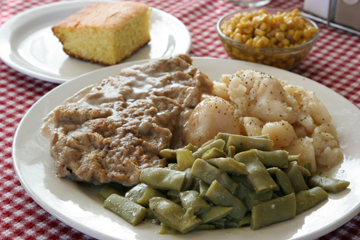 Two years ago this January, alongside such time-honored establishments as A Taste of Soul and Edmondson's Fried Chicken, owner Malcolm Houston opened the diner. It's a classic case of a reputation preceding the arrival: "Mama Lou" is the late chef Louise King, who died in the summer of 2005. She was a cult celebrity among the city's government and business officials for the simple but delectable meals she served out of her home for years.
Malcolm Houston is King's nephew, and he and his family are determined not only to uphold her reputation but to expand it beyond a privileged circle. Mama Lou's is a small, modest affair — the dining space seats around 20 people. Beverages, including Kool Aid, are served out of preserve jars. The proprietors are beginning to print up formal menus; for now, the handful of freshly made Southern staples available each day is written on an eraser board. The atmosphere is set by the sound of light-hearted banter drifting from the kitchen window. Hipness is not only beside the point at Mama Lou's, it would be downright intrusive: Food is the obsession here, and if the joint doesn't exactly break new culinary ground, it offers some definitive versions of the kinds of chow you once thought were boring.
On any given day, there's a choice of three or four entrées and about a half-dozen vegetable sides. Each meat dish comes with either two or three sides. Mama Lou clearly didn't want her guests to go hungry — the plates are big so they can hold the mountainous servings ladled out by the cooks. And although many of the recipes here could be described as diet-busters, the cool thing about the food is that it manages to avoid the excess greasiness that can sometimes mar this type of fare. The chefs here are interested in teasing out uncomplicated but surprisingly subtle flavors, so although the temptation will be to wolf it down on sight, relax and let your buds play.
The meatloaf fell to pieces as soon as it hit the plate. There wasn't any egg or breadcrumb filler to fuss it up; just a full, silky beef taste with a hint of a Tabasco-like prickliness. The shredded chicken and pillowy dumplings rested serenely in buttery gravy flecked with peppery attitude. That wonderful pale brown gravy makes a return on the smothered chicken, which is a gi-normous, bone-in, breaded, and deep-fried breast. If you had to guess at the breading recipe, you'd say that unsweetened corn flakes were involved, although that's not certain. It's a two-tiered eating delight, the savory gravy and soft breading giving way to thick, juicy white meat underneath.
The cooked cabbage with bacon was superlative, with a truly distinctive vinegary sweet flavor. The northern beans, which have an appearance and consistency somewhere between pinto and lima, proved a marvelous companion to the meatloaf. The buttered corn had been simmered so long it resembled the grain that we frequently forget it is; it had a delicious, starchy, swollen-grits taste. It almost felt as if you were trying corn for the first time, which is true of other items at Mama Lou's. Could there be any greater tribute to Louise King's generous talents than a statement like that?
 Mama Lou's Country Kitchen
Smothered chicken $5.99
Meatloaf $5.99
Chicken and dumplings $5.99