Amon Carter Museum's nature photography exhibit, Regarding the Land: Robert Glenn Ketchum and the Legacy of Eliot Porter, on view until early January, offers plenty of twists and turns and bruised knuckles and elbows. And not all of them are on the trees.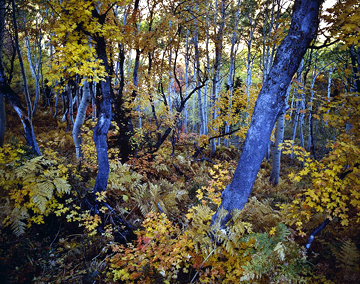 To the untrained eye, Regarding the Land simply amasses pretty pictures of foliage, streams, and mountains. Seemingly harmless, casual stuff. But look closer. The show's nearly 100, generally large black-and-white and color images are the handiwork of a technical virtuoso, a photographer as in tune with his camera as Django Reinhardt was with his guitar. Step back and read the accompanying essay by senior photography curator John Rohrbach, and you'll see that they're also calm, elegant arguments for ramping up the fight against pollution, global warming, and gross neglect of the environment. Robert Glenn Ketchum's explorations of Rust Belt river valleys and Alaska tundra and New England forests aren't just lustrous rhetorical masterstrokes. They're also forensic evidence.
Using traditional notions of beauty to tease out ugly truths is an old trick, and one that ostensibly defines Ketchum. Is he an artist? Is he an activist? Is he simply parlaying his innate skill with a shutter into all-expenses-paid trips around the globe? Important questions to consider, but don't get tangled up in them. The frames here function as windows onto spellbinding, otherworldly, heretofore unseen vistas. There's no right or wrong angle from which to approach them. Just approach them.
Not to add further to the metaphorical baggage, but the exhibit is also an homage of sorts, to the other guy in the title. When Ketchum entered UCLA's design program in the late 1960s, he thought that formalist, conventional photography was for squares. But when he graduated in 1970, he realized he'd rushed to judgment. As the Summer of Love began its violent descent into history, Ketchum, verging ever more closely on absolute squaredom, had backed into a weighty conundrum. Its source: Eliot Porter.
Born in 1901, Porter was a biochemical researcher and photography enthusiast. He eventually went into photography full-time, and is seen as the first established artist-photog to devote his lens solely to the natural world. In black-and-white and color, his images betray a subject that's not as resistant to artistic interpretation as commonly thought. In Porter's gnarled, colorful trees, Ketchum saw the marriage of photography and painting. The trees were compelling both as natural phenomena and as somehow calculatedly chaotic patterns of color.
Ketchum hadn't been able to tap into Porter's technique successfully until one afternoon about 30 years ago when he spied a patch of brilliant grape leaves while driving along a Maryland highway. He pulled over with a skid, jumped out, and snapped "Transition," the photo that would lead to his Order from Chaos series, and also to his novel concept of the "anti-landscape." Essentially a close-up of wild, vibrant natural formations that nods to abstract-expressionist painting, an "anti-landscape" values pattern (art, if you will) over representation (information). With the help of a master printer, Ketchum began cranking out lush Cibachrome prints. Because he believed that the photos themselves were the subjects of his photos, he used the printing process to intensify colors and add tonal contrasts. Color, for Ketchum, did more than merely convey data. It expressed emotion.
By 1983, however, when he published and began exhibiting Order from Chaos, Ketchum had already grown tired of experimenting with form. He'd taken it as far as he thought he could. He'd also begun uniting his love of photography with his passion for environmentalism. On commission from the Lila Acheson Wallace Fund, Ketchum photographed the Hudson River Valley in New York. Even though he was free to shoot what grabbed his attention, Ketchum trained his focus on the blight. Not like he could avoid it. Ultimately, Hudson River and the Highlands was integral to generating public support for cleaning up the region. In most of Ketchum's subsequent series, notably The Tongass: Alaska's Vanishing Rain Forest, for the Wallace Fund and McIntosh Foundation, and a project supported jointly by the state of Ohio and the federal government, he elevates activism to a priority but never sacrifices compositional vision.
Ketchum also held on to his trust in color as an emotional conduit. He takes it to an impossibly poetic extreme in his Sundance Suite, a purely artful collection assembled in the late 1980s during a residency at Robert Redford's Sundance Institute. To Ketchum's metallic gingers, downy cobalts, and gilded jades, nothing man-made can compare. The hues are, at turns confident, subdued, and frisky.
A lot of Hollywood movies pit man against nature. But why no flicks about man versus nature photography? There's a lot of dramatic gruel there. Other than Robert Adams, Ketchum would be perfect to star in a black comedy about an artiste trapped in a tree-hugger's body. The photog so freely plays on his split personality in his work, you often get the sense you're learning about him as he's learning about himself. In "CVNRA #125," blasts of orange and yellow leaves crowd a quiet, thin waterfall as fine as strands of white hair; the scene wouldn't look out of place in an inspirational calendar. But as with most of Ketchum's output, ignore the subtitles at your own peril. The one for "#125" reads, "a toxic waterfall in a national recreation area." Art? Activism? Ironic joke? Most likely, all of the above.
In an interesting though wholly superfluous touch, the museum exhibits a few of Ketchum's silk embroideries, handmade translations of some of his prints. Produced on commission from Ketchum and his alma mater by the Suzhou Embroidery Research Institute in China, the ones here are unbendingly faithful to their source material and manifest almost superhuman reserves of patience. But the glistening strands of thread choke the sound of Ketchum's sweet sermonizing. One of his strengths as a technician is manipulating depth and texture to his whim. As in "Visual Haiku," he magically coaxes a hint of color from black-and-white film. And in some of his other "anti-landscapes," particularly several from Order from Chaos, he takes dense tableaux of leaves, vines, and branches and flattens them until only surface lines and colors remain. Without shadow or its negative, without depth and texture, Ketchum's insights — into art, photography, and activism — are just pretty pictures.