It might have been the sparkling day, or maybe the phase of the moon, but whatever it was made me trek 45 minutes from home in Joshua to Euless to try a tiny Creole kitchen named Pierre's Mardi Gras Café.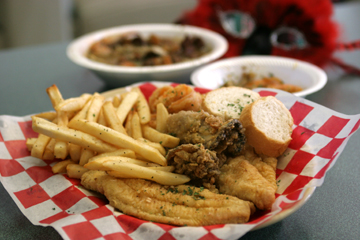 I ordered several items to go, returned home, and my kids and I had a feast. There was a hot sausage po'boy, a shrimp and oyster po'boy, an order of red beans and rice with sausage, a large portion of jambalaya, and a piece of red velvet chocolate cake. And once we finished, the kids sent me back for more. After another hour and a half on the road, I returned with a quart of seafood gumbo, more red beans and rice, and a couple of homemade praline candies. Funny thing: While I cringed at the amount of gas I was burning, I didn't mind the drive at all.
Pierre's little place is that good. Opened just two months ago, it still sports the Philly Steak Deli sign of the last owner above the door. New chef-owner Roosevelt Pierre might not have chosen a great location, especially for us Joshuans, but he's got the goods. Pierre, who told me that "Everybody goes by their last name in New Orleans," arrived with his family in the Fort Worth area two years ago after being displaced by Katrina. He sampled several Creole and New Orleans-style restaurants around town, thought he could do better, and this past October opened his four-booth, two-table, strip mall spot. He's decorated it with Mardi Gras masks and posters and keeps it spotless, but the ambiance, which is actually quite nice and low key, is not why you'll be going there. The food is the reason, and it's simply delicious.
His shrimp and oyster po'boy, which at other joints so often ends up a thickly battered mess of tiny shrimp and pre-breaded oysters on a tasteless bun, was outstanding: fresh, never frozen oysters mixed with several large shrimp, all of them dusted with seasoned cornmeal, and fried lightly enough to retain some crunch without any oily flavor. They were accompanied by shredded lettuce, tomatoes, and mayo on French bread that was toasted on the inside then put into a sandwich press that toasted the outside as well.
Equally good was the hot sausage po'boy with swiss. Pierre's hot sausage, made locally but not available at any of the big supermarkets, has a bite and flavor that's going to make you wish you had ordered the 12-inch sandwich, even though the 6-inch is plenty.
The red beans and rice, another dish that generally comes out of a can, were also good: dried beans cooked to a smooth, not mushy consistency and seasoned with a bay leaf, garlic, onion, and salt pork. The long-grained rice was simple but effective, and the sausage, a mix of the hot version found on the po'boy and a high-quality, medium-hot store-bought, had been grilled before being added to the dish; they finished the plate off nicely.
Getting hungry? Try the jambalaya, a mélange of garlic, celery, and green peppers seasoned with cayenne, thyme, parsley, and a bit of bay leaf. The sausage, chicken, and bits of oyster, along with a little crab boil, were set off against rice that had absorbed all of the flavors without losing its texture. Too spicy for the kids, but my grown-up taste buds were celebrating.
Since everything was as close to perfect as possible, it seemed hard to imagine that the seafood gumbo, billed as "Pierre's Famous," could be better — but it was. A rich but light seafood broth brimming with the savory sensations of garlic, celery, onions, okra, thyme, oregano, and filé, the dish was light on the shrimp but heavy on the oysters, sausage, and a half of a small crab. Spicy and irresistible.
And then there was the red velvet chocolate cake peppered with bits of pecan: not rich enough to be sinfully delicious but enough to do the trick. And the homemade praline candies, a confection of pecans whipped with sugar, butter, and evaporated milk, and flavored with real vanilla, melted in the mouth.
Though the restaurant is Pierre's, the place seems to belong to the family. His recipes are tweaked versions of ones he got from his mom, who also makes a bread pudding in rum sauce that they had sold out of on the day I visited. His wife makes the pralines, and his nephew and oldest son help with the cooking.
"I won't serve anyone anything I won't eat," Pierre said. "And I like to eat good homemade food, so that's what I serve. Everything from scratch."
Which is why it's so good.
 Pierre's Mardi Gras Café
Red beans and rice
with sausage $5.50
Seafood gumbo (large) $9.00
Shrimp and oyster po'boy $6.50