Up until recently, Ridgmar Movie Tavern showed pay-per-view WWE wrestling matches about once a week.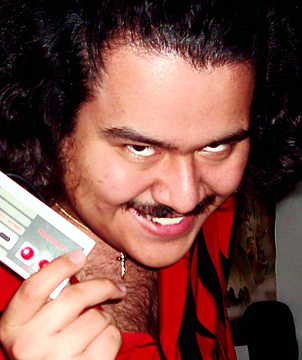 A (mostly male) crowd of hardcore fans packed the place and threw popcorn, yapped on cell phones, and shouted at the screen, temporarily transforming Fort Worth's dinner-and-a-movie institution into your average meathead's basement rec room.
Last month, when the theater put WWE shows down for the count, one 43-year-old regular and New Jersey transplant faced the emotional void in his life in a manner befitting George "The Animal" Steel: head on.
Along with four other distraught friends, Juan Gilbert marched back into Ridgmar and demanded satisfaction: He and his cohorts wanted one night a week to show hand-picked cult slasher flicks. Ridgmar brass, surely quaking with fear, said OK, and Panther City Horror was born.
The inaugural event drew about 50 people, which is pretty darn good for a weekday evening. Two late-1970s Italian frights were shown (Suspiria by Asia Argento's father, Dario Argento, and Zombi 2 by Lucio Fulci). There were guest appearances, by Loyd Cryer, producer of Texas Frightmare Weekend, who gave out free tickets to next year's annual event, and Chris Yeary, president of Scream TV, an online network based in Denton, who handed out assorted DVDs and books. Gilbert also christened Panther City Horror's Death Wing Challenge, in which a brave soul could vie for a free mug of beer, compliments of Gilbert, by eating three Buffalo wings doused in Gilbert's homemade hot sauce. (The two people who entered both won.)
But Panther City's success was short-lived. Apparently, according to Gilbert, 20th Century Fox saw his ragtag operation as competition. The gi-normous entertainment conglomerate complained to Ridgmar, Gilbert said, and Panther City went the way of so many B-movie scream queens.
But like a healthy zombie, Panther City has proved that it can't be killed so easily. In early February, the film series will take over the Black Dog Tavern and show Peter Jackson's zombies-on-an-island classic, Dead-Alive, followed by two killer local metal bands, Legends of the South and Addnerim. Also, be prepared for giveaways and the second installment of Death Wing Challenge.
Gilbert will divide proceeds from the $5 cover charge among the bands. "They're the ones doing all the work," he said. "If I wanted to make money off this, I would charge more than five bucks."
Gilbert grew up watching horror films. He doesn't pretend to be an expert, but he does turn his nose up at what he calls "bubblegum horror," stuff like the Friday the 13th series. Hence the esoteric titles. "I always had people over the house to watch them," he said. "It got to a point where we decided 'Why don't we make this bigger?' We knew a lot of other people would come out of the woodwork."
Since the Black Dog is just up the street from where Gilbert works at Barron Photographix, commandeering the West Seventh Street-area watering hole made perfect sense. He hopes Panther City Horror becomes a regular staple there. After all, he's a big fan of the Black Dog's "cheap whiskey and Pabst Blue Ribbon."
Local Blogger of the Month
Now that everybody's pretty much addicted to MySpace and YouTube, we thought we'd be doing y'all a disservice by not directing you to local, grassroots, cyberspace talent. So from now on, in this column, we're going to shine a little light on a local guy or gal who's doing some interesting, non-porn things on the 'net. (And, yes, there are actually people out there doing interesting, non-porn things on the 'net.)
Our inaugural artistic netizen of note is filmmaker and podcaster Adrian Santiago. Andolini's Office, his current project, is a five-minute movie that he plans to enter in On the Lot, a reality tv show-slash-short film competition produced by Steven Spielberg for Fox that will air next spring. Santiago finished production last week.
"We went all out on this one," he said. "It's got money, drugs, sex, and violence. We actually had women on the set this time. … It's gonna look good."
The 22-year-old Arlingtonian has been a cinephile for as long as he can remember. The stuff he posts on his MySpace page, MySpace.com/projectblackstudios, such as his 16-minute short Holiday and some other shorts he's helped his friends film, isn't his best work, he said. "I need to build a resumé, and it gives me good practice for my future projects. But I hold back the best for myself."
For every hundred hacks and jokesters in online film, there's one bona fide filmmaker with vision, like Santiago. His material is sharp and witty, and is charming in an unforced, professional way. As with his podcast, The Project Black Show, which, unfortunately, he shelved after only two rather decent episodes to concentrate on Andolini's Office, there's not much difference between his work and that of, say, any of the Ticket guys.
The submission deadline for On the Lot is February. But you'll be able to get a sneak peak of Andolini's Office on Santiago's web site, ProjectBlack.com, next month.
Pretty Grim — and Pretty — Picture
David Sowden, a 23-year-old ticket-tearer at the Regal Fossil Creek movie theater, has been toying with the camera since he was 18. A couple of weeks ago, the TCC student screened his first completed work at the Rose Marine Theatre.
Nearly two dozen folks gathered to watch White Powder, a 40-minute yarn about two twentysomething lovers dealing with one's cocaine addiction. Shot in Fort Worth, Weatherford, Arlington, and North Richland Hills, White Powder wasn't exactly cheap. Sowden said that paying for everything, from equipment to travel expenses, ended up costing him approximately $10,000, a princely sum that Sowden covered himself. Living at home and socking away money from working at the local movie theater isn't a bad way to generate some ka-ching, apparently.
Based on its impressive production quality alone, White Powder has a good chance of getting into some festivals this year, including SXSW. We'll keep you posted. For more, visit MySpace.com/PieProductions.com.