At what point does a fascination with childhood become just plain creepy?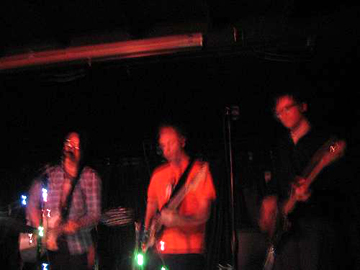 Like Denton's Polyphonic Spree and other orchestral, choral pop groups, Teenage Symphony draws inspiration from show tunes and lullabies. But the Plano band isn't content merely to recreate the days of diapers and Pedialyte. The suggestion of a warped music box pops up in some of the sextet's tunes, as if the musicians, in trying to express their primal, artistic collective unconscious, play their instruments backward. (The approach has precedence: In art, some abstract-expressionists used their non-dominant hands to paint.) In most of the songs, as the ba-baba-bahhh-ing and oooh-ing and da-dada-da-dahhh-ing goes in and out of key, cagily dissonant xylophone and keyboards twinkle, and a snare drum sloppily marches. The childhood here isn't poet William Matthews' happy one. It's closer to an oddly humorous waking nightmare (more like being naked in public than being chased by ghouls).
Four of the band members are teachers, which might explain the emphasis on unaffected, exuberantly distressed pop. It also might explain the band's regular performance schedule and meager studio output. They don't have time to record — they're too busy shaping America's future. A demo released last summer is the extent of band's contribution to posterity.
A locally written blog called We Shot JR refers to Teenage Symphony as "a Spacemen 3 marching band fronted by people with a Brian Wilson fetish," which could be either good or bad depending on what you think of Spacemen 3 (whoever they are) and the Beach Boys' frontman. Plus, as far as we know, there is no such thing as a Spaceman 3 marching band fronted by people with a Brian Wilson fetish, so we can't possibly precisely imagine what one would sound like. Which brings up Teenage Symphony's burgeoning profile. They're certainly unique, and, while not too concerned with proper technique, they're self-aware enough to articulate complex moods: closeted rage, bittersweetness, quiet fear, you name it. But in the insular world of hipsterdom, whose inhabitants pride themselves on the amount of music in their iPods and number of obscure references they can cite, a singular, emotionally talented band like Teenage Symphony can end up just a momentary diversion. Here one minute and gone the next, kind of like childhood itself.
Teenage Symphony performs Friday along with three other pop-psychedelic outfits: Beatles cover band Hard Nights Day, Houston's The Dimes, and Austin's Early Tapes. The show is presented by Gorilla vs. Bear, another hipper-than-thou locally based blog.
Fri w/ Hard Nights Day, The Dimes, and The Early Tapes at Club Dada, 2720 Elm St, Dallas. 214-742-3400.