P.G. Wodehouse spent almost 60 years of his long life writing about the comic misadventures of Bertie Wooster, the bumbling young English scion of privilege, and his unflappable valet Jeeves, who was always pulling Bertie out of one scrape or another.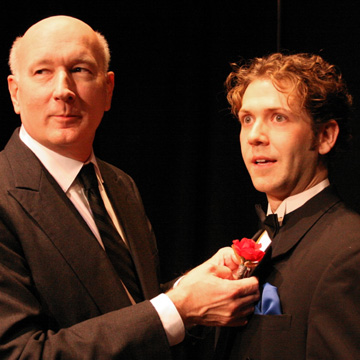 The main appeal of his stories and novels is their inimitably fizzy prose, yet Jeeves and Wooster have repeatedly made their appearance on stage and screen. (Fans of the tv show House need to check out the early 1990s BBC series Jeeves and Wooster, which stars a clean-shaven Hugh Laurie playing the cheerful, dimwitted Bertie to near-perfection.)
Stage West ends 2006 and begins 2007 with its production of Right Ho, Jeeves, an adaptation of the 1934 novel in which Bertie's troglodyte of a best friend Gussie Fink-Nottle falls in love with a girl and consults Jeeves about how to win her over. When Bertie concludes that Jeeves' advice is crap, he takes over the job of advising Gussie on romance, with predictably disastrous results.
Stage West will be putting on this show with unusual run dates. The show will be up for this weekend and next, then will be suspended for the duration of the Stock Show, picking up again in February. Surely Jeeves would devise a more creative solution; no doubt he'd go to the Stock Show and get the cowboys to the theater en masse.
Right Ho, Jeeves runs Dec 29-Jan 7 at Fort Worth Community Arts Center, 1300 Gendy St, FW. Tickets are $20-24. Call 817-784-9278.