Ed Smith, the man who has replaced the late Rudy Eastman as artistic director of Jubilee Theatre, has taught graduate level theater courses in prestigious universities as well as directed productions at regional stages across the United States and Canada. He clearly has a passion for theater, although for most of his life he's been cheating on her with his first love: jazz.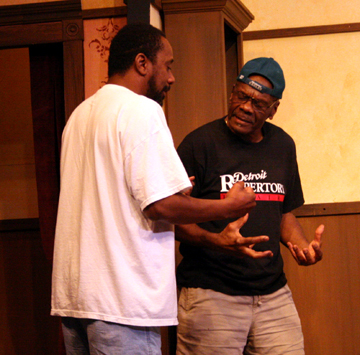 "I didn't grow up interested in theater," said Smith, a Philadelphia native who'll only reveal that he's somewhere in his 60s. "As a young person, I didn't think that would be my career. But I did grow up around a lot of jazz musicians. I saw them carrying their instruments around, opening the cases. I've always wanted to be a jazz musician."
But the muses didn't bless Smith with musical ability, although he tried unsuccessfully to master guitar and electric piano. His route to the dramatic stage was a circuitous one: studying visual arts led him to befriend a theater crowd. He had no desire to become an actor, but he began to see comparisons between being a director and a musical conductor: organizing, focusing, and coaxing the voices from the instruments. And a brief stint living in New York's East Village in the early '60s exposed him to the provocative peak of the Off-Off-Broadway movement, including seminal works like Edward Albee's The Zoo Story. Smith began to see theater as a social force, whose imperative, he said, is "to ask the audience questions, not give them answers."
Smith's career has pretty much ricocheted between the stage and academia. He taught classes in both theater and African-American studies at the University of Buffalo for 24 years. He earned his master's degree at the same time he trod the lecture hall, eventually becoming a full tenured professor. He took a leave of absence to teach at UCLA, then paused again to serve as associate artistic director of the Alabama Shakespeare Festival. He intermittently traveled to direct productions in St. Louis, Washington, D.C., and Toronto. Smith either has a super-heroic abundance of energy or a feline multiplicity of lives: For 17 years he also hosted a weekly show on a Buffalo public radio station in which he got to spin his favorite jazz discs and interview legends like Dexter Gordon, Abbie Lincoln, and Marian McPartland. Unsurprisingly, the constant themes of jazz — improvisation, agility, cooperation — bob to the surface in his discussions of live theater.
"I have always considered theater to be an extension of jazz," he said. "They are very similar disciplines. A cast of actors and a jazz quartet have a lot in common. They take turns with their solos while the others support them. A jazz group might be telling the stories of 'My Funny Valentine' or 'Night and Day,' but they're still stories. And every night's performance working from the same material is different."
When he got the call last year from Jubilee's search committee, Smith was living in Philadelphia and, from there, directing shows in New York City, including the world premiere of the last script written by actor-author Ossie Davis. After two interviews, he was hired.
His first show behind the Jubilee Theatre footlights was a forceful, kinetic rendering of August Wilson's Joe Turner's Come and Gone. It's no surprise he demonstrated great ease with such a rhythmically complex piece — he'd directed the script four previous times. He wants to do more of the playwright's famous 10-plan cycle, while understanding the opinion of late predecessor Rudy Eastman that Wilson wrote plays primarily for white audiences.
"To this day, there's a lot of tokenism in the American theater," Smith said. "There are other African-American playwrights that deserve the acclaim Wilson got. But it seems like he got all of it, and the others rarely get staged by white theatrical institutions."
And yet, Ed Smith sees Wilson as too important, the playwright's vision too monumental in its breadth and depth of its depictions of 20th-century life for African-Americans, to be ignored. But as the artistic director of Jubilee Theatre, Ed Smith wants to display more moods than just somber and tragic: He recently offered a Monday night jazz showcase featuring local musicians that sold out. An upcoming evening will offer slam and hip-hop poetry. As a sexagenarian with creative juices in full flow, he finds himself now living the life he'd dreamed — literally.
"I discovered a journal entry from 1979 that said, 'I want to end my career as the artistic director of an African-American theater,' " Smith said with a chuckle. "So now I believe if you write something down, it will come true."