Fort Worth opera lovers haven't had it easy the last few months. The local opera company has been in hibernation all season and won't come out until the big festival in the summer. Meanwhile, the New York's Metropolitan Opera has started broadcasting some performances in movie theaters but only in far-off Plano (though, admittedly, Plano is much closer to Fort Worth than New York City).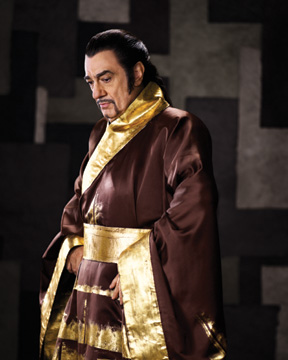 No more, though. Now BigScreen Concerts, which usually brings rock performances and standup comedy to our movie theaters, is broadcasting the Met's performances in Fort Worth. The first offering is The First Emperor, a world premiere by the esteemed Chinese composer Tan Dun. Plácido Domingo stars as the 9th-century monarch who united China and built the Great Wall. There's no shortage of big names attached to this production: Paul Groves and the ebullient Elizabeth Futral are Domingo's co-stars, acclaimed novelist Ha Jin helped write the libretto, and directing the opera for the stage is Zhang Yimou, whose latest movie also happens to hit Fort Worth's screens this week. (See the film page for a review.) UA Fossil Creek will be showing three more performances of different operas this spring, so when New Yorkers start bitching about the Met or singing its praises, local opera lovers can be on the same page.
The First Emperor screens at 12:30pm Sat at UA Fossil Creek, 6100 N Fwy, FW. Tickets are $15-18. Call 213-639-6159.