In most restaurants, the humble dinner roll knows its place. On the plate, it's the equivalent of a supporting actor, a bass player, a fashion model's assistant, existing to help the entrée and sides shine. But what happens when the common roll gets all cocky and starts drawing attention to itself? The culinary order of the universe tilts. And you get overstuffed.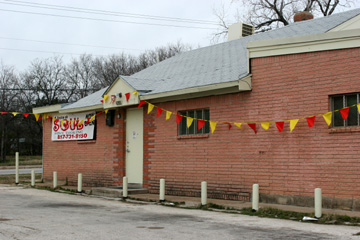 The fresh-baked potato rolls at A Taste of Soul are currently staging such a coup, but be forewarned: The temptation will be to slather several of these dark-golden, chewy-crusted rounds with butter and gobble them all before your fork even hits the meatloaf, fried chicken, smothered pork chops, and other down-home goodies in which Soul specializes. The white bread inside is firm but moist and has a texture more like corn bread than your typical white-flour creation. Utterly scrumptious, they're a real threat to killing your appetite prematurely. And as with most of the independently owned eateries that line Horne Street in Como, being peckish is a prerequisite for tackling the generous portions. While A Taste of Soul prepares a fairly wide variety of choices, the restaurant actually serves, on average, three entrée selections per day and about six sides. Chef Stanley Johnson comes to work at 4 a.m. every business day to cook up a mess of his recipes, but whenever it's gone, it's gone.
A recent Friday afternoon visit saw a roadside marquee sign declaring "Catfish Friday," an announcement of the day's specialty. The server dished out two large cornmeal-coated and lightly fried fillets, which were tender and non-greasy but harbored a bit too much fishiness in the aftertaste. Folks who catch this animal in rivers and streams and cook it themselves may be accustomed to that aqua-gaminess, but it was disconcerting for anyone who enjoys the smooth-tasting farm-raised variety.
Much better were the smothered pork chop and the beef tips with rice. Both dishes appeared to be cooked in the same thick, pale-brown gravy infused with the same red meat juice. The beef was sliced into cubes that split apart at the mere suggestion of a fork. The fluffy white rice made each bite a tranquilizing delight. The boneless smothered pork chop was the size of two adult hands holding each other. Its thickness, rather than the quality of the succulent flesh, made it a little unruly without a knife and fork.
The vegetable sides were uniformly satisfying. The collard greens came out firm and leafy, with stalks attached, and with a couple of small ham-hock pieces to add bone-fat-and-sinew flavor. The advertised "fried corn on the cob" turned out to be a variation of creamed corn, with the kernels close to crunchy and a jolt of ground black pepper added. Chili beans were actually large red kidney beans with bits of ground beef in a brownish-red sauce — it could've been a main dish itself poured over rice.
Don't eat too fast, or you'll lose all the flavors that A Taste of Soul slips into its traditional feel-good chow. The impulse to nosh wildly is understandable. Some people think the "comfort" part of "comfort food" means eating 'til your pants are no longer comfortable. That's how Soul's dangerous potato rolls manage to waylay many a passionate diner.