Not too long ago at the Black Dog Tavern, near the Will Rogers Memorial Center, where the annual Stock Show & Rodeo was in full swing, about 40 folks piled in to see a spoken-word poetry performance.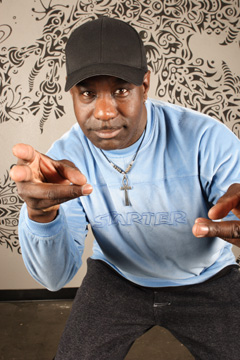 For about a half-hour, they politely weathered lines such as "I love working your clitoris like a song chorus" and "Your thighs are my ear muffs"; scandalous remarks about "Ms. Hennessy and Mary Jane"; and a heartbroken white woman who made sad attempts at an urban drawl. As the open-mic wound down, a quiet anxiousness took over the room. Everything stilled, and the audience focused on the stage, where host Mike Guinn, an athletically built, bald fortysomething man in a turquoise sweatshirt, introduced the night's main event: the poetry slam. "All right. Each slam poet gets three minutes and 10 seconds," he said, "… and after each [performance], the poets will be voted on by our judges on a scale of one to 10. Now, if you're ready for the next poet, say, 'Word!'" The crowd did as instructed, but Guinn wasn't satisfied. "I said, If you're ready for the next poet, say, 'Word!'" The crowd shouted back, sounding a little enthusiastic and not just a little scared.
What followed was a cross between fire-and-brimstone preaching, a public confession, and a verbal beauty pageant. At a traditional poetry reading, bookish wordsmiths stand motionless, reciting from written material and casting furtive glances at the audience. At a slam, the poets stare down their listeners and declaim from memory, harking as much to guerrilla street theater as to regal literature. Rattling fists at specters or hugging themselves, slam poets put their money and their moneymakers where their mouths are: The message and its presentation are inextricably linked. The first poet, a "bastard" child whose mother told him, "Boy, you ain't ever gonna be shit!" and beat him for resembling his absent father, was now "living proof that flowers can bloom from deceit." Another poet, a squat white guy in a wheelchair, spent his three minutes and 10 seconds hoarsely reciting a list of topics he was not going to discuss, including "black issues," alleging that the average white poet who brings them up is trying only "to score points." He emphasized certain lines by holding his outstretched hand aloft and making gentle throwing motions. Kind of like a gangsta rapper who hadn't had enough sleep.
After a couple more poets took the stage and did their thing, a tall, lean, young black man, with short dreads and tiny glasses, and wearing a black, flat-front leather jacket, got up. Imposing, but more authoritative than menacing, he proceeded to shake the building. Some words came out like cannon blasts, causing his entire upper body to kick back. I want to be beautiful! Like pieces of Abraham Lincoln's skull found on the backs of theater seats I want to be beautiful! Like Fred Hampton's red American blood sprinkled upon white Indonesian bed sheets I want to be beautiful! Like the hole in little Brandon Teena's chest I want to be beautiful! Like the cotton gin tied around little Emmett Till's neck I want to be beautiful! Like the hole in the side of John F. Kennedy's head I want to be beautiful! Like the holes in Jesus Christ's feet and the holes in his hands … You see I want to be beautiful like black skin being baked into concrete by Southern heat on Jasper, Texas, streets Throughout the event, fans had booed or cheered the votes of the judges, who had been picked at random. The last poet won in a walk. There was never really any question. The slam portion of the Black Dog show was far richer than the open-mic, and not just because of slam's inherent competitive drama or the severity of the socially charged sentiments expressed. The writing and delivery of the poems seemed tighter and more inventive, probably in large part because of the caliber of the artists competing.