Hospital personnel at the Federal Medical Center Carswell took so long to call the exterminators for an ant infestation in December that the tiny biters were found crawling on comatose and dying patients in their beds and covering the body of at least one paraplegic.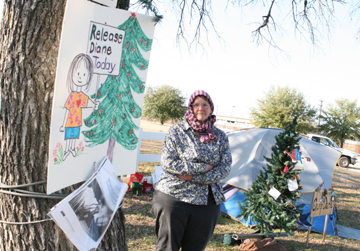 Last week a woman with heart trouble collapsed and died after complaining repeatedly that her pacemaker was not working properly, only to be sent back to her ward without treatment. And when prison authorities were told last month by one of their own doctors that a breast cancer patient whose left breast had been removed needed a CAT scan because of a probable recurrence of cancer, she was ordered instead to go for a mammogram on the breast that no longer exists. When she demanded the scan instead, she was written up for refusing medical care. Those charges and others were made recently by two inmate patients at Carswell — Ramona Holcombe, the breast cancer victim who, according to her attorney, also witnessed the ant infestation, and a second woman who found the dead inmate. The latter asked for anonymity for fear of retaliation. These are just the latest, however, in the litany of allegations of medical misconduct and neglect reported to Fort Worth Weekly since 1999 by female prisoners and their families at the facility located just outside Fort Worth's western city limits, the only hospital in the country for chronically ill and dying women in the federal penal system.
The federal Bureau of Prisons for years has ignored, denied, and downplayed the growing mountain of evidence of often- fatal malpractice at Carswell. Now, with a U.S. senator, a retired Texas judge, a sitting federal judge, and others finally bringing official attention to bear, prison officials have responded — and their responses are filled with contradictions, errors, and statements that make it appear that they don't even know which civilian hospital they send their patients to. The responses also indicate that families have repeatedly been given false information about such things as autopsies. In November, Dr. Newton Kendig, the BOP's assistant director for health services, wrote to U.S. Sen. John Cornyn of Texas that all was hunky-dory at Carswell. The bureau "takes its responsibility towards inmates and patients very seriously," Kendig reported, filling three pages with boilerplate assurances that the prison hospital meets community standards of care and denials to charges of medical neglect. Kendig did not return calls from the Weekly. Prison agency spokesman Mike Truman said by e-mail that questions for Kendig had to be submitted as a request under the federal freedom of information law — a statute aimed at government records rather than interviews, and to which the BOP usually responds only after delays of six months or more.
Kendig's letter came in response to questions posed by Cornyn to BOP Director Harley Lappin, after the senator was contacted by Ross Sears, an attorney and retired Texas senior appellate judge from Missouri City. Sears, who represents Holcombe, said delays and errors in her care at Carswell have resulted in botched reconstructive surgery following the removal of her cancerous breast and now in a recurrence of her cancer. He is seeking a congressional investigation of Carswell based on his conviction that his client and countless others have "suffered needlessly and died prematurely from gross medical malpractice and neglect." Last year, Sears sent Cornyn copies of his client's medical records, along with copies of the Weekly's stories substantiating dozens of disturbing cases of medical neglect, rape, and worker abuse at the federal facility over the past eight years. In what Sears called a "big breakthrough" in the Carswell situation, Cornyn asked Lappin for detailed answers to Sears' allegations. That task was assigned to Kendig. However, Sears characterized Kendig's response as being full of "misrepresentations and outright lies." Cornyn's press officer Brian Walsh said the senator has only Kendig's word that everything is fine at Carswell. "If Judge Sears comes back to us with additional documentation or information, we will be more than happy to go back [to the BOP] for more answers," Walsh said.
Many of the statements in Kendig's letter appear to contradict information contained in a host of other records and statements: medical records for current and former prisoners, gathered by the Weekly through the years; the BOP's own past statements; records provided to the Weekly recently by the U.S. Justice Department in belated response to the paper's six-month-old request under the federal Freedom of Information Act; and the bureau's own public documents. Kendig, for instance, assured Cornyn that Carswell can provide top-quality care in all cases because of an "agreement with the University of North Texas Health Science Center to provide medical services not available [at Carswell] such as … hospital emergency services and inpatient … surgeries." The Justice Department's response to the FOI request also stated that UNTHSC provides the prison with medical specialty services such as cancer and heart care.
The UNT center, an osteopathic college, does not operate a hospital — and the Osteopathic Medical Center of Texas that formerly was associated with it shut down in 2004. And that year, the prison agency's "Legal Resource Guide" stated that Carswell had a "hospital services contract with Baylor/All Saints Hospital" in Fort Worth. Former Carswell doctor Roger Guthrie, supported by medical documents obtained by the Weekly, has confirmed that Carswell's most recent outside hospital services have been provided by Huguley Memorial Medical Center and John Peter Smith hospital — neither of which was named by Kendig. Another issue raised by Sears has been the inability of many families to get autopsy reports on their kin who died at the prison. Kendig stated that even though Carswell "routinely orders autopsies for all inmate deaths," bureau policy does not require an autopsy "if the cause of death is known."
Last year, however, Deborah Denham, executive assistant to Carswell warden Ginny Van Buren, told the Weekly that bureau policy requires autopsies for all deaths at the prison hospital "even when the cause is obvious" and said all of the prison hospital's autopsies are performed by the Tarrant County Medical Examiner's office. Not so, a spokeswoman for the county medical examiner's office said at that time. She said the county office had not conducted an autopsy for Carswell for two years — and that she didn't know who did them. As it turns out, according to the recent Justice Department response, the prison has a contract with a company called Anatomic & Forensic Pathology Consultants — whose phone is answered by the Tarrant County Medical Examiner's office.
That's because A&FPC is owned by the county's chief medical examiner, Nizam Peerwani, and his deputy, Marc Krouse. The ME's office answers the phone for the private business as a courtesy, ME office assistant Linda Anderson said, because A&F has no full-time employees to respond when Peerwani and Krouse are engaged in county business. Anderson said the two officials perform private autopsies at another site "on their own time, before eight [a.m] or after they get off work." Neither Peerwani nor Krouse returned the Weekly's request for comment. Left unanswered is the question of why so many families have been unable to obtain autopsy reports following their loved ones' deaths. Kendig wrote that the autopsy reports are included in each deceased inmate's file and that when families request copies of the autopsy reports "they are referred to Anatomic & Forensic. …"
That information would have been helpful to Nancy Vasquez, mother of Nicole Vasquez, a 27-year-old who died at Carswell in August 2005. Nicole had been sent to Carswell to recover from heart surgery performed at a hospital near Danbury, Conn., where she had been serving time for a drug offense. She died in her bed at Carswell after complaining for more than a week of severe flu-like symptoms and fever. The medical staff, according to her mother and inmates who were with her at the time, ignored her complaints. In a recent interview, Nancy Vasquez said that she was told by prison officials that no autopsy was performed on her daughter, even though she requested one at the time of Nicole's death. All she has received to date is a death certificate with cause of death listed as "unknown," she said. Truman, the prisons spokesman, told the Weekly last year, however, that Nicole died from septic shock.
Yet another version of the cause of Nicole's death appears in another of the documents recently released in response to the open-records request. A "mortality review," listing all deaths at Carswell from 1995 through 2005, along with causes and summaries of the autopsy reports, shows Nicole's death was due to "acute cardiac failure" caused by a malfunction of a mechanical heart valve replacement. An autopsy was performed, according to the report. "They have done nothing but tell me a whole bunch of lies," Nancy Vasquez said. Many other families have told the Weekly they never received responses from the prison on how to get autopsy reports despite repeated requests. Yet their loved ones' names, with causes of death and autopsy summaries, are also listed in the mortality review document. Of the 108 women who, according to the document, died at Carswell between 1995 and 2005, all but one are listed as having had autopsies.
In Holcombe's case, Sears said, the information provided by Kendig to Cornyn was "contradictory to her medical reports and her history at Carswell in all respects." And now, because of delays in treatment and the lack of careful monitoring of her condition, he said, Holcombe faces the "real possibility" that her cancer has recurred. Kendig should have known what was happening at Carswell all these years, Sears said. "All he had to do was review the medical records, because most of the horror stories can be substantiated in the hospital's own documented records." It is not the first time that Kendig's information on Carswell has turned out to be wrong. In 1999, a federal judge was so angered by lack of care for a severely burned prisoner there that the judge wrote to then-U.S. Attorney General Janet Reno that the prisoner's treatment at Carswell amounted to "cruel and unusual punishment." Kendig forwarded a letter to the judge assuring him that the prisoner, a 32-year-old amputee who had suffered burns over 70 percent of her body in a fiery car wreck following a bank robbery, had received "multiple surgeries for debridement, amputation … skin grafts … [all] provided at the Federal Medical Center Carswell." In fact, Carswell had no surgeons, no surgery facilities, and no burn unit or burn specialists then or now. The prisoner's medical records showed that all of her surgeries were performed in Illinois prior to her sentencing.
More recently, U.S. District Judge Joseph Bataillon of Nebraska intervened to release a 46-year-old Carswell inmate and cancer patient who has less than a year to live. After the BOP denied her request for compassionate release, Bataillon reduced the 51-month sentence he had imposed on Diane Nelson for a drug crime to equal the time she'd already served. Even though a local oncologist diagnosed her as terminal last year, suffering from advanced uterine and ovarian cancer, the BOP stated that her condition was not terminal. "I did not intend to give Ms. Nelson a life sentence for her drug offense," Bataillon wrote to Warden Van Buren. Nelson's cause had been taken up by prison reform advocate Kathleen Rumpf, who spent several weeks last year camping outside the Carswell grounds in protest. Nelson's request was also supported by Nebraska's two U.S. senators and two attorneys working pro bono, all of whom pressed the BOP for nearly a year to release her. Sears is now preparing a detailed response for Cornyn, disputing many of Kendig's statements. "Be assured that I am going to keep this going," he said, "until there is justice for these women."