Two years ago, an obscure rapper from Houston made his national debut with a decent album of boasting, toasting, and balling that probably would have gone unremarked if not for one thing: On pretty much every track, he raps his cell phone number ("Two-eight-one! / Three-three-oh! / Eight-zero-zero-fo'!"), availing himself to listeners' calls.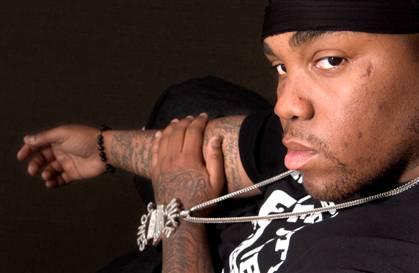 By the time word of the marketing genius reached the mainstream, 281-330-8004 had become one long busy signal. Bad news for Mike Jones' phone company was good news for him. Who is Mike Jones? has sold 1.5 million copies and counting. In the mid-1990s, when Jones started out, incorporating his name and phone number into his wordplay served a practical purpose. Along with dozens of other nameless vagabond rappers, Jones appeared on mix tapes, DIY cassette or c.d. recordings of homegrown rhymes over samples or homemade beats. Some mix tapes included the work of more than several dozen rappers. With direct access to a huge, rabid fanbase but no viable way to distinguish themselves, most of the wordsmiths started rapping about their names. Jones did all of his peers one better by also mentioning his cell phone number.
Jones grew up on Houston's North Side, a rough part of town where popular DJ Michael "5,000" Watts owned and operated Swisha House, an independent rap label distributed by Warner Bros. By the time Swisha House released Who is Mike Jones?, the rapper had become a lightning rod for praise and derision, thanks to his repeatedly referencing his cell phone number in song and also due to his favorite recurring line: "Who?! / Mike Jownz / Who?! / Mike Jownz." His jackhammer brand of self-promotion worked, though — 1.5 million satisfied customers can't be wrong, right? But in an age of MySpace, instant messaging, and typewriters disguised as cell phones, Jones' exhortations to call him wouldn't even seem quaint in an old-school way. They'd be downright passé, and based on "Mr. Jones," the single from Jones' forthcoming sophomore album, The American Dream, the Houston rapper knows what's up. His phone number is kaput, but Mike Jownz appears as determined as ever to tattoo his name on your brain.
"Mr. Jones" makes great use of an all-female chorus (probably one female singer overdubbed ad infinitum), leaving the rapper to riff on standard rap fare — diamonds, luxury vehicles, microphone skills. A piano plinks along threateningly à la early Dr. Dre, a church bell emphasizes Jones' punchy statements, and a thin electric organ rides upon the melodies. The spunky beat rivals "Fiddy" Cent's "In the Club" for pure danceable power. Jones and Swisha House don't work together anymore. The rapper will release The American Dream on his own label, the recently created Ice Age Records. Most insiders believe that Jones will shelve the gimmicky marketing tactics to silence his critics and regain some lost street credibility. He shouldn't have much of a problem, considering that he's a master of the — for lack of a better word — Baller Anthem.
In June of 1999, a small-time Houston producer named Lil' Troy dropped the summer's biggest hit. "Wanna Be a Baller" is your typical mid-tempo, Casio beat-laden gangsta track, with a monstrous chorus. In a rich, commanding baritone, a man sings: "Balla / Shot-calla / Twenty-inch blades / On the Impala / Caller, getting laid tonight / Got the Swisha rolled tight, I'm getting sprayed with ice / I hit the highway / Making money the fly way / But there's gotta be a better way / A better way / Better way / Yeah, yeah!" Record stores groaned beneath the weight of hundreds of copycats. Most of the "Baller" rip-offs were downright painful. Others were almost as good, like Big Moe's "Purple Stuff" (2002) and four or five tracks from Who is Mike Jones? The best is "Flossin'." (The term allegedly refers to a mode of hanging out that's like "ballin'" but without the schadenfreude.)
Over the quaint, almost gospel-ish electric piano melody that eventually goes from introducing the song to becoming its powerful contrapuntal spine, the guest rapper, the aforementioned Big Moe, immediately lays out the chorus. The last word in each of the first three verses triggers an echo, and the last two verses are calls to responses in Big Moe's chubby voice, as if he's dueting with himself: "I stay flossin' in the candy paint / Blowin' dank / Sippin' drank … Tearin' up the lane. …" In leavening the song's effervescence, made from 100 percent pure cotton candy, Moe's vocals manage to swell into a massive, singular, unforgettable hook that could snare a killer whale. At one point in the tune, Jones even tips his ball cap to the architect of the sub-sub-genre of The Baller Anthem, Lil' Troy: "I'm a baller / Shot-caller / Twenty-inch crawler." A phrase or two later, Jones reminds us, and no doubt himself, who he is by randomly calling out his name. Again.
Jones and just about every other rap artist to emerge from The Dirty South, a metaphorical territory that encompasses mainly Texas, Louisiana, Arkansas, Mississippi, and Georgia, owe a debt to "screw music." The legendary and now deceased Houston producer credited with having created the "screwed" or "screwed-up" style is DJ Screw. Defined by its plodding, subaqueous tempo and its rappers' molten, basso profundo voices, "screw" sounds like a 78-rpm record spinning at 33-rpm speed, slllowww and warped. The legend is that the DJ had accidentally hit the wrong button on his turntable and had a eureka moment. Rap fans lined up outside the producer's Southside Houston home to buy his "screw" mix tapes for $10 a pop.
"Screw music" was also reportedly part of a larger subculture, one whose members got high off prescription-strength codeine cut with soda pop. Also known as "lean," "pink soda," "purple stuff" (see: Big Moe), and "syrup," the intoxicant and its depressive qualities supposedly mimicked the experience of listening to "screw." Like nearly every other Dirty South rap album since, Who Is Mike Jones? comes in two flavors — regular and "screwed." Even though Jones has split with Watts, long recognized as DJ Screw's artistic competition, The American Dream will also likely be offered in both flavors. Though purists would disagree, you don't have to be DJ Screw or Michael Watts to "screw" an album. "Flossin'" is one of only a couple of tracks that works both ways. Most of Jones' other Baller Anthems aren't as sturdy (some sound better regular, others "screwed"), but they all have their moments. On "Back Then," one of two misogynistic tracks, a buzzing Edge of Night-ish church organ smooths a path over which Jones quickly spits a phrase that rhymes the word "me" with the word "me." His voice is deep, as if it had been "screwed," but the tempo in which he delivers his phrasings is normal.
In a world of epic grandeur, however, Jones' most effective Baller Anthem is also his most economical. Like the pseudo-couplet in "Back Then," the phrase that pays in "What Ya Know About" — "What you know about switchin' lanes, holdin' wood grains?" — is repeated over and over until it becomes a kind of mantra. The lyric's momentum adjusts and readjusts itself through a series of sonic moods: rapid-fire keyboard bloops and beeps; the faint snaps of a fast, stuttering snare; and the single ominous piano chord that is struck and then held at the beginning of every bar, only to take two steps back and reassess itself before signaling the final bar's end. The clink of what may be a glass bottle being tapped gently four times per measure is a subtle accent that's simply head-bobbing as all get-out.
The closest that any song on the non-screwed album comes to actual "screw" is the first single, "Still Tippin'," featuring silver-tongued Slim Thug and once fellow Swisha House artist Paul Wall (pronounced "pow-wow"). The lyric that serves as part of the rhythmic foundation here, like the one in "Back Then," is screwed but not slowed. In trying to keep up with Slim Thug, who kicks the number off with "It's that six-six long-dicked slim nigga stickin' yo' chick," Jones picks his game up considerably, dropping neat curlicues of verse such as "Fo' fo's, I'm tippin' / Wood grain, I'm grippin' / Catch me lane-switchin' with the paint drippin' / Turn your neck, and you're dang missin'." The next stanza is almost as crafty: "Me and Slim, we ain't trippin' / I'm figure-flippin' and syrup-sippin' / Like Do or Die, I'm cold-pimpin' / Car stops, wheels keep spinnin'." Part-caffeinated, part decaf, "Still Tippin'" comes off as good screwed as in normal measure.
The rap against Jones is that he's already played his hand. A biopic to accompany The American Dream of the same name, and Jones' Ice Age Club in Houston are, to naysayers, indications that he's being kicked out of the Dirty South and had better make a living elsewhere. Critically lauded Dirty South rapper Chamillionaire dedicated an entire c.d. to "Dyke Jones." But at MySpace.com/mikejones, fans who sign up for his e-mail list can win a chance to receive a personal phone call from — who?! — Mike Jownz. As Master P, Juvenile, and a hundred other Dirty South rappers who've come and gone have proved, marketing, in the underground rap game, is almost as important as artistic talent.