Firehouse Gallery hosts two shows this month.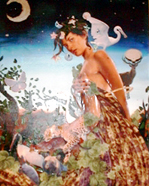 eVeryDay womyn is created by various female artists to draw attention to Eve Ensler's V-Day campaign. Meanwhile, Stephen Marshall's The Hand Project is a collection of photographs of people's hands and the stories they tell.
The Hand Project and eVeryDay womyn: truth in art and verse, thru Feb 20. Firehouse Gallery, 4147 Meadowbrook Dr, FW. 817-534-3620.