Norah Jones has done a lot to quash the expectations established by her first album, 2002's Come Away With Me.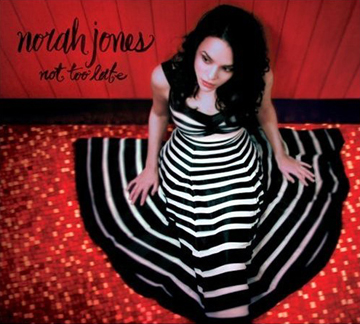 She has remained active, upping her accessibility — and quiet ubiquity — through varied and fruitful collaborations with everyone from Ryan Adams and Outkast to Ray Charles, Willie Nelson, and Bonnie Raitt. Her side projects included a brief stint with the classic country group The Little Willies, and an album with the Peter Mallick Group.
All of this is an attempt to ready listeners for her third solo album, Not Too Late. While the album finds Jones reconnecting with guitarist and songwriter Jesse Harris, whose work fueled the success of Come Away With Me, she otherwise sticks to her core band. Not only has she abandoned the aid of the venerable guest musicians who lent their hands to her early work, but Jones also wrote or co-wrote every number on Not Too Late, no longer relying on smartly chosen cover songs.
So does this step out make for a better album? Noticeably missing are the freshness from her first album and the slow, chugging folk engine that powered its successor, Feels Like Home. But Not Too Late finds cohesion in its pervasive slowness and quiet desperation. Jones' jazz purist critics will find little trace of what they consider authentic jazz, with "Sinkin' Soon" the only song to hearken to the '30s, jazz' purported Golden Age. The track, though, especially in its lyrics, has more in common with Tom Waits, whom Jones covered on Feels Like Home. It fits in well with songs like "My Dear Country," Jones' most overt political statement. But overall she subtly weaves together musings on the dour direction the world is taking with hopefulness about love and companionship.
Not Too Late is as soothing as Jones' music can get, but ultimately it is not as inventive or commanding as her previous work. No, it's "not too late to change," but it may be too early to settle on the first change that presents itself.-Zack Shlachter