After more than two years of tightening and polishing songs, Tame … Tame and Quiet finally has an album, Tin Can Communicate.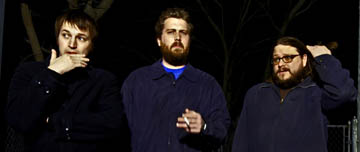 Affected palpably by the recent rise and fall of the Metrognome Collective — a local artists' group and gallery/venue/creative space co-founded by TT&Q singer-guitarist Aaron Bartz — the album touches on themes of indie ideology, specifically self-reliance and originality. The band's intelligent yet intentionally lo-fi hum questions the line between progressive and popular music. "People try to micro-classify everything," said drummer Boyd Dixon. "It's so scrutinized. It's impossible to classify anything." Bartz agreed: "It's easier just to call ourselves 'rock,' which we can [perform] without being super loud. People call us 'angular,' 'math-rock,' or 'indie jazz.' It doesn't always make sense. When people ask me what kind of band I'm in, I say I'm in a weird rock band."
To Dixon, "weird" is perfectly acceptable. "If we make something that can't be classified, isn't that good?" Maybe so, especially considering that Dixon thinks TT&Q's biggest fans are other musicians. Much of Tame … Tame and Quiet's sonic ambiguity may derive from the lack of a bass player. Bartz and co-guitarist Darren Miller, whom Dixon claims is "willfully oblivious to time signatures," weave in and out of riffs — one player lays down the melody while the other swirls around or butts up against it. "[Miller] and I are both lead and rhythm players," Bartz said. "Since we don't have a bass player, we unconsciously fill in the space. And if we're going to be called math-y, it's because of [Miller]. He has a great sense of melody and adds the nuances that create the catch in the songs." Bartz (formerly of the defunct Scenic Routes) and Miller (ex-Benway) knew each other from the scene and from being part of the Metrognome. Dixon joined Bartz and Miller after he'd read about the collective, checked out the web site and some of the bands affiliated with the group, and realized he had found kindred spirits. "I wanted to be a part of this," he said.
He replied to an ad he saw on the Metrognome's web site — Bartz had posted it. The three share appreciation for bands like Tortoise, domakesaythink, and Pavement. At the time, the Metrognome in Fort Worth (it was originally based in Arlington) was beginning to take off. The band rehearsed in the 'Gnome's building on Lancaster Avenue and was surrounded and undeniably influenced by the feeling that something huge, something great was happening. Dixon, who studies music at the University of North Texas, drove to Cowtown every day from Denton to make the scene. "[Metrognome] was the best thing to happen to Fort Worth," he said. "Talented, creative, inspired people were all over the place — the kind of people I wanted to be around." After about a year, the collective was refused an operating permit by the city due to the building's fire code violations, effectively ending Metrognome's attempt to be a community-based arts center and then some. The band now rehearses in Bartz' Arlington home. "In a utopian world, you could buy a building and give it to people to have a good time," he said. The Metrognome's demise, he said, is "almost dispiriting."
TT&Q joined forces with Dallas booking agent and promoter Carlin Stultz and her Callithump artists' group. Through Callithump, Tame … Tame and Quiet has played shows with burgeoning indie bands, especially Austin's Ghostland Observatory, and will assume a prime spot in Denton's upcoming Fry Street Fair Festival. Featuring The Tah-Dah's, Prayer for Animals, and The Happy Bullets, the line-up ranges from super-pop to dark country, a variegated bill into which TT&Q fits perfectly. Every cent the band has made, Bartz said, went into recording, producing, and mastering Tin Can Communicate. Because he wanted to work with someone who knew what they wanted, Bartz went with Matt Barnhart from Denton's Echo Lab Studios. Calling Barnhart "the perfect person in the perfect place," Bartz said they used a selection of vintage instruments and recorded on analog tape over four days in a six-month period.
Subsequent, unreleased recordings include contributions from bassist Gavan Nelson, who left the band after only a short time for family reasons. "When we had a bassist, I could see the possibilities," Bartz said. "But if someone new comes in, they need to be able to jump into a process that's already going. Plus, they'd need to contribute their own voice." Dixon would still like to find a good bottom. "If I have a bass player … it allows me to be more creative," he said. "I want to play with musicians who are better than me. I needed a challenge, and I found one in this band. … I love this band. I'm more proud of [Tin Can Communicate] than anything I've put out." Bartz is equally enthusiastic. "It's on par with anything that's been released out there. It sounds different from anything else." For now, Tame … Tame and Quiet is focused on getting the disc in people's hands. The goal, Dixon said, is "to have as many people hear it as possible and enjoy it as much as we do."
 Tame … Tame and Quiet
Fri w/Eaton Lake Tonics and A Childlike Fear at The Chat Room Pub, 1263 Magnolia Av, FW. $5-10. 817-922-8319. Sat at Good Records, 1808 Lower Greenville Av, Dallas. 3pm. 214-752-4663. Sat w/The Black Lights and Tober Omi at The Cavern, 1914 Lower Greenville Av, Dallas. 214-828-1914.