Movies and television have put a heavy burden on Italian restaurants, specifically on what we expect from their ambience.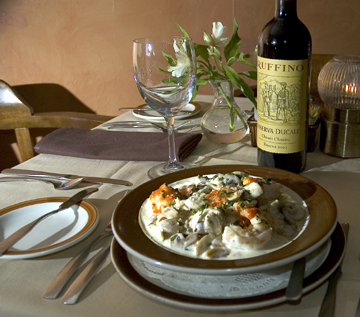 From romantic comedies to mob dramas, authentic spaghetti houses are supposed to be dark, rustic places where scintillating plots can be hatched or scratched. Arlington's Piccolo Mondo Italian Restaurant, which has operated with occasionally changing menus for more than 20 years, is located inside a strip mall at the ultra-busy Collins-and-Lamar constellation of businesses just off I-30. Inside you'll find a shiny grand piano whose ivories are tickled five nights a week, off-white tablecloths on little tabletops, and ultra-plush chairs that begged to be pulled out chivalrously. In fact, the restaurant tries too hard for an elegance that's hard to nail down, especially when there's a big-ass Whole Foods right next door. But where it misses the mark in sophistication, Piccolo Mondo continues, near miraculously, to play sweet music with its menu.
As an appetizer, the carpaccio plate was exemplary. Round slices of nearly raw, slightly fatty beef — cut thinner than a banker's heart — were arranged kaleidoscope-style around the platter and topped with subtly nutty capers, shredded red cabbage, a clear vinaigrette marinade, and shards of pungent parmesan cheese that took the lead without wiping out the silken beef flavor. In many restaurants, carpaccio is often either too dry or rendered soggy by the dressing. Here, though, all of the components were in harmony. One special for the day was veal in cognac cream sauce with mushrooms and pasta. PETA has many complaints about the ultra-tender calf flesh, but guilt-ridden foodies who enjoy it have something else to grouse about — too many pieces of veal often become spongy. Not so with Piccolo Mondo's filet, pounded thin but retaining its supple smoothness with nary a trace of tendon. The aftertaste of the light-pink sauce contained a slight sting of smoky liqueur, which meant that after the veal was gone, the remaining sauce was discreetly scooped up and finished with a spoon. The mushroom caps were fresh, not bottled. A tiny pile of pasta shells with a light marinara and parmesan played a satisfying second fiddle.
The entrée known as orecchiette alla arrabiata sounds like some tourist-package cruise of eight countries in eight days, but in fact the dish is simple (and, in this version, meatless). The "orecchiette" part was small, unusually firm pasta shells prepared in a marinara sauce that was "arrabiata." That is, "enraged" with hot pepper flavors. While the restaurant's red sauce didn't attempt to compete with any curries or ancho chiles, it did stir a spicy spark in the throat. Given Piccolo Mondo's quarter-century status as one of Arlington's Italian standard-bearers, the quality of food on the recent visit, augmented by attentive-but-never-cloying service, was startling in its appreciation for all the right details. This is a textbook example of a restaurant still hanging in there with freshman vigor after so many years. Now if we can just manage to urban-zone some authentic ambience into the glorified strip-mall that is Arlington …
 Piccolo Mondo Italian Restaurant
Carpaccio $7.50
Orecchiette alla arrabiata $8.75
Veal w/cognac cream sauce $10.50