Open barely a month in Arlington, Olenjack's Grille, the namesake of renowned ex-Reata and Chisholm Club maestro Brian Olenjack, has found its identity in a very short time: hearty Southwestern- and Southern-influenced creations with Olenjack's Franco-knack for creating unusual food combinations in simple, elegant presentations.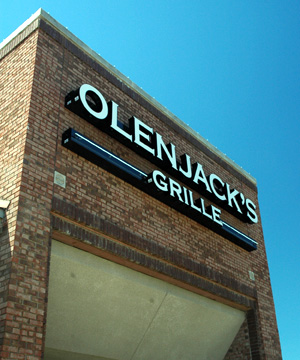 The interior, all dark wood paneling and frosted glass, is an expert study in sophisticated-casual. There are fresh flowers and bone-white dinnerware on each table, and copies of Wine Spectator available near the entrance. But there are also two tv sets in the vicinity, tuned, on the night that some friends and I visited, to international news. In such a comfortable environment, it's no wonder that our meal was prepared and delivered seemingly without effort.
Olenjack's describes its appetizers as "small plates," which is truth in advertising: These portions are more like appetite-stimulating tapas than the full-meal, pre-entrée sizes that most restaurants serve. Flash-fried antelope ribs and steamed mussels were no longer available by the time we arrived, but cornmeal-crusted oysters did a solid job of pinch-hitting: five plump, quarter-sized sea jewels, each served in a separate amuse bouche white spoon. Beneath were tiny mounds of a savory relish of bacon and pork sausage. They superbly did what appetizers are supposed to do: Leave the diner wanting more.
The grilled tuna salad sounded pretty ho-hum, something you might pack in a plastic container and eat in your cubicle, but here it arrived reminiscent of a Waldorf salad: a plentiful pile of silken fish chunks, small avocado wedges, tangy red onion, crunchy jicama, peel-on pieces of apple, and jalapeño slices atop a huge emerald-green romaine lettuce leaf. It was all tossed in a vaguely sweet orange vinaigrette, and the citrus effect echoed nicely with the spike of the onions and peppers, and the rich tuna.
Olenjack's shrimp and grits, a traditional dish in South Carolina and some other Southern seaboard states, was the kind of comfort food that you might get at Granny's house, had she studied under Julia Child. Six jumbo-sized shrimp sat atop a layer of pleasantly bitter mustard greens and a mattress of grits that were creamy but still had gut-filling texture. Salty bits of bacon and New Orleans-style andouille sausage enlivened the grains.
Chef Brian Olenjack and his crack team have hit the ground running with this new Arlington outpost. Their preparation included a month's worth of training servers, and the effort showed: The young woman who attended to us was a model of efficiency, enthusiasm, and restraint. The owners are smart to set those vino mags near the front door. Once people figure out where Olenjack's is located, in the far-flung marketplace that is Arlington's Lincoln Square, expect the wait lines for tables to start inching out the door.
 Olenjack's Grille
Cornmeal-crusted oysters $9
Grilled tuna salad $12
Shrimp and grits $16