A lot of non-mainstream comedies have their die-hard fans, but there's something about The Big Lebowski that, as fancy journalists say, has legs. Hollywood has given us funnier movies.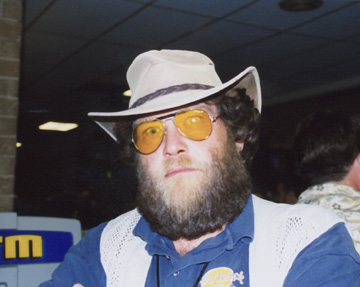 It's given us more groundbreaking movies. But as festivals and online fandom prove, no contemporary cult comedy has developed as big and dedicated a following as the Coen brothers' 1998 classic. One possible reason is that the characters are, well, us. There's the big Lebowski himself (Jeff Bridges), a stoner who goes by the nickname of "The Dude" and is content merely to drink White Russians all day long. There's Theodore Donald "Donny" Kerabatsos (Steve Buscemi), a squirrely guy who's scared of everyone and everything. And rounding out the main ensemble is Walter Sobchak (John Goodman), a Vietnam vet who wears camo, loves guns, and drives fast. Most of us can identify with the main cast, no doubt. And some North Texans can really identify with Walter.
According to insider info, Goodman's character is based on three real-life personalities: shoot-'em-up auteur John Milius, a source whom Lebowski sleuths have yet to identify, and 53-year-old Dentonite Lewis Abernathy. Until recently, Abernathy, a gentle giant of a man, has been working a lot and lying low. He does the occasional film treatment for James Cameron, the Academy Award-winning director of Titanic. Last year, however, Abernathy came out of his shell and agreed to appear as the guest of honor at the annual touring Lebowski Fest when it hit Austin. How he got involved with Tinsel Town is, no kidding, like a scene from a cult comedy.
In the 1990s, Abernathy was living on the Left Coast, dabbling in screenwriting and moonlighting as a private investigator. One of his friends was a Universal Pictures exec, Peter Exline, the guy who'd greenlighted the Coen brothers' breakout cult hit, Raising Arizona. After getting divorced and splitting with Universal, Exline bought a lime-green '66 Firebird, moved out of his house and into a modest Westwood apartment, and, naturally, went about decorating his home the only way a bachelor knows how: cheaply.
Abernathy recalls that Exline put down a rug that "really [tied] the room together," a line The Dude delivers near the beginning of Lebowski. Not long after the move, Exline's car was stolen. Abernathy, putting his P.I. skills to work, tried to help his friend track down the vehicle. About a week later, Exline got the call: His car was in the police pound. Exline "asked the cops if they had any leads," Abernathy said. "While the cops were making fun of him, I went through the car. The insides were filled with McDonald's hamburger wrappers, and I found two eighth-grade history textbooks," one of which, Abernathy said, had a piece of homework inside with a student's name on it. "[Exline] wanted closure," Abernathy recalls. "He wanted to confront the kid."
In a scene resembling the confrontation that begins The Big Lebowski, the two vigilantes placed the homework and one of the wrappers in evidence bags, put on suits, and drove to the alleged culprit's house, a dump that, like in the movie, was home to a ruined soul; Abernathy thinks the man may have been a casualty of the McCarthy-era witch hunts. "On the wall were all of these awards for screenplays," Abernathy recalled. "The guy was lying on a hospital bed with an oxygen tank hooked up." The kid whose name was on the homework was also there. Abernathy lectured him. "I told him he better had read those textbooks and do his homework — clearly, he wasn't going to make it as a crook."
Abernathy didn't find out that he had been somewhat transformed into Walter until about a year after The Big Lebowski came out, when he casually plopped a VHS copy of the film into his VCR at home as he lay on the couch. "Holy shit," he recalled saying to himself. "Someone's stolen my life and put it into a movie." Last year, before Lebowski Fest started its tour, press releases went out, including one to Cameron, who promptly sent Abernathy a fax. "Congratulations," Cameron's note read, just a touch sarcastically. "You're the inspiration for one-third of a movie character."