Lewis Carroll's 1865 book The Adventures of Alice in Wonderland has been adapted a number of times in a number of ways, including dance — but not always well.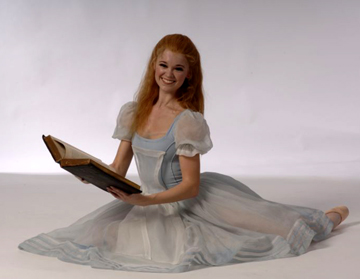 A ballet produced in the 1950s, with original music by Joseph Horowitz, never took. The chief complaint seems to have been a lack of choreographic cohesion. Enter: Texas Ballet Theater artistic director Ben Stevenson, who with his Houston Ballet in 1992 created a viable balletic adaptation of the bizarre fairytale using the same agreeable score. Last weekend at Bass Performance Hall, Stevenson introduced his production to Fort Worth. The result, as someone suggested on opening night, had the flavor of Alice meets The Nutcracker, but so what. Ballet as pure entertainment is always welcome, and TBT's Alice in Wonderland fairly reeked with charm and good will.
The curtain went up on a bare stage, save for a craggy knoll from which a tree sprouted and on which Carolyn Judson as Alice lay with a book in her hands. To pave the way for the upcoming fantasy, the ballerina recited Carroll's introduction before falling asleep. Judson's affected accent and lack of projection, combined with the flowery text and a faulty microphone, made for an unintelligible opening. But the White Rabbit duly appeared and jumped down a hole, and Alice followed him. An enchanted land appeared, and it was truly enchanted, courtesy of costume designer Nadine Baylis. The frog footmen, the Cheshire Cat, the Dormouse, the caterpillar languidly smoking his hookah on an oversized toadstool, the lobsters in the seaside quadrille, and the unicorn, prancing on his hind legs and majestically shaking his huge head — with their bright colors and stylized movements, the creatures were all wonderfully inventive and captivating.
At one point, the lights dimmed, and Judson slowly danced with a quartet of her new friends: the unicorn, zebra, lion, and ram. The gentle reverie conjured the happiness and innocence of childhood make-believe. There were also purely classical sections, with the full corps as butterflies and dragonflies dancing in traditional formations, and a grand pas de deux for the finale. Opening night featured Enrica Guana Tseng and Lucas Priolo, who both earned a generous ovation for their handsome, stylish performances. Priolo and Andre Silva were supposed to alternate performances as Alice's partner, but Silva was injured in rehearsal. Priolo danced every day, including an extra Sunday night appearance that was added to accommodate ticket demand. Five performances in three days — six, really, if you include dress rehearsal — had apparently taken their toll. Priolo looked exhausted in the final lifts.
(Lonnie Weeks, who made such an auspicious solo debut with the company in the Flower Festival pas de deux in Dallas last month, also injured a foot in rehearsal and had to sit out the weekend.) Jayme Autrey Griffith danced the final pas de deux Sunday, with her usual youthful, fresh energy. Not to be overlooked, long-time company dancer Michael Clark, whose tenure goes back to the Paul Mejia days, announced his retirement this week. Ironically, the stalwart 6-footer made his farewell in drag as the comic Red Queen. Clark is best remembered for his rugged performance in the title role of Dracula, as well as a memorable portrayal of Billy the Kid, and the strength and grace he brought to the Arabian Dance each year in The Nutcracker.-Leonard Eureka