Given his list of accomplishments and commitments — cowboy cuisine pioneer, Food Network reality star, Home Shopping Network shill for bottled sauces and cookware — does Fort Worth chef Tim Love really have time to flip burgers?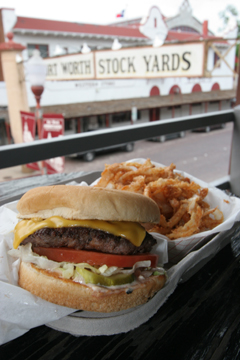 Take a gander at his newly opened burger-beer-'n'-fries kiosk, the Love Shack, in the Stockyards, and you're tempted to think he's just trying to kill time between hair and makeup. Basically a sidewalk-vendor stand, the Love Shack was formerly the bar for the White Elephant Beer Garden, a Stockyards staple that, with the next-door White Elephant Saloon, Love purchased about five years ago. The menu is small: burgers, hot dogs, a couple of sides, suds, and an ice cream shake du jour. The Shack accepts cash only (an ATM machine is conveniently located on the premises), but nothing on the menu is over five bucks, the food is served on cardboard trays, and the buns for the dogs and burgers are storebought.
Clearly, this is not a high-maintenance operation. The cynical foodie might even say it's just an excuse for the publicity-friendly Love to get his surname wedged prominently in the tourist heart of Cowtown. God knows, there have been clumsier grabs at attention in Texas, a state full of, well, Texas-sized culinary egos. But, dammit, Tim Love and intricate, satisfying flavors have a fast friendship, but it'd be a stretch to say that the Love Shack should become a destination spot. However, if you find yourself in the Stockyards — say, catching a weekend show at Billy Bob's Texas — and craving the full-on taste of top-tier locally produced steer, then you may be pleasantly surprised by what Love's young, enthusiastic Shack crew can do with simple ingredients.
Of course, as with any Tim Love culinary endeavor, the Shack is all about the cow: The burger patties are equal parts prime tenderloin and prime brisket, ground fresh daily. The resulting medium-cooked flavor on a recent visit was tender and hearty, delicate and rustic, and it worked spectacularly with mellow, unfussy American cheese. The Dirty Love Burger was served with crisp bacon curls and — for extra tummy comfort — a hard-fried quail egg. Everything was topped with the chef's signature Love Sauce, a light, sweet-tangy-salty confection with a hint of Worcestershire smokiness that may drive even self-conscious diners to smack their lips, trying to identify each level of flavor. As far as the dogs go, The Texas Flying Dog rules the menu: a fat, juicy piece of chicken and apple-y bratwurst rolled around on top of the grill with mild green chilies and onions and served on a bun with American cheese. The bratwurst wasn't the bursting, spurting kind but agreeable enough to cut with a fork.
The Crazy Good Onion Rings were, indeed, good, though there was nothing particularly crazy about them. They were a quality example of your typical string-cut, lightly breaded variety. The knockout side here was the Fresh Chile Parmesan Chips: hard, thin, deep-fried potato slices coated with a jagged habanero-like pepper dust and sprinkled with tiny, fresh parmesan crumbles. Love's desire to surprise the tongue with cool taste combinations in mundane fare makes us hope that he never stops pourin' his Love sauce on the city.