The Bulgarian-born artist Daniel Bozhkov just completed a rainwater catchment system for UNT's Environmental Education Building.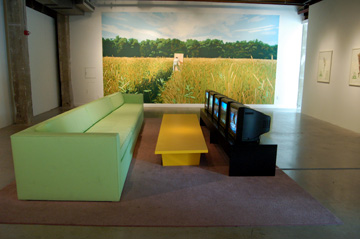 The school's nearby Art Building has a show of his flashier works: a fresco he painted at a Wal-Mart in Maine, a perfume inspired by Ernest Hemingway, and a video installation showing his 75,000 square-foot portrait of Larry King made in a hayfield.
Rainmakers Workshop and Daniel Bozhkov, thru May 3. UNT Art Gallery, west of Welch & W Mulberry sts, Denton. 940-565-4005.