Have you ever bet everything on a nag to win, and then watched your horse burst out of the starting gate like a comet, only to blaze out and limp down the home stretch? Welcome to Cory Morrow's latest album.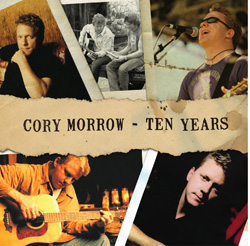 The first song, "Spinning Around the Moon," is remarkable, with distorted guitars all reverb-y and whammy-barred. It has an alluring melody, as well as distinctive production by Los Angeles-based Nashville reject Keith Gattis, who stacks on his familiar bottom-end and percussive trickery to nice effect. Yet, just as I was about nominate Morrow for a medal of some kind, song Nos. 2, 3, 4, and all the rest came along and ruined everything. Maybe he should have released a one-song e.p. Instead, he trots out previously recorded songs from his decade in the music business and revamps them, mostly with abysmal results. Hello Nash-Vegas, goodbye roots music, which is fine in principle, but this new studio effort takes him to places where his fans probably don't want to go. "Spinning" is indie-rock with Outlaw overtones and sets a gold standard in Morrow's recording career. Too bad he didn't write more songs like this one. Oh, well. He's got a loyal following and a solid decade of gigs and albums under his belt, so Ten Years is just a blip. It won't stop Morrow from putting on his usual tight and rowdy performance when he hits town next week for two free shows.-Jeff Prince
Wed, May 23, at 8.0 Restaurant and Bar, 111 E 3rd St, FW. 817-336-0880. Thu, May 24, at The Glass Cactus, 1501 Gaylord Trail, Grapevine. 817-778-2800.